The pool at the Maria Lenk Aquatics Centre won't stay out of the headlines. It was closed early today (NZ time) to allow more time to clean the green-tinged water.
The water changed colour suddenly this week, midway through the synchronised diving events.
Officials insisted it was safe, even after an adjacent pool used for water polo and synchronized swimming also turned a lighter shade of green.
The diving well was shut down when athletes arrived for morning warm-ups today.
American diver Abby Johnston wrote on Twitter that "#FixTheSwamp" should start trending.
When the pool reopened for practice, just two-and-a-half hours before the start of the women's 3-metre individual event, it appeared to be the same shade of green.
Mario Andrada, chief spokesman for the Rio 2016 organising committee, stressed the pool was safe and said officials were caught off-guard by its deteriorating condition: "Chemistry is not an exact science," he said, no doubt surprising chemists the world over.
Russia's Olympic team has complained to Rio organisers after flags hanging in its Olympic village accommodation were allegedly desecrated.
Synchronised swimmer Alexandra Patskevich told Russian newspaper Komsomolskaya Pravda that flags hanging inside Russia's building were "torn down and tied in knots" on the floor on two occasions.
Her comments sparked protests on Russian social media at what some suggested was a deliberate attempt to provoke Russia by people hostile to its team's presence at the Games following reports of wide-scale, state-sponsored doping in Russia.
The head of the Russian delegation, Igor Kazikov, says in video posted online that he is investigating and has raised the issue with the Rio organising committee.
Kazikov says only one flag was involved and perhaps it was "the fault of a cleaner" rather than an anti-Russian conspiracy.
Dominic Meyrick-Kole had seen reports about the polluted lagoon where the rowing races are held but tradition is tradition.
So the Dutchman - wearing swimming shorts and a necktie - jumped in.
With five others, he swam to the finish area where girlfriend Ilse Paulis and Maaike Head were celebrating gold in the lightweight women's double sculls.
"It's a Dutch tradition to swim out to the winners," Paulis said.
Were they worried about pollution?
"No, they are guys, they don't care," Head said. "Ilse's boyfriend has done it a couple of times. For my boyfriend it was the first time."
After some hugs and kisses the six swimmers returned to shore and let Head and Paul get ready for the medal ceremony.
"You don't want to spend too much time in this water," Meyrick-Kole said, insisting the swim was worth it. "I'll deal with the consequences later."
A Brazilian swimmer has filed a police report after receiving hateful messages on social media.
Rio de Janeiro police are investigating Facebook users who wrote offensive messages on a photo shared by swimmer Joanna Maranhao after she failed to qualify for the 200 metre individual medley final.
The 29-year-old swimmer initially expressed her anger in a post-race interview on Tuesday after the 200 metre butterfly.
Discriminatory posts are investigated by special internet crime units in Brazil and users can be punished for defamation, slander or injury.
Here's a massive call.
Four-time Olympian Ana Paula reckons she knows why the crowds have been so supportive at the Copacabana volleyball venue.
It's because Brazilians now care more about volleyball than football.
Paula played volleyball at four Olympics, two indoor and two beach, winning bronze with the Brazilian indoor team in Atlanta.
"Some people hammer me for this statement, but I don't think Brazil is a soccer country anymore," she said, perhaps forgetting there were considerably fewer empty seats at last year's Football World Cup in Brazil than there have been at the Rio games.
Swarovski crystals may not be included, but Olympic hopefuls can now dress like the gold-winning American women's gymnasts in replicas of their much-talked-about leotards.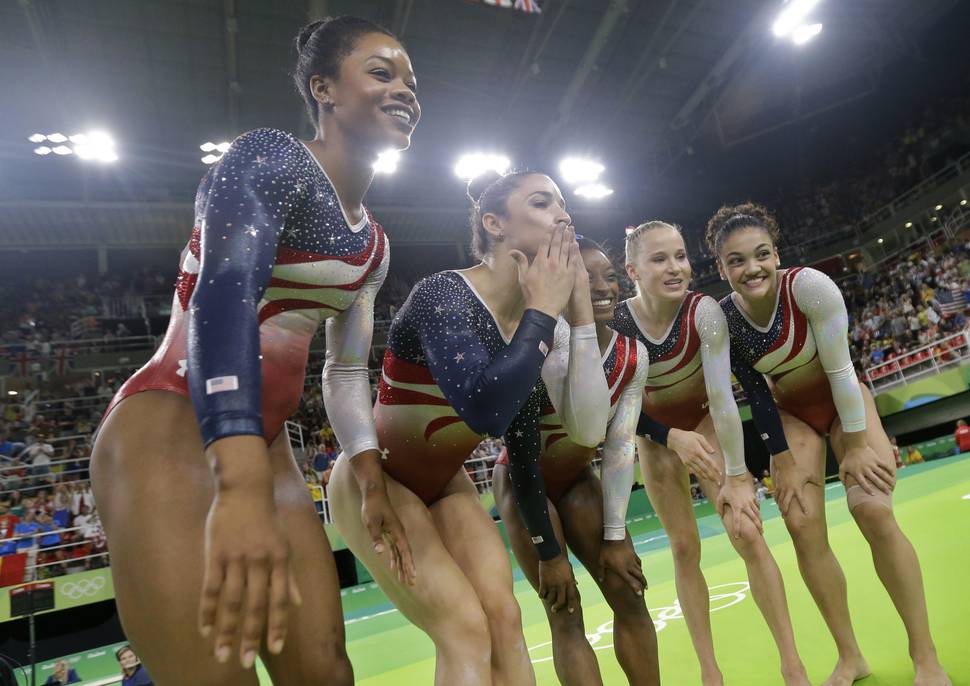 The New York Times reports each twinkling, bedazzled leotard worn in Rio features nearly 5000 Swarovski crystals and would cost US$1200 ($1667) in the open retail market.
But Pennsylvania's GK Elite Sportswear, who made the sparkly leotards for the US team, is offering replicas for about US$60-$80 on its website. Each is emblazoned with "USA" and comes with a matching scrunchie.
GK Elite also makes patriotic uniforms for gymnasts from Russia, the Netherlands and New Zealand.
First Fiji, then Singapore now Puerto Rico?
Tennis player Monica Puig is one victory from securing Puerto Rico's first gold medal in Olympic history.
Puig continued her surprising run in Rio by reaching the women's singles final, eliminating two-time Wimbledon champion Petra Kvitova of the Czech Republic 6-4, 1-6, 6-3.
Puig is ranked 34th and unseeded. She will face Angelique Kerber of Germany or Madison Keys of the US in the final.
Puerto Rico has won two silvers and six bronzes at past Olympics.
Fiji secured its first gold courtesy of the men's rugby sevens side, while Singapore won a swimming gold.