New England Patriots defensive back Nate Ebner has made Olympic history.
Taking the field for the US Rugby Sevens team in the second half of their opening game against Argentina in Rio, Ebner's Olympic debut saw him become the first active NFL player to officially compete in a Summer Olympic Games.
The 27-year-old, who also worked on special teams to help the Patriots capture Super Bowl XLIX last year, was given permission by the team last March to chase his Olympic dream, making him the only NFL player with a chance to capture gold in Brazil.
But Ebner is no rookie to rugby sevens, having become the youngest-ever US Sevens player at age 17 before going to Ohio State, where he split time with rugby and American football until he started his NFL career, never losing his love for rugby.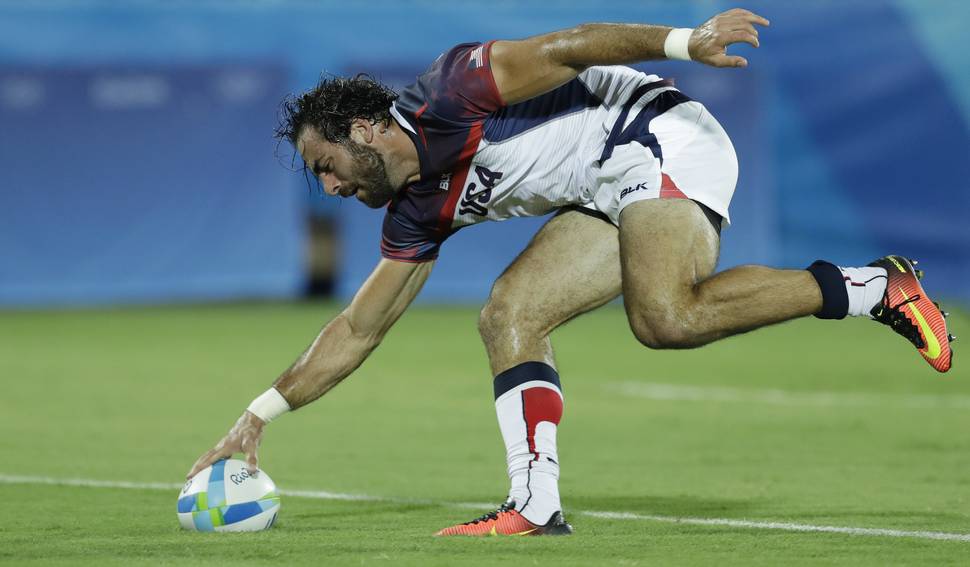 Ebner is not the only NFL player to see time in the Games. Former American shot putter Michael Carter won silver at the 1984 Los Angeles Olympics, just months before making his debut as a nose tackle for the San Francisco 49ers. As the Olympics finished prior to Carter's first official NFL fixture, he was not counted as an 'active' player.
Former Dallas Cowboys wide receiver Bob Hayes shares a similar story, winning gold in both the 100m and 4x100m track events in Tokyo in 1964. Hayes made his NFL debut the following year. He is also currently the only athlete to win both an Olympic gold medal and a Super Bowl ring - a feat Ebner has a realistic chance to emulate.
The US sevens side started with defeat on Wednesday (AEST), going down narrowly to Argentina 17-14 in a Pool A thriller before rebounding to blanket hosts Brazil 26-0.
Ebner was on fire, scoring a try in the second game, and covering all over the field in defence.
However, the safety was also yellow carded for a late tackle that wouldn't have looked out of place in the NFL.
Asked whether he had flicked back into "football mode" for his late hit, which left a Brazilian prone for a couple of minutes, Ebner replied: "Not really! Your natural instincts take over.
"You practise, you practise, you practise and eventually you let your natural instincts take over.
"Sevens and football are very different games. Football is a violent game played right at one another. But at times out here it can get very violent as well."
Team US described his performance as that of an "absolute savage".
Ebner admitted to being quite overwhelmed by his maiden Olympic participation.
"It's been a great experience, something I've never experienced before.
"To be a part of something this big and this prestigious, it's an honour to be part of it and an honour to be here with this group of guys, who work so hard and are some of the toughest guys I've ever met."
Ebner's presence in Rio even interrupted the Patriots pre-season training camp with the team stopping to watch him play, as well as donning special Ebner No. 12 shirts.
"I heard something about that. I appreciate it," he said.
"I just try to embrace the moment, take it for what it is and cherish the moment."
- additional reporting AFP