Tomorrow's Super Rugby final pits the competition's two form first-five against each other. Gregor Paul and Patrick McKendry assess the merits of Beauden Barret and Elton Jantjies.
Beauden Barrett: History
There's never been any doubt about where Beauden Barrett was heading - straight to stardom.
He made his Hurricanes debut as part of the wider training squad in 2011, the year he played a critical role in guiding the New Zealand under-20 team to the junior world championship and, even as a wide-eyed, baby-faced 19-year-old, he looked ready to take on the world.
Aaron Cruden could obviously see that, too. While he was pulled to the Chiefs in 2012 by his relationship with new coach Dave Rennie and the prospect of driving a revolution, he was also aware that he'd be in for a huge battle to start in the No 10 jersey if he remained with the Hurricanes.
Barrett became the Hurricanes playmaker in 2012 and made an immediate impression. His time at the franchise has largely seen him play accurate, controlled football where he has steadily exerted greater influence on the style of rugby played to the point where he has become recognised as a world-class operator.
There have been a couple of blips along the way - a strange few weeks in early 2013 when the previous coaching regime decided to use him at fullback, suggesting they had lost some faith in his ability to direct the side. But more significantly, there was last year's final, when he didn't get the best out of himself and made uncharacteristic mistakes.
Form
Barrett has been in the form of his career in 2016. He has relished the responsibility of leading a young backline missing old-timers Ma'a Nonu and Conrad Smith and has been willing to back his instincts to deadly effect.
His basic work has been polished - his tactical kicking, passing, decision-making and general tactical control - and his individual attacking flair has been off the scale. This is where he is damaging teams, with his natural ball-playing skills, speed and ability to score and create tries that are almost impossible to believe.
He pretty much dusted the Chiefs off on his own last weekend in a performance that was mature, innovative and balanced in his assessment of risk against reward.
Final prospects
Barrett came into last year's final on the back of a knee injury that had curtailed his involvement in the preceding month.
Perhaps he wasn't feeling confident within himself - about his mobility and agility - and that was playing on his mind in the final.
Whatever, it hurt him that he disappeared a little during the game, made a few mistakes and didn't take control the way he had for much of the rest of the season.
But to believe that he's not got the temperament for big games would be folly. He's shown a calm head throughout his time with the All Blacks, offering big contributions in big games. He's been the star of the playoffs series so far and is playing with such freedom and confidence that it's hard not to believe he'll be the central figure tomorrow night - composed, authoritative and at the heart of everything the Hurricanes do.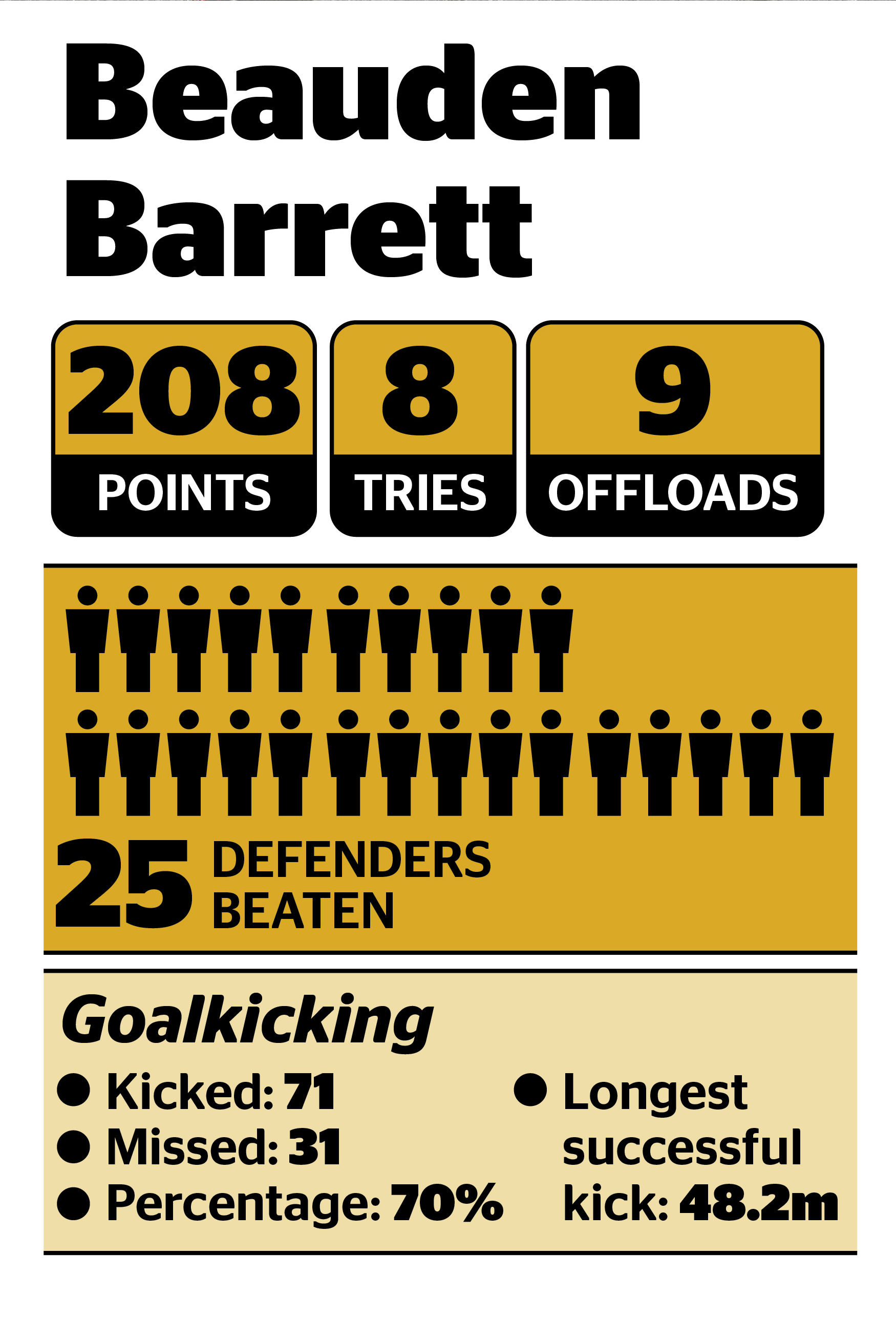 - Gregor Paul

Elton Jantjies: History
There has always been a hint of inconsistency around Elton Jantjies, a player with all the skills but perhaps not the mentality to make it at the top level. He played two tests for the Springboks in 2012, but was dropped after the loss to the All Blacks in Johannesburg and wasn't sighted in the green jersey until this year, when he played in the three tests against Ireland in June.
It's relatively easy to see why Boks coaches would lose faith with him. South Africa is the home of the percentage-playing No 10, one who keeps the ball in front of his forwards with a booming boot and distinct lack of imagination. The old joke about Naas Botha introducing himself to his outside backs on the plane home from New Zealand following the 1981 tour came about for that very reason.
The form of Jantjies and the Lions might usher in a new and expansive mindset for South African rugby and that would be a good thing for the game as a whole. He has always been an accurate goalkicker - thanks in part to his father, Thomas, an army warrant officer, who died three years ago at the age of 46 after being stung by a bee but who constantly pushed his son to be better.
Jantjies, happy to be in a Lions team playing with width and ambition, dominated the Crusaders and Highlanders in his team's playoffs successes this season. He looks settled, confident, and thriving under Johan Ackermann's game plan. He will be a significant player for the Lions against the Hurricanes, and probably the Boks this year.
Form
Stunning, and similar to Barrett's in that Jantjies appears to have an almost supernatural ability to see and exploit space on the field. He has excellent pace, a good sidestep and very good hands. Jantjies also has the ability to run through a gap. The Highlanders aren't beaten close to the ruck often, but Jantjies smashed through a tackle close to the line to score the first try against Jamie Joseph's men at Ellis Park last weekend.
His long kicking is perhaps better than Barrett's, but much will depend on the amount of ball his pack can win against the Hurricanes, plus how he and his backs cope with the notoriously quick line speed the home side will bring defensively.
Final prospects
The big question is how Jantjies will cope with the Hurricanes defence. Even Chiefs first-five Aaron Cruden struggled last weekend with a rush defence which had him pushing passes that weren't on in order to try to get to the space out wide.
The swirling wind and conditions at the Cake Tin could also play their part in getting into Jantjies' head at goalkicking time. They certainly did for compatriot Garth April when the Sharks were blown off the field in the quarter-final. April missed all three of his kicks at goal and appeared to have no idea how to cope with it all. Jantjies is a better kicker and player but might be hoping for benign conditions tomorrow night. If Jantjies shines, the Lions will, too. But if he struggles, his team's already slim chances after their long trip from Johannesburg will be all but gone.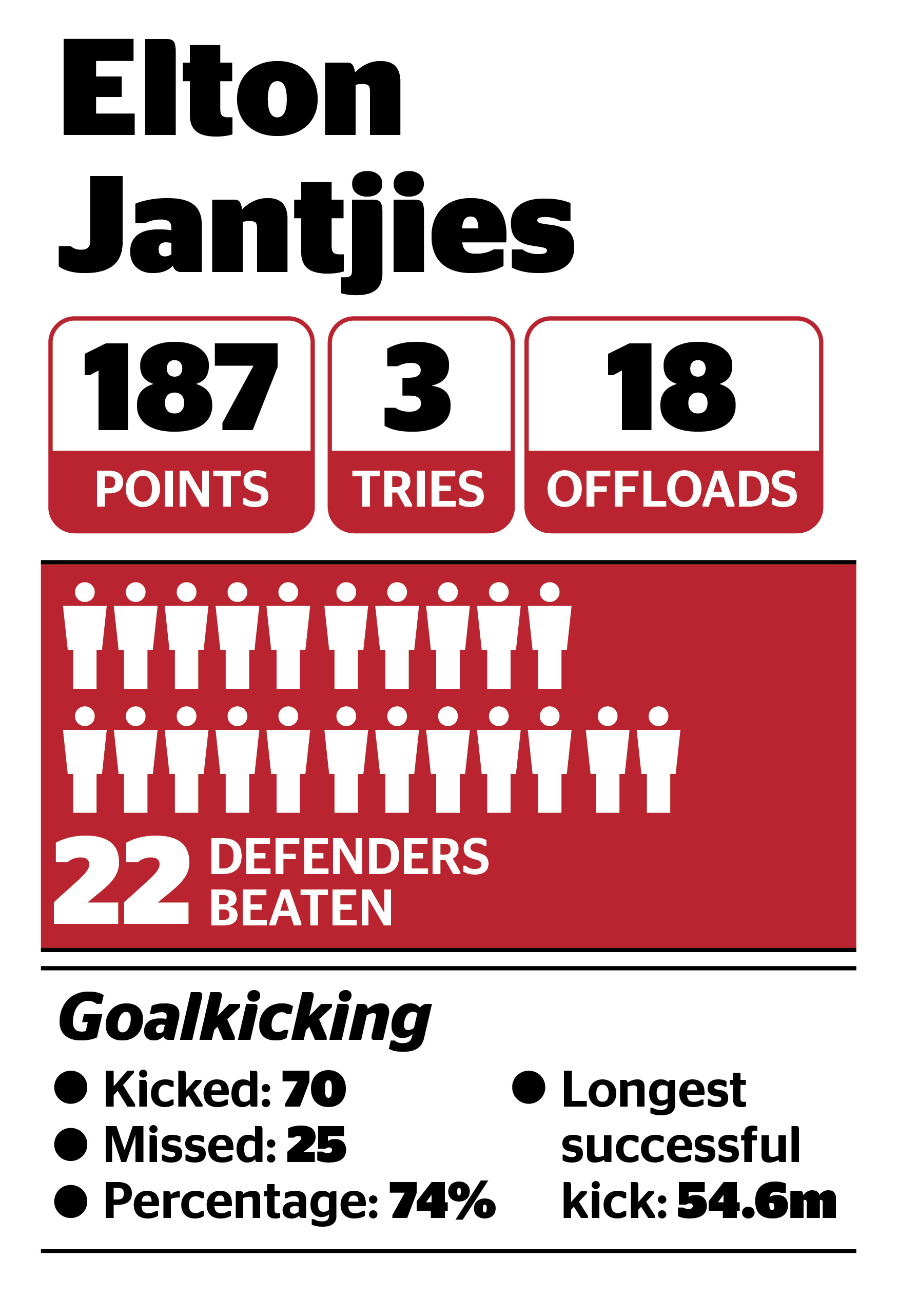 - Patrick McKendry