Andy Murray's first Wimbledon championship was for his country. This one was for Andy Murray.
Dulling big serves with quick reflex returns, conjuring up daring passing shots and playing impressively mistake-free tennis all the while, Murray beat Milos Raonic 6-4 7-6 (3) 7-6 (2) yesterday for his second trophy at the All England Club and third Grand Slam title overall.
In 2013, Murray famously ended Britain's 77-year wait for one of its own to win the men's final at Wimbledon, a quest that became burdensome.
Now he wanted a victory to end his personal rut of three consecutive losses in major finals, including at the Australian Open in January, and French Open last month.
"It is different. I feel happier this time.
"I feel more content this time. I feel like this was sort of more for myself more than anything, and my team as well," the second-seeded Murray said. "Last time, it was just pure relief, and I didn't really enjoy the moment as much, whereas I'm going to make sure I enjoy this one."
This was his 11th Grand Slam final, but the first against someone other than Novak Djokovic or Roger Federer. The sixth-seeded Raonic eliminated Federer in five sets in the semifinals on Friday, and also defeated the player who stunned Djokovic in the third round, Sam Querrey.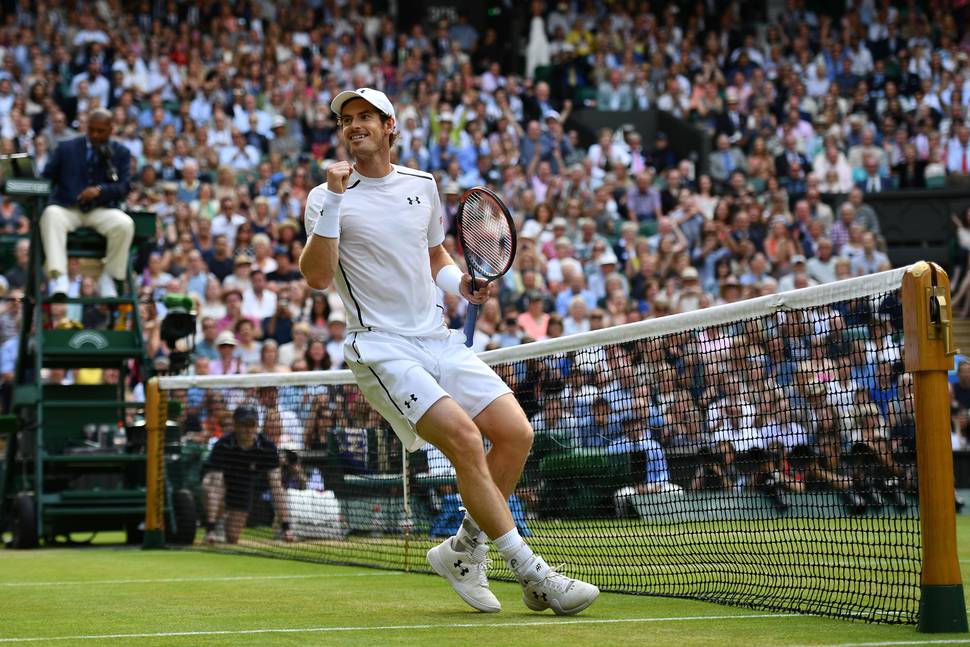 Those wins helped Raonic become the first man representing Canada to reach a major final.
It's been a rough few weeks for Britain, what with its vote to leave the European Union, the drop of the pound's value, and the resignation of Prime Minister David Cameron, who was seated in the front row of the Royal Box yesterday, several seats over from Prince William and his wife, the Duchess of Cambridge.
During the trophy presentation, Murray joked: "Playing in a Wimbledon final's tough, but I certainly wouldn't like to be a prime minister. It's an impossible job."
Murray, a 29-year-old from Scotland, long dealt with the expectations that accompanied being Britain's best chance to find a male champion to succeed Fred Perry, who last won the grass-court tournament in 1936.
Murray has thrived, thanks to a counter-punching game and sublime returns of serve.
It took Raonic 36 minutes and five service games to record his first ace, and he wound up with only eight. Over and over, Murray managed to get the ball back, even one that came in at 236km/h.
And while Murray broke Raonic only once, to lead 4-3 in the opening set, that was all it took, because the tiebreakers were surprisingly one-way traffic.
Murray made only 12 unforced errors, two in the second set.
"Really good stuff," Murray said.
Taking it all in from Murray's guest box, with seemingly nary a smile, was coach Ivan Lendl. They worked together when Murray won his first two Grand Slam trophies, including at the 2012 US Open, then split up, before reuniting last month.
Once again, that partnership paid off, and at Wimbledon, no less.
"To do it twice here," Murray said, "an event where there is a lot of pressure on me to perform well - I'm very proud with how I've handled that over the years." AP