new quartet of Black Caps a' />
Congrats to the new quartet of Black Caps among the 21 contracted players announced this week: the resurrections of Ish 'The Dish' Sodhi and Colin 'Marilyn/Burt' Munro, and new faces Henry 'Toey' Nicholls and George 'T' Worker.
Worker is something of an African specialist, having played four internationals for New Zealand in Potchefstroom, Durban (twice) and Harare respectively. The Zimbabwe T20 international in Harare was his debut, and he had a blinder: batting first drop he hit 62 from 38 deliveries and won man of the match.
In picking up an over-sized cheque, a bottle of bubbly and some awkward chat in his first international for New Zealand, Worker joined a pretty short list of debutants who won man of the match: Stephen Fleming, Mathew Sinclair and Mark Craig (Test matches), Rob Nicol (ODIs) and Jeetan Patel and Aaron Redmond (T20).
***
We've talked about cricket quizzes on the black, luxurious, over-priced Mastermind chair before , and this Sunday there will be another...I've started so I'll finish...clinical Peter Williams interrogation of a cricket nuffie on the topic: "Cricket World Cups 1992-2015."

Hopefully there are mentions of Moin Khan and Chris Harris in 1992, Arjuna Ranatunga and Lee Germon in 1996, Herschelle Gibbs and Geoff Allott in 1999, Collins Obuya and Shane Bond in 2003, Dwayne Leverock and Jeff Crowe's match refereeing in 2007, Stumpy the mascot and Ross Taylor in 2011, and Mitchell Starc and Grant Elliott in 2015.
I also hope the contestant is as academically (and sartorially) wonderful as magical Makarand Megde who answered two minutes of questions perfectly on Sunil Gavaskar Mastermind India - an epic 23 correct, no passes, none wrong.
***
Spare a thought for Northamptonshire bowler Olly Stone who had bearded wonder Moeen Ali out caught behind this week - and was pretty excited about it. He leapt and landed and soon collapsed with a "compact knee injury with anterior cruciate ligament and cartilage involvement".
New Zealand's most famous cricketing injury is probably the Trevor Franklin baggage trolley incident at Gatwick Airport in 1986, which resulted in multiple leg fractures and an 18-month stint behind the boundary rope.
Inspector Franklin made it back though - and has his name on the Honours Board at Lord's to prove it. Here's how Vic Marks remembers it: "Franklin was a universally popular figure except perhaps among spectators hankering for a bit of action. A beanpole blocker, who made Chris Tavaré look like Kevin Pietersen, Franklin's 101 occupied 435 minutes and 310 balls and in this innings he was scoring considerably faster than normal."
Honourable mention: Jesse Ryder's severed tendons courtesy of a kamikaze effort with a pub toilet window in 2008.
***
Physiotherapist fast bowler and one-test wonder Andy McKay has been wreaking absolute left-arm havoc in Scottish club (as you'd expect). Playing for Watsonians CC in Edinburgh he plundered a remarkable 9-9 from 7 overs at the weekend - four bowled, three LBWs and two caught. His opening bowler counterpart Ally Sadler managed to 'Vaughan Brown' him when he took the seventh wicket of the innings to rob McKay of the perfect ten. There was a paddling of ducks too - five to be precise.
The 36-year-old McKay told the Edinburgh Evening News: "It was one of those days for me with the ball when everything went right. I managed to get a wicket early on in their ?reply, the ball was swinging and I settled into a nice rhythm and things seemed to just click."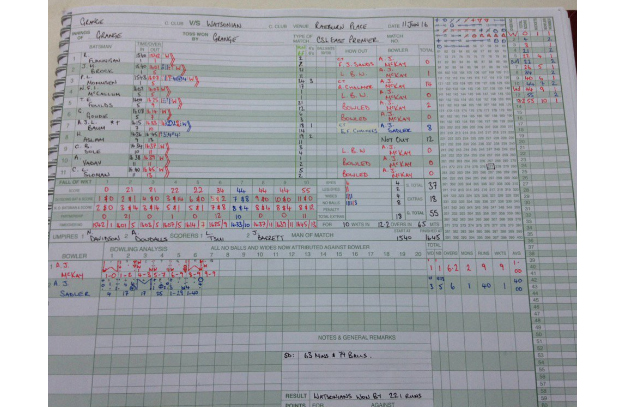 ***
Tweet of the week: This gem from @dudleyplatypus at the Home of Cricket under fierce and foreboding skies during England vs Sri Lanka.
***
READ: Donald McRae on Chris Gayle's new book and the zeppelin of controversy that hovers over much of his media life. "One of the book's pleasing surprises is to read how his career was inspired by a female teacher. "Miss Hamilton is a wonderful woman. She kickstarted things and gave me that self?belief. Most of the time, as a kid, you're nervous. She would try to get in your head and give you confidence. She was also our football coach - so she was very talented and to have a woman lead you at a young age was really good."
LISTEN: The Beige Brigade podcast, The Horse Slip Arnel Episode , celebrates the basketballing, leg-tattooed, indoor cricket playing, Governor-wielding Brent Arnel. Emails From Around the World land from The Titan, Jack of China, Muz, Reg and Liam of the Aro Valley.
WATCH: Adam Parore on Maori Televison talking about nailing stress by cutting down on booze and jet planes. As an aside - I spotted the famous 1968 Smith and Carlos gloved salute on the Wicked Keeper's wall - if you haven't read up on the Australian athlete who was on the dais with them, you should do so now.
READ: Jo Harman on Brendon McCullum helping New Zealand "get its soul back" in a Q&A session: "And the 'no dickhead' policy is pretty important too. There were some fellas who didn't necessarily buy into what we were trying to achieve, and they were really talented as well, but unfortunately we just couldn't have them in our side. Jesse Ryder for instance."
WATCH: The NZ Cricket Museum maestros spotted that the British Film Institute have just released a series of historic cricket films to the universe. Pick of the bunch is this incredibly rare footage of the legendary Prince Ranjitsinjhi (who was not big on the forward defensive - and was he a prince or nah not really?) showing off his aggressive and wristy batting skills in 1897. Apparently it is the world's oldest cricket film.

Middle & Leg is a cricket newsletter for New Zealand cricket fans who like a dose of optimism and a tablespoon of take the piss with their weekly cricket informational. It is tapped out by Paul Ford, co-founder of the Beige Brigade, and one-seventh of The Alternative Commentary Collective . You can email him here beigehq@beigebrigade.co.nz.