Waikato icon Warren Gatland is in charge of the Welsh team which will try to beat the All Blacks for the first time in more than 60 years. There are strange twists of fate in the 52-year old's move to Wales.
1) Yes, Warren Gatland is a former All Black. Ironically, the stout hooker was propelled into the 1988 test squad after an excellent match for Waikato against, you guessed it, Wales. He was touted as an All Black coaching candidate but the timing never seemed right, and there was a feeling in some quarters - fair or not - that he used the All Blacks as a bargaining chip in the north. Gatland's various coaching role locations go in this sort of order: Taupiri, Galwegians, Thames Valley, Connacht, Ireland, London Wasps, Waikato, Chiefs, Wales, British/Irish Lions.
2) Thanks for the great view but...Gatland never played a test. NEVER. In an age where replacements were only for injured players, he sat behind Sean Fitzpatrick for test, after test after test despite going on four overseas tours. He played 17 non-test matches from 1988 to 1991, during which there were 29 tests he missed out on.
3) A little Gatland porky led the former PE teacher to coaching Ireland, Wales and the Lions. We'll let him tell the story.
"It was unbelievable," he told the Daily Mail. "I was on tour with the All Blacks in Ireland. I got offered the player-coach role at Galwegians in Galway by Mick Heaslip who is still a good friend.
"His brother had bumped into one of my team-mates, Graham Purvis, in a shop in Dublin after the Ireland v All Blacks game. They wanted an All Black (as) player-coach and Graham wasn't interested, but he said he knew someone who might be. They were looking for a prop and I was asked if I could play there, so I said, "Yeah...I'd never played prop in my life!"
4) His coaching record for Wales against the three Southern Hemisphere heavyweights is dire. Played 27, won two. His average losing score in seven matches against the All Blacks is 13 - 32. He has coached Wales in 89 tests since taking over after the 2007 World Cup, and is the third Kiwi to coach the Welsh after Graham Henry and Steve Hansen. Gatland's Wales have won three Six Nations titles, and played in one World Cup semifinal.
5) Gatland could return next year, as Lions coach. Irish legend Brian O'Driscoll is in his corner, saying Gatland's style adapts well to a team which is thrown together. The other contenders are also Kiwis - Joe Schmidt (Ireland) and Vern Cotter (Scotland). England's Aussie coach Eddie Jones has ruled himself out. Gatland was the Lions assistant coach in 2009, and coach four years later when they beat Australia.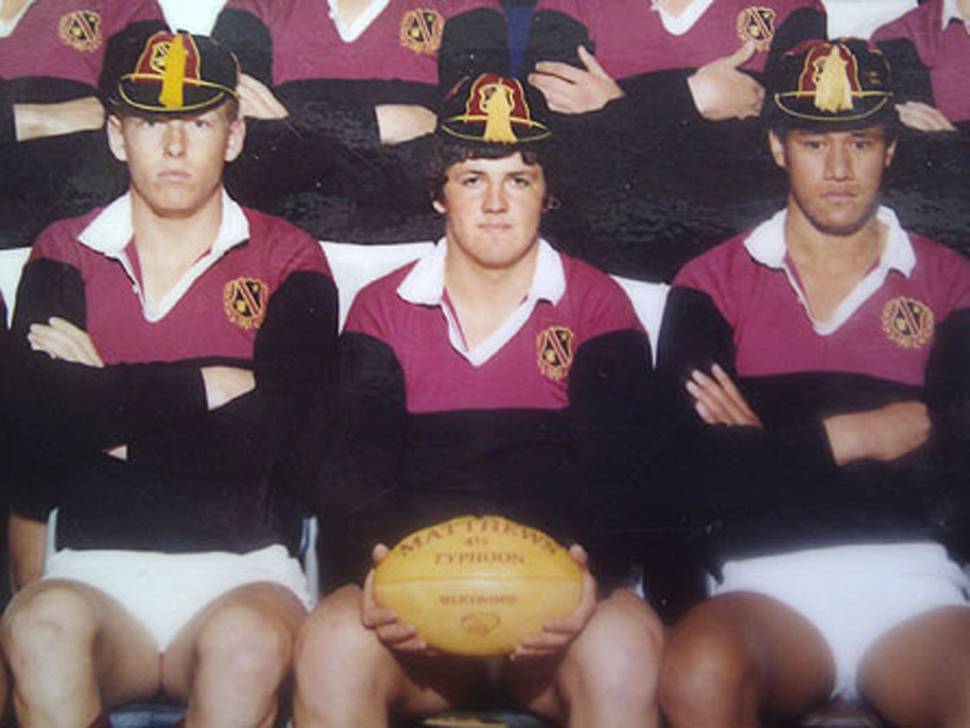 6)
His wife Trudi and their kids Gabby and Bryn - now in their early 20s - remained in the Waikato while Warren coached Wales. She admits the often long-distance marriage "has its challenges". Warren and Trudi met at teachers' college. And why does Bryn - a first five-eighth for North Harbour - have such an appropriately Welsh-sounding name? While a trainee, Trudi taught a visiting Welsh kid named Bryn, loved the name, and decided: "If I ever have a son...I didn't know how fitting it would be".
7) Trudi's dad Terry Shaw was a fullback who kicked two drop goals to lead tiny Thames Valley to victory over the Wallabies at Te Aroha in 1962. His 74th minute matchwinner has been described as "the most priceless three points in Thames Valley rugby history".
8) Gatland suffered multiple heel fractures after falling while cleaning windows at his Waihi Beach holiday home in 2012. He required reconstructive surgery, delaying his return to coach Wales. He was apparently getting the home ready for a magazine photo shoot. Trudi, who sells real estate, joked that friends "accuse me of pushing him so I could have him here longer".
9) Gatland's 140 games for Waikato is pipped by Ian Foster's record of 148. The old team mates lock horns this month with former No. 10 Foster part of the All Black coaching team. The ex-provincial team mates were euchre partners.
10) Gatland's oldest mate is Chiefs assistant coach Andrew Strawbridge - they met aged seven and played more than 100 games together for Waikato. Gatland's headmaster and mentor at Hamilton Boys High was former All Black Tony Steel, and the young Gatland was also an outstanding cricketer.
Strawbridge told the BBC: "He was a pretty talented bloke. He was a very good cricketer, opening the batting, keeping wicket, bowling fast. If he'd had the same passion for cricket as he did rugby I'm sure he could have made it in that."