There were amazing scenes in Leicester overnight as hundreds of thousands of supporters lined the streets to celebrate the recently-crowned Premier League champions' victory parade.
The Foxes' remarkable campaign ended with a 1-1 draw at last season's title winners Chelsea on Monday NZT, meaning Claudio Ranieri's side finished their historic campaign with a 12-match unbeaten run.
Jamie Vardy and Co received a hero's welcome from around a quarter of a million supporters when they took their place on the top deck of a blue party bus at 6 o'clock on Monday evening (BST), driving through the streets of Leicester from Jubilee Square to Victoria Park.
Speaking from the top deck of the bus to Sky Sports News, Marc Albrighton said of the crowds: "It's unbelievable. They're out in their forces. The kids, grandads, parents, they're all out. We knew there was going to be a good turnout but this is something else.
What we've achieved is so special and the fans appreciate it. It's definitely not [sunk in], we've not had time to settle down. It'll be long into the summer, probably even longer. I don't think we'll ever get tired of this as long as we live.
"It's massive for the city... look at the fans here. It shows what it means to this fantastic city."
Fans lined the streets from the early afternoon on Monday in order to get a good spot, while defender Marcin Wasilewski posted a sneak preview from inside the bus at Leicester's training ground.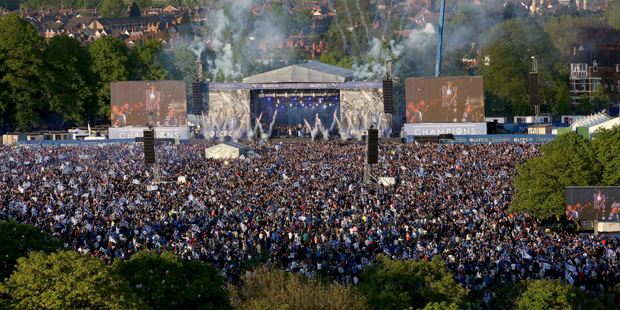 Leicester City fans gather to celebrate their team winning the English Premier League, in Victoria Park, Leicester. Photo / AP
The snap showed the Poland defender behind the wheel, alongside the caption, "People are you ready to celebrate championship??? #ontheway".
When the players did eventually make their way out, record-breaking striker Vardy summed up the players' feelings in an interview from the top deck.
Speaking to Sky Sports, he said: "It's carnage. I heard a little rumour this morning that they're expecting 250,000 people. It's brilliant. Look what it means to the city, it's unbelievable. It's not [sunk in] but I'm sure it will over time. I'll wait until it does sink in and then I'll have a few days to myself."
Christian Fuchs was also full of praise for the celebrations, noting: "I can't put it into words. I think people from all over England are here. I'm walking here sometimes,' he said pointing to the pavements. 'There's not usually this many people."
After the 1.5mile parade, Leicester's players headed to Victoria Park, where hundreds of thousands more supporters were in attendance. While the crowds waited for their heroes, Radio 1 DJ MistaJam got the crowd pumped up.
One medley led off with Ranieri's 'dilly ding, dilly dong', while the club's women's team and basketball side also made an appearance on the stage. When the players did eventually arrive, they were welcomed on one-by-one, with highlights of the season shown on the big screens.
The King Power Stadium outfit were presented with their trophy following their 3-1 victory over Everton in the penultimate match of the season but Monday's parade saw see thousands more supporters get the chance to salute their heroes.
Most fans arrived hours early in preparation for the victory parade, which celebrated Ranieri's side's sensational Premier League title, with many pictured stocking up on Leicester-branded items from a club shop in the city centre.
Ranieri spoke to Sky Sports during the parade, and said: "It's unbelievable. It's something special. All the city is here, a lot of people are happy and I'm very glad.
"This is because the team won. But also the team played with heart and soul and the people understand this. I can only say thank you to all the people."
Leonardo Ulloa was another player enjoying the scenes from the top deck of the bus, noting: "There's so many people here to support us. Leicester supporters will enjoy this. There's only 30,000 people in the stadium but everyone is here today.
"We need to enjoy it. I can't believe it. It's my first time, but two years ago [when Leicester won the Championship] it was the same."

The parade comes after the Leicester players and manager Ranieri, the former Chelsea boss, were given a guard of honour prior to their season-closing 1-1 draw at Stamford Bridge.
Ranieri was all smiles as Chelsea players and staff applauded his success in masterminding Leicester's maiden top-flight title. The 64-year-old waved to all four sections of the ground as Chelsea and Leicester supporters hailed his and the visitors' achievement.
Chelsea owner Roman Abramovich welcomed Ranieri upon his arrival at Stamford Bridge - sharing a warm embrace and a joke with the man he replaced for Jose Mourinho in 2004.