Full name of the club:
New Plymouth Golf Club ( Ngamotu Links)
Physical address of the club: 24 Golf Course Lane Bell Block
Brief history of the club: Ngamotu was established in 1896 on the outskirts of Taranaki's main centre of New Plymouth by the port. In 1902 it moved to the Whitiora course at Westown, which is now Rugby Park, before moving to it's current site in 1913. It is a classic par-72 layout and a superb golf challenge. It has been the venue of four New Zealand Open championships and numerous national and provincial amateur events.
Our name, Ngamotu, is Maori for "The Islands", and refers to the islands which lie just off the New Plymouth shoreline. These islands are in full view when playing the holes at the seaward end of our golf course.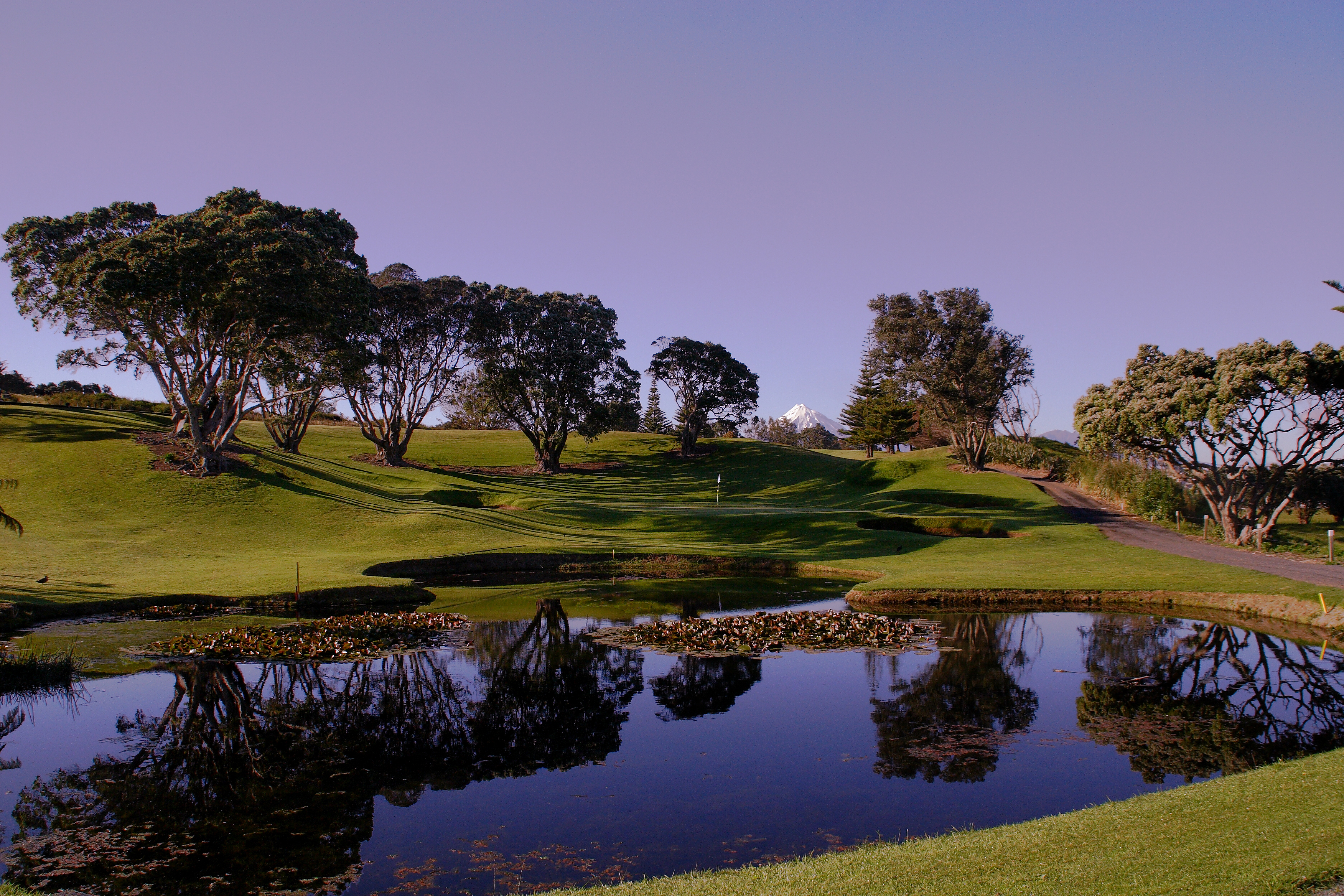 Key personnel: Glennis Taylor - winner NZ Match Play 1965 at Belmont, winner NZ strokeplay 1969 at NPGC, winner NZ Foursomes 1969 at NPGC and 1970 in Invercargill.
Grant Moorhead - winner NZ Strokeplay 1991, winner NZ Junior Championship 1992, leading Amateur NZ Open 1992, NZ Golfer of the Year 1991, Member of the NZ Eisenhower Team and winner of the World teams event in 1992.
Joe Holden - winner of the 47th Amateur Golf Championship at Bridge Pa, Hastings 1949. Winner of NZ Amateur Foursomes 1947 at Ngamotu and 1949 at Bridge Pa with Denny Sutherland.
Course description: Ngamotu is designed so that both nines sweep out from the clubhouse in two giant loops, which means that no matter which way the wind is blowing, there will be adventure for players at some time or other during each round.
Ngamotu's modern course features water on three of the holes while many of the greens are large and contoured so they can be a true test of a golfer's putting ability.
Red tees - 4959 metres, white tee's 5755 metres and championship blue tees 6086 metres.

Best hole: Hole # 6 - The Dell, is Ngamotu's signature hole, Mt Taranaki provides a spectacular backdrop as you ponder your tee shot. Club selection depends on wind strength and direction. A water hazard short and bunkers left and right closely guard the green. Premium is on an accurate tee shot.
Best feature of the course: A great feature of NPGC is that Ngamotu's four par three holes (which are regarded as among the best in the country) - not only do they range widely in their lengths, but they all point in different directions of the compass.
Course would best suit what type of player: The NPGC maintains three tee's to suit golfers of all abilities and also has a junior 'kiwi tee'.
Cost of membership: Full membership $1045, Seniors $945, Juniors $10 x age (up to 18-years-old), 19-24 years of age $425, 25-30 years of age $650, 31-35 years of age $875, 5 Day (Mon-Friday) $725 and Under 30 Women $60.
Cost of green fees: $50 green fee, $40 for local Taranaki players, $30 for members guests. Rates are halved for 9 holes.