Former All Black captain and Rugby World Cup winner Richie McCaw received New Zealand's highest honour today.
McCaw is now a member of the Order of New Zealand, receiving his honour at an investiture ceremony held at Government House this afternoon.
Richie McCaw has been an All Black since 2001 and captain since 2006, leading his team to two World Cup victories in 2011 and 2015.
As of last year, he is the most capped player in rugby union history with 148 caps.
The ceremony was not without its laughs, with McCaw having to bend down quite low to receive his medal from the Governor-General.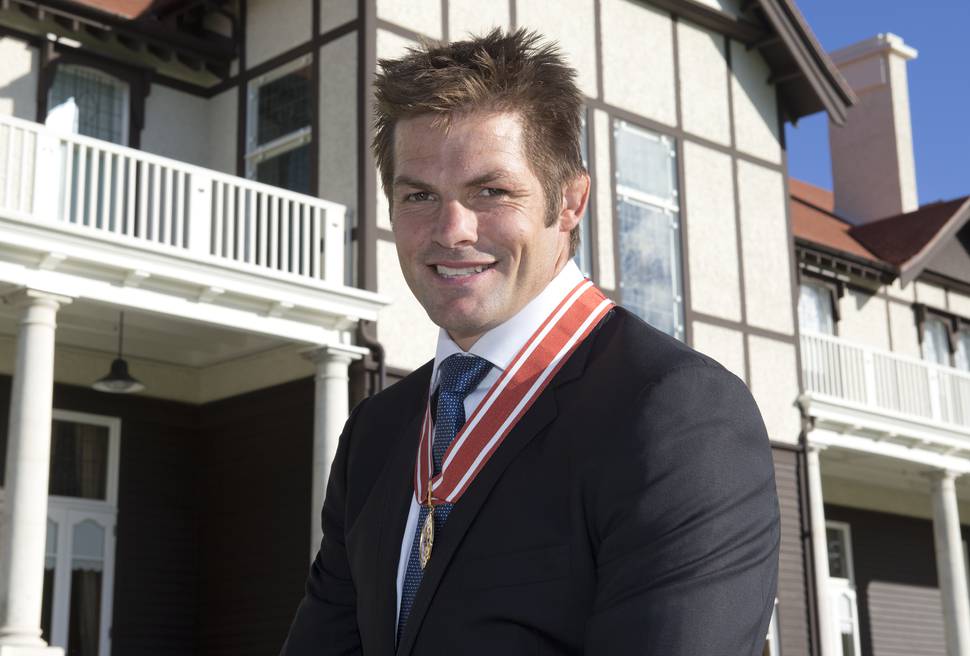 There was a massive round of applause and those gathered took hundreds of photos as Sir Jerry Mateparae and McCaw paused in their handshake.
McCaw was supported today by his family and his fiancee, Gemma Flynn.
Governor-General Sir Jerry Mateparae spoke at the ceremony, acknowledging the achievement of McCaw.
"I do not normally single out recipients but there is something special about the Order of New Zealand that sets it aside from all others."
The badge McCaw received today was brand new, and would start its genealogy with the former All Black.
Receiving the country's highest honour was "right up the top" of McCaw's long list of achievements, he said.
"You can't get any bigger than this," he said.
He said becoming a member of Order of New Zealand was recognition of the hard work from himself and his All Blacks teammates.
"I guess you receive it on behalf of people you represented.
"It's recognition of the hard work you put in to try and represent your country the best you can. I guess that's what I've done."
However he's still keeping it casual - considering himself as an "ordinary Kiwi".
"It's great people get recognised for these things, at the end of the day you're an ordinary Kiwi really," he said.
"People expect you to behave like that ... it's one the things I've always been strong on."
The youngest New Zealander to receive the Order of New Zealand, McCaw said it was a "little embarrassing".
"I have had friends point that out to me," he laughed.
He jokingly said he hoped this would be his last media scrum for a while.
"Its been more than I thought when you finish playing rugby, but I suppose when you do idiot things like running around the hills you get that sort of thing, but it's all pretty cool when it's things like this."
McCaw said there were no regrets of not becoming "Sir Richie" and receiving an Order of New Zealand "sat more comfortably" with him.
While he's retired from the All Blacks, he's not slowing down.
He is still flying helicopters and just completed a 530-kilometre "Godzone Adventure Race" last week.
Other members honoured
• Gilbert Enoka ONZM - For services to rugby and sport psychology.
• Stephen Boock ONZM - For services to sport and the community.
• Michael Cron MNZM - For services to rugby.
• John Armstrong ONZM - For services to journalism.
• Jodi Brown MNZM - For services to netball.