'helicopter mum' controversy has been an absolute bunny-boiler this week. I won't get into the broadcasting ethics of wheth' />
The Ben Stokes' "helicopter mum" controversy has been an absolute bunny-boiler this week. I won't get into the broadcasting ethics of whether the call should have gone to air, suffice to say that I may be a bad person for finding it harmless and humorous.
What I will get into is that it seems naïve and borderline insane to call up two professional piss-takers saying that you've heard that they've been mean about your son and can they please stop - especially when the things said were not that mean, and that son is a professional cricketer earning circa 1 million pounds per annum.
My favourite bit: "Say those things and then temper it with some positives. Have a look on Twitter, see the likes of Kevin Pietersen, Tino Best, Graham Onions - all of those people giving him their support because they know that tomorrow is another day." It's not quite Gary Sobers, Stephen Fleming and Rahul Dravid is it?
It was a classic example of the Barbra Streisand Effect - Mama Stokes unintentionally transformed a not-very-famous audio critique of an English cricketer by two low-level aural breakfast punishers into homepage news around the cricket globe.
Last year Ben's father Ged told The Mirror that Deb was a very good cricketer. "She was still playing right up to carrying Ben, and I'm sure that's why he came out as an all-rounder, because she was as well."
***
List of the week: Kiwis IPL-ing
Corey 'Mills and Boon' Anderson, Mitchell McClenaghanaghan and Tim Southee (Mumbai Indians), Colin Munro (Kolkata Knight Riders), Adam Milne (Royal Challengers Bangalore), Trent Boult and Kane Williamson (Sunrisers Hyderabad) and Brendon McCullum (Gujarat Lions).
Plus of course coaches Daniel Vettori (Royal Challengers Bangalore) and Stephen Fleming (at the preposterously named Rising Pune Supergiants). A supergiant is not a pumpkin or a rose or a dog breed, but a very large star brighter than a giant, often despite being relatively cool.
First game: Mumbai vs Pune, first ball 2:15am on Sunday 10 April our time. And yes it is live on Sky Sport.
***
If you're keen to succeed Waqar Younis, aka the Burewala Express, aka The Toe Crusher, as Pakistan head coach, you need to send in a passport photograph and a CV to the PCB (c/- Gaddafi Stadium, Lahore) by Anzac Day. The services you need to be able to provide include "augmentation in Individual Skills with regards to the consistency in performance at international competitions and developing sustainable team culture commensurate with international requirements."
Waqar resigned after a confidential report he provided to the PCB chairman found its way into the hands of the media. "I've given a fair assessment but bits and pieces from my reports have been picked, moulded and leaked in the media to present me as some kind of villain," he said, utterly flummoxed.
The weirdest thing I saw was Waqar accusing Moin Khan of taking players out late at night and to get free gifts during the 2015 Cricket World Cup, where he was the head of selectors for Pakistan. He was sent home in disgrace after being spotted in the Christchurch Casino two days before Pakistan played the West Indies.
Moin was also the coach of the Lahore Badshahs and the Hyderabad Heroes in the unsanctioned Indian Cricket League. He was also the man who hit the winning runs at Eden Park on the heartbreaking day in 1992: Harris to Moin, 3 needed off seven balls, swipe-pull for four, game over and he finishes with 20 from just 11 deliveries.
***
Sachin Tendulkar, Brett Lee and Shane Warne are all involved in a ridiculous nautical venture: "The first Indian cricket and Bollywood cruise....Enjoy the opportunity to listen to their stories and be captivated by their tales of achievements." Lippy Lankan Kumar Sangakarra, Prince Brendon McCullum, tubby Jacques Kallis, zincy Dean Jones, immovable Michael Bevan, angry Mark Boucher, wild Jeff Thomson and even portly Shane Lee are in the mix too. Get saving - cabins start at NZ$1800 - and we depart 17 March 2017 from Singapore with 2000 mad cricket nerds.
***
Not-quite-two-metre Peter Fulton had a bowl in Plunket Shield cricket this week. Long levers. The man they call "Stick" from Swannanoa has actually bowled more than 100 overs in first-class cricket and has 11 wickets at 41. Not sure how much has been spin though, and he hasn't bagged a wicket for 13 seasons.
***
This week on The BYC Podcast, we indulge in rosé and cheeseburgers to celebrate the cricketing life and times of Jesse Ryder, Black Cap Test player #141. We remember Adam Parore's fattist remarks, and run through the big man's batting averages and future prospects.
Emails From Around the World zero in on stumpings, geography, run outs, Ian Chappell and Sunil Gavaskar making things up, horse consumption and a stunning collection of name stats from rural Canterbury.
***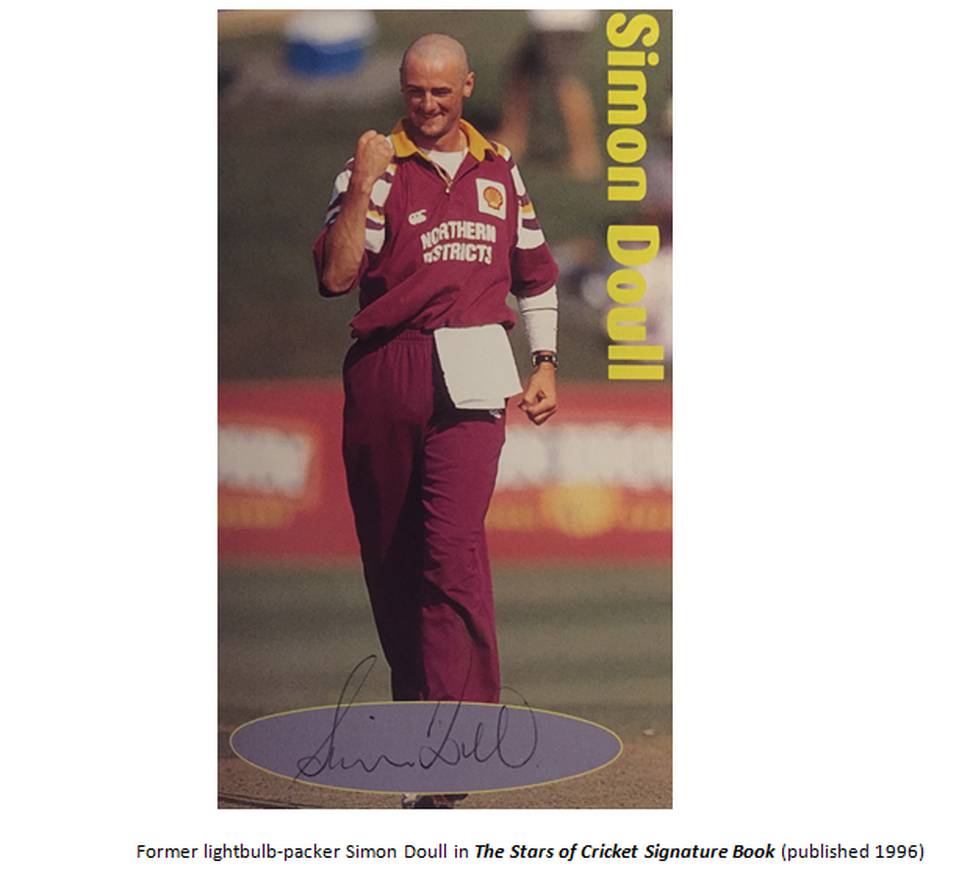 READ:
on Samuel Badree, PE teacher, batsman bamboozler and prematurely balding 35-year-old "who is the antidote to the razzmatazz of the West Indies side".
LOOK: If you dare, at the entertainment option presented to guests at the Western Australian Cricket Association's awards night last week, $250 bucks a head. Four words: burlesque, sponge bath, martini. Best quote: "Elderly men were covering their partners with their jackets..." And shutting their own outraged eyes too presumably?
READ: The dark side of some brilliant Pakistani cricketers - a dossier of intriguing, compromising, frightening, fascinating, upsetting and complicated scenarios: "They were caught with rum, marijuana and two suspicious looking females...and the four had to spend a night in jail as the first Test was pushed ahead by a day."
DISCOVER: How to prepare a first-class cricket pitch, according to BBC Sport. Head groundsmen Gary Barwell at Edgbaston in Birmingham and Tim Packwood at New Road in Worcester talk through their curation magic.
WATCH: Dipak Patel reels in a pair of immaculate catches - but his pair of sunglasses outshine everything. Also check out Mike Whitney's shocker and John Bracewell's outstanding send-off to the crowd.

Middle & Leg is a cricket newsletter for New Zealand cricket fans who like a dose of optimism and a tablespoon of take the piss with their weekly cricket informational. It is tapped out by Paul Ford, co-founder of the Beige Brigade, and one-seventh of The Alternative Commentary Collective . You can email him here beigehq@beigebrigade.co.nz.