An ESPN columnist reckoned Lydia Ko's second major golf title puts her in the frame as "the most successful teenage athlete in professional sports history". The Herald came up with other contenders on the female, teenage sports star leaderboard.
Nadia Comaneci (born 1961)
The Romanian was perhaps the teeniest teenage prodigy of them all, winning five Olympic golds and nine medals in total before she turned 20. The high point came aged 14 when she scored a perfect 10 at the Montreal Olympics for her uneven bars routine. What was once thought impossible became routine, with Comaneci earning six further perfect scores during those Games.
Olga Korbut (1955-)
Korbut's influence was possibly even more far-reaching than Comaneci's. When she won three golds and a silver at the 1972 Munich Games (but not the overall after stuffing up the mount on her bars routine) she encouraged a generation of young girls into the sport, keen to try to master the back tuck and the Korbut flip.
Katie Ledecky (1997-)
The current wonder-teenager of world swimming, Ledecky won her first Olympic gold at 15 in London four years ago and holds the world records in 400m, 800m and 1500m freestyle. She won nine golds at the 2013 and 2015 world championships, has a total of 15 golds in the major swimming events - Olympics, worlds and Pan Pacific championships - has broken 11 world records and is expected to bag several more golds at this year's Rio Olympics.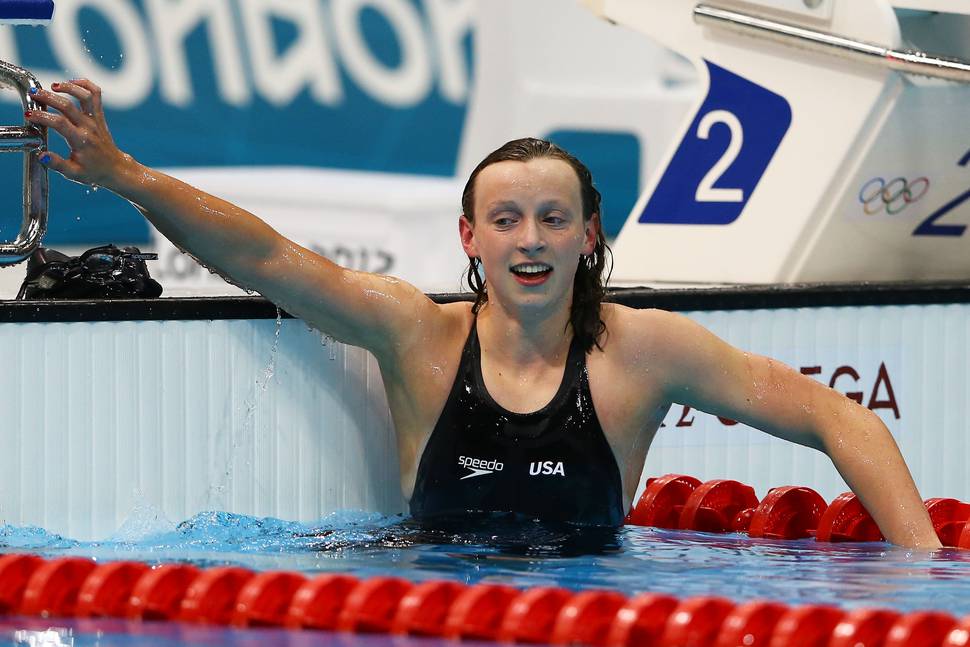 Janica Kostelic (1982-)
Kostelic won her first Olympic gold a month after she turned 20 - she won three golds and a silver to be exact - but by then had already turned the female skiing world on its head. A member of the 1998 Croatian Olympic team aged 16, Kostelic won her first world cup event in 1999 and, after a year out with injury, won eight events and the overall world cup title in 2001.
Wilma Rudolph (1940-94)
Rudolph suffered infantile paralysis caused by polio at the age of 4. She wore a leg brace and orthopaedic shoes for a few years and also suffered further bouts of polio and scarlet fever. By 16, she was winning an Olympic medal at the 1956 Melbourne Olympics. Rudolph's ailments could not hide the prodigious athletic talents and she sealed her place in sporting immortality with three golds (100m, 200m and 4x100m) at the Rome Olympics, having just turned 20.
Shane Gould (1956-)
The Australian swimmer stunned the world with three golds, all in world record time, a silver and a bronze at the 1972 Munich Olympics, aged just 15. Gould was the first swimmer to achieve that triple world record feat. She is the only person to hold every world freestyle record from 100m to 1500m and the 200m individual medley world record simultaneously. She retired at 17, citing pressures and an unwanted media profile.
Janet Evans (1971-)
At 16, Evans broke world records over 400m, 800m and 1500m freestyle, and the next year went on to win three individual golds at the 1988 Olympics in Seoul. Her 1500m world mark stood for 18 years and her time for the 800m for 19 years. She ended her career with seven world records and five Olympic medals (four gold).
Martina Hingis (1980)
The Czech-born Hingis, from Switzerland, won all five of her major tennis singles titles before she turned 19. She also lost the French Open final at 16, robbing her of a career slam. However, she became the world No 1 at that remarkably young age. Hingis was a prodigy touched by destiny. Her tennis coach mother named her after Martina Navratilova, and she first swung a racquet as a baby.
Monica Seles (1973 -)
The teen queen, representing Yugoslavia, won eight grand slam championships as a teenager before a brilliant career was tragically de-railed when a crazed fan of Graf's stabbed her on court in Hamburg, 1993. At the time, Seles was winning her duel with Graf. Various statistics also place Seles as the best tennis teenager ever ahead of Martina Hingis and Graf. She was the youngest French Open winner, aged 16, and reached No 1 at 17.
Steffi Graf (1969 -)
The German, a contender for the greatest player ever, had two absolutely extraordinary seasons in her late teens. In 1988, the year she turned 19, Graf completed the so-called Golden Slam, winning all four grand slams in a single season plus the Olympic title. She obliterated the field in those tournaments, abruptly ending the great Martina Navratilova/Chris Evert era. Graf was all class from a young age.