Aussie surfer Matt Wilkinson sure knows how to party.
After winning Australia's most iconic surfing event the Rip Curl Pro at Bells Beach, the 27-year-old decided he'd had enough of the water and wanted to wet his whistle with some stronger stuff - much stronger stuff.
Surfing photographer Corey Wilson grabbed a snap of part of Wilkinson's bill after an epic drinking session - though thankfully he didn't tackle these beverages all on his own. No one man could drink every item on the lengthy list.
The whole receipt isn't visible in the photo, but from what you can see, the total adds up to nearly AU$5000.
Just hearing the amount of alcohol consumed at the surfer's celebratory shindig is enough to make you tipsy. There were 42 Carlton Draught schooners for the blue collar drinkers, 37 schooners of Fat Yak for the slightly snobbier beer connoisseurs, 70 shots of tequila, 30 shots of Jim Beam, 30 shots of Galliano and a whopping 142 shots of vodka.
That's AU$1136 worth of vodka - take that Russia.
Oh, and there were two glasses of soft drink thrown in for the designated drivers, we assume.
It's safe to say anyone who was lucky enough to score an invite to the party now holds the goofy-footer in an even higher esteem than they did before - if they have any recollection of the night, that is.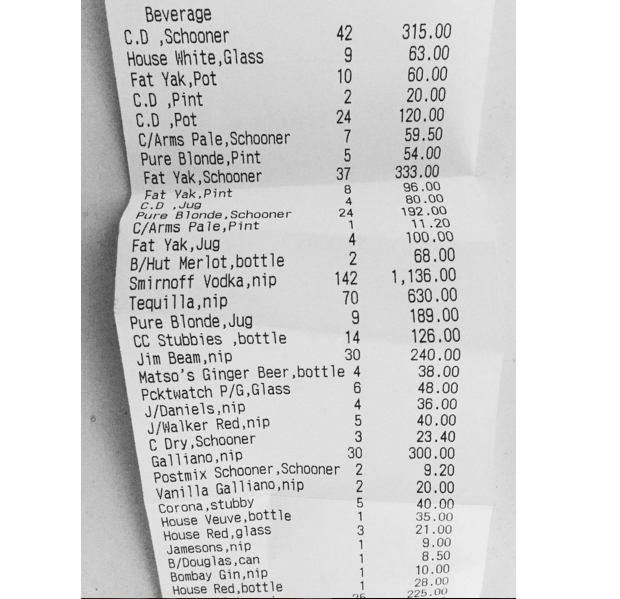 Photo / Via Corey Wilson's Instagram (@leafmonky)
The NSW surfer dominated South Africa's Jordy Smith in the final of the event at Bells, scoring 17.37 (out of a possible 20) to retain his world No. 1 ranking.
His victory backs up his maiden tour win on the Gold Coast last month.
Wilkinson secured the win midway through the final, picking up a 9.20 wave and then backing it up with an 8.17.
Smith, who conquered defending event champion Mick Fanning in the semi-finals, couldn't find an answer to Wilkinson's dominance despite having over 15 minutes to find the waves he needed.
Wilkinson is the first goofy-footer to hoist the iconic trophy at Bells since Mark Occhilupo in 1998.
Apart from Smith, Wilkinson eliminated Brazilian duo Wiggolly Dantas and Italo Ferreira earlier on Sunday to continue an amazing start to the year.
Wilkinson will now take a healthy rankings lead into the final stop of the Australian swing of the tour at Margaret River in Western Australia later this month.
One man who won't be in WA however is Fanning, whose semi-final exit could be his last appearance in a tour event in Australia. Chasing an unprecedented fifth Bells crown, Fanning won two heats on Sunday but couldn't overcome in-form Smith in the semi-finals.
The result means the 34-year-old now heads into an indefinite period of personal leave from the tour, with no return date set.
- news.com.au with AAP