Richie McCaw's team has taken his shirt No 7, which he made famous during his rugby career, into a gruelling adventure race through the mountains and waterways of Nelson.
The former All Blacks captain and three others in Team Cure Kids are number 7 of 61 teams in the 530km, seven-day "GODZone" race that started at midday today at Kaiteriteri and involves running, mountainbiking and paddling through three national parks.
It will be McCaw's first expedition race, while his teammates - Rob Nichol, Sarah Fairmaid and Ben Meyer - have plenty of experience between them.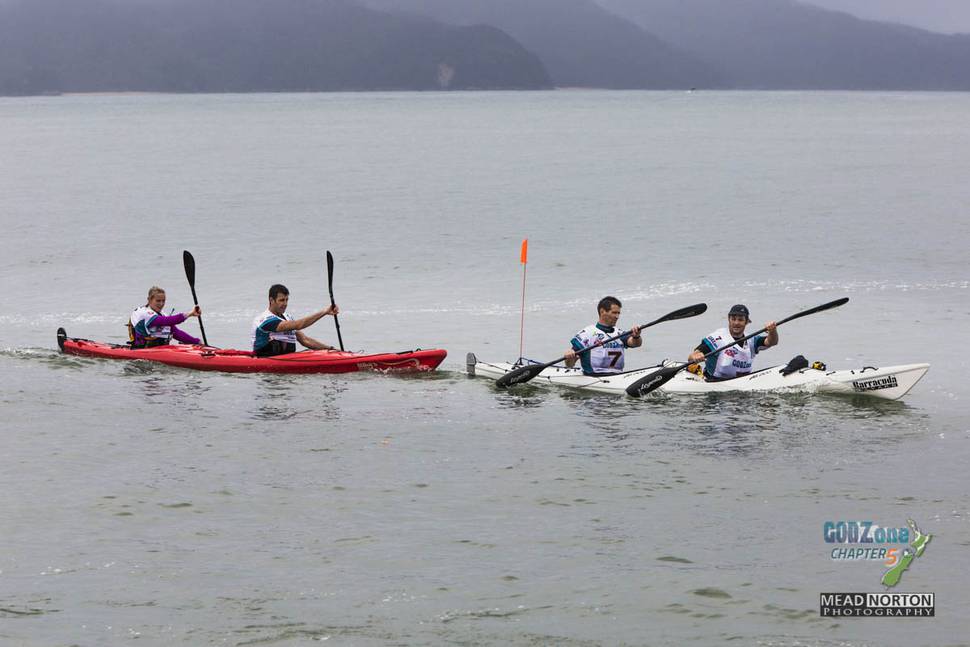 McCaw has been frank about his fears for his team performance in a sport that doesn't involve a rugby ball: "I just hope I don't disgrace it. I'm looking forward to getting into it.
"I guess it's a question of can you handle it. That's the bit that gets me going and until you do it you don't know if you can. You open yourself up to failure too."
McCaw posted a photo of the team to Facebook last night, saying: "Got all our gear ready. Can't wait for the start tomorrow on our big adventure."
The post included a photo of the team's gear and food, which was neatly packed up in water-tight bags.
"We know we are in for one heck of a challenge that will push us all to the limits mentally and physically," he said.
"I know we definitely won't be lacking for motivation by supporting such a great cause like Cure Kids but it is definitely going to be a true test of our grit, determination and resilience."
So far the team have raised $292,000 for the Cure Kids charity, with a target of $350,000.
Before setting off, team leader Nichol said they had been training hard and were now looking forward to the experiences the next few days will bring.
"Most of all I think we are just looking forward to getting under way - but also those special moments you get to experience in this race, be it nailing a challenge, some amazing scenery, exhilarating white water or some vertical cliff to abseil down, reaching that pass you have targeted for the best part of a day and a night, or getting a tough navigational call spot on. It's these moments which capture you for sure.
"As the Cure Kids team we have talked about wanting to work hard throughout the adventure for the cause, which is to raise funds to help find cures for kids."
Cure Kids
Cure Kids funds research into a range of diseases with the aim of improving and saving the lives of the children who live with them.
Cure Kids ambassador Lizzie McKay, 24, knows first-hand the valuable work Cure Kids do.
She and twin brother Alex were diagnosed with cystic fibrosis when they were babies.
She encourages people to support the Cure Kids team.
"By supporting the Cure Kids GODZone team on their amazing challenge," she said, "you are helping the next generation of children living with serious health conditions to live a fuller and healthier life. Because of Cure Kids-funded research, my twin brother Alex and I were diagnosed with cystic fibrosis early, which meant that treatment could be started quickly, reducing the damage to our lungs."
The Race
GODZone race director Warren Bates, who designed the course, said the teams only received their course maps and booklets at 6am today, which "broke the veil of secrecy".
"Not knowing where the course goes prior to race start, stops teams from doing too much pre-planning and recces. We take racers into unique locations where most people will not have been before and so it becomes a navigational exercise that they have to cope with on the move."
The nine-stage race starts with coasteering off Kaiteriteri Beach followed by a 4-6hr kayak up the coastline to Rabbit Island, where teams will complete a short orienteering course before mountain biking through to the Richmond Ranges.
Bates said the first teams were expected to arrive at the Wairoa Gorge transition site around 11.30pm today.
From there they would head into the first major trek of the event, a 52km climb over the Red Hills and down towards Tophouse and St Arnaud.
They would then get on their bikes to ride to Lake Rotoiti in Nelson Lakes to undertake an orienteering course set up and designed by the Nelson Orienteering Club.
Once completed they would ride to Lake Rotoroa and paddle white water canoes up to the head of the lake.
The teams would leave the boats there and head into the second course trek over the Mole Tops and down to the Matakitaki River.
Then it would be an exciting 50km white water paddle through rapids down to Murchison.
Teams would then trek 35km through the Kahurangi National Park to the summit of Mt Owen before heading on a 140km mountain bike ride towards Totaranui and the last leg of the race.
"Paddling down the Able Tasman National Park from Totaranui to the finish line at Kaiteriteri Beach is going to be an epic way to finish the event," Bates said.
As well as the 61 teams taking part in the full course, 10 teams will start tomorrow on a shorter course.
• To support Team Cure Kids for GODZone, text GODZone to 933 to donate $3 to the charity.