Rugby bosses have come up with a fandangled new Super Rugby competition. It got our rugby writers thinking about who they would build a New Zealand franchise around if all five teams had the chance to start over again.
Lima Sopoaga
Highlanders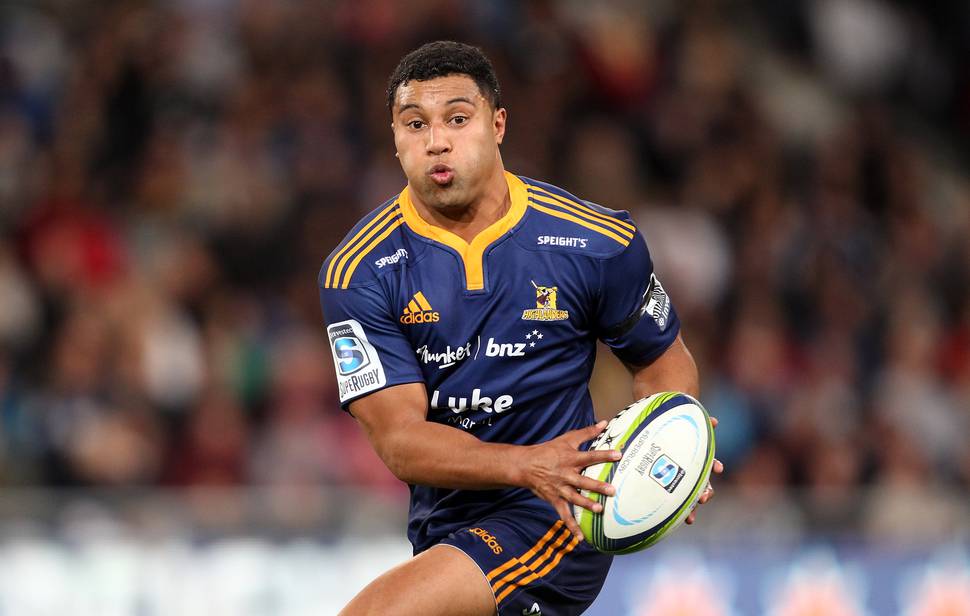 Super Rugby always has been, and most likely always will be, a competition won by the most innovative and accurate attacking side.
Defence is important but not to the same degree as it is at a World Cup. How teams use the ball is all important in Super Rugby and, as a result, the consistency of decision-making and quality of game management from the tactical general is usually what separates the winner from the rest.
A successful franchise must have a clear-minded No 10 who can stay composed under pressure and deliver the blueprint the coaches have asked for.
He must also be able to think on his feet and innovate to exploit what he sees in front of him and inspire confidence in those around him.
Where Super Rugby differs from test football, again, is in the balance of running to kicking. A test first-five will do more of the latter. In Super Rugby, the most dominant first-fives have tended to be those whose running game is their strongest suit.
All of this states the case for Lima Sopoaga, who ticks every box. He's a natural runner - elusive, quick and clever in both timing and angle - can ignite his backline, offer a bit of X-factor and, yet, has developed his decision-making and kicking game to test standards. He's just 25 so has life in his legs and time to develop his game management.
And maybe most importantly, he's proven he can do it. He and not Beauden Barrett stayed ice cool in last year's final.
- Gregor Paul
The Next Three
Akira Ioane (Blues)
The most exciting player in the country with the potential to fill stadiums and make rugby breathtaking.
Ardie Savea (Hurricanes)
Plays the game a different way and that can be inspirational.
Aaron Cruden (Chiefs)
For all the same reasons as Sopoaga.
Otere Black
Hurricanes
The resume the Manawatu first five-eighths has furnished over a short period of time is as impressive as it is reflective of his immense talent, intelligence and skill.
He played a key role in the Turbos winning promotion to the top division of the New Zealand provincial championship in 2014, earning himself a full contract with the Hurricanes.
He received few opportunities during last year's Super Rugby, but when given the chance to start against the Blues in round 15, he delivered a composed, mature performance on a rain-soaked Auckland night.
That level of play continued at the Junior Rugby World Cup, helping the New Zealand under-20s to a title they hadn't won since 2011.
If you're building a franchise, you want a leader, a winner and a person who owns their position week in, week out, on and off the field.
Otere Black ticks all those boxes and then some.
Hurricanes coach Chris Boyd once described Black as having an old man's head on a young man's body and it's the calm, unflustered way he plays that would have players wanting to play alongside him.
At just 20, (he doesn't turn 21 until May), Black's best years are ahead of him and that potential alone in the most vital position would give any franchise so much scope to build a championship calibre team around him.
- Nigel Yalden
The Next Three
Brodie Retallick (Chiefs)
A Rugby World Cup winner at full and under-20 level, a two-time winner at Super Rugby level, 2014 World Rugby Player of the Year, best lock in the world, outstanding work ethic, developing leadership and only 24 years old.
Te Toiroa Tahuriorangi (Hurricanes)
In the modern game, halfbacks are fast becoming nearly as important as first-fives and Tahuriorangi proved how good he is with the under-20s last year. He is only going to get better in a short space of time.
Akira Ioane (Blues)
This young man is already a remarkable, breathtaking, unbridled force of nature on a rugby field. Now imagine what he'll be capable of with more Super Rugby, an Olympic sevens campaign and maybe an All Blacks end-of-year tour under his belt.
Dane Coles
Hurricanes
I'm raiding the Eddie Jones coaching manual for this one.
The Hurricanes have turned to the feisty talents of hooker Dane Coles to lead their 2016 campaign in much the way Jones looked at his England crew and went for the abrasive style of Dylan Hartley.
Coles carries a similar style and, with the extra guidance he has got from 36 tests and tours with the All Blacks, is learning to use his energy in more productive ways. He is an outstanding athlete who should march past the 90-game mark in his eighth season with the Canes.
The Hurricanes have lost some clout with seasoned forwards Ben Franks and Jeremy Thrush joining the exit carousel alongside Conrad Smith, Ma'a Nonu, Rey Lee-Lo, Willis Halaholo and Chris Smylie.
They were all well-schooled in the demands of Super Rugby and brought crucial leadership and playing standards to the side's run to last year's final at the Cake Tin.
Someone has to pick up that thread and turn it into tougher rope as the Canes set out to build on last year's results which brought 14 victories from 16 matches.
Victor Vito, Brad Shields, Beauden Barrett, Cory Jane, TJ Perenara and Julian Savea have been involved in the Super Rugby scene for some time but Coles has to drive the tight five department which will be at the core of the Canes' progress.
The demands from Coles and the quality he produces at set-piece time and around the field is key in any side's ability to build pressure and get the best out of a backline.
- Wynne Gray
The Next Three
Charlie Faumuina (Blues)
Every team needs a great tighthead prop and Faumuina is in prime condition to anchor those duties.
Sam Whitelock (Crusaders)
Still only 27 but already with 88 games for the Crusaders and 73 for the All Blacks, the lock is as consistent as any in the game.
Damian McKenzie (Chiefs)
Will never wonder what if. No fear for his frame or the consequences of his decisions and can play across the backline and hurt
any opposition.
Damian McKenzie
Chiefs
You can't win anything significant in this game without a quality first-five. Step forward Damian McKenzie who, at 20 years old, has already shown his quality at Super Rugby level and for the New Zealand under-20s.
McKenzie, who can also play at fullback, is the perfect man to build a franchise around because he can do it all in the No 10 jersey - kick goals, navigate a team around the field and run the ball with real pace.
He's brave, too. He weighs only a tick over 80kg but throws himself into collisions like a much bigger player.
McKenzie will be in the frame for the black jersey with Aaron Cruden, Beauden Barrett
and Lima Sopoaga.
Chiefs coach Dave Rennie, ever a shrewd judge of talent, signed the Gore-born McKenzie to a three-year contract as a 19-year-old in 2014. The Chiefs would do well to hold on to him for as long as they can because, injury permitting, he will be a good player for a long time.
- Patrick McKendry
The Next Three
Aaron Smith (Highlanders)
The best halfback in the world plays at a pace no one can match which gives the Highlanders and All Blacks an automatic advantage. At 27, he would be the ideal man inside McKenzie.
Brodie Retallick (Chiefs)
Any franchise would want to have the 2015 World Player of the Year in their pack. He is a smart lineout operator and a damaging force in the contact areas, albeit one able to supply a pass unique in terms of its finesse. A brilliant all-round player and role model, and still only 24.
Akira Ioane (Blues)
The 20-year-old sevens phenomenon is also a good loose forward in the longer version of the game, and one All Blacks coach Steve Hansen is likely to have a close look at this year. Ioane has incredible pace and power - a real strike weapon.
Sam Cane
Chiefs
Since Sam Cane is one player around whom the next All Blacks team will be built, it makes perfect sense to do likewise at Super Rugby level.
Cane provides a franchise with three important traits it needs from a key man: youth, ability and leadership.
The openside flanker, having turned 24 in January, is only now approaching his peak, with a wealth of experience in the bank.
Despite last season being his first as a regular starter, Cane has made 65 appearances since his Chiefs debut in 2011. And his cautious introduction to Super Rugby will help Cane remain at the top of his game for many more years, providing he enjoys the durability of his predecessor in the All Blacks No 7 jersey.
Like Richie McCaw, Cane's quality on the pitch is unquestionable. Many fans were clamouring for Cane to start in place of McCaw after the protege outshone the master during the Super Rugby season.
Cane was a menace at the breakdown and completed 179 tackles in 15 games, missing only six for a 96.8 per cent success rate. He was also strong in the carry and showed excellent hands to record 22 offloads.
And that form was allied with a level of leadership that saw Cane appointed co-captain at the Chiefs for the new campaign - and anointed captain-in-waiting for the All Blacks.
Cane is the complete package for any franchise.
- Kris Shannon

The Next Three
Akira Ioane (Blues)
There's no reason a player that dynamic at that age will fail to make as big a mark in Super Rugby as he already has in sevens.
Damian McKenzie (Chiefs)
The 20-year-old showed enough talent in his debut season to suggest he can excel in two positions for years to come.
Nehe Milner-Skudder (Hurricanes)
Considering his maiden campaign culminated with a key role in a World Cup win, it's scary to think how good he can become.