For many cricket fans, a well-struck six is the greatest thrill. Few have provided more than Brendon McCullum. Dylan Cleaver reports.
Brendon McCullum will finish his career with 91 T20 international sixes and 200 One Day International sixes. He enters his final test on 100 sixes, a joint world record. To date he has scored 2346 runs over the rope in international cricket.
To give you some idea of the scale of that achievement, Ross Taylor, a magnificent ball-striker and prolific six-hitter, has little more than half the total of runs hit from sixes.
READ MORE
• Brendon McCullum: The tattooed icon who wears his love for his country on his sleeve
• Stat's all folks: Brendon McCullum's amazing career
As the light dims on his international career, McCullum has taken increasing pride in his ability to clear the ropes. After bringing up his 200th ODI maximum, in his final ODI innings, against Australia at Seddon Park, he admitted knowing exactly how many sixes he needed to get there.
But his test record is more impressive.
"It's the only record I care about, and the only one Kane Williamson and Ross Taylor aren't going to break," said McCullum when he got to 100, a total that ties him with Adam Gilchrist.
It might pain him to know that his record is likely to be surpassed by a New Zealander, but not one that will go down in the annals as a great, or even average batsman. With 55 sixes to his name in just 46 tests, as long as he stays fit, Tim Southee will climb past his total.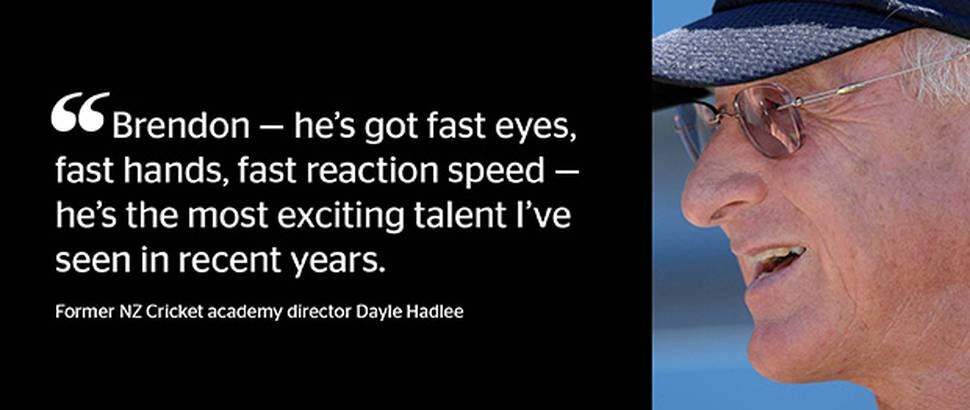 But unless the 36-year-old Chris Gayle (98 sixes), makes a dramatic return to the test fold, McCullum's record will stand for some time.
Ted Williams, the legendary Boston Red Sox slugger, once said: "Without question the hardest single thing to do in sport is to hit a baseball."
Without wanting to cast aspersions on the Splendid Splinter, his was a fairly narrow view of sport, but hitting a baseball safely is a difficult task with a rounded bat against pitchers who stand on a raised mound about 18.5 metres from home plate and can throw close to 160km/h.
Cricketers have the huge advantage that they can defend without any compunction to get to the other end, or first base in baseball's lexicon. But they also stand closer, the ball is heavier and they must contend not only with movement in the air, but variation off the wicket.
To stay balanced while generating the torque and leverage to power the ball over the boundary rope requires technique, power and, in a lot of cases, an absence of fear.
Fear is something McCullum either hasn't recognised, or hid well.
|
25 per cent of his sixes have been to midwicket, sometimes known as Cow Corner.
| His next most prolific area is square, where he has hit 17 per cent of his sixes, followed by long-off (15 per cent), straight (13 per cent) and long-on (12 per cent).
| He has hit 10 sixes over cover.
| He hit a staggering 22 per cent of his sixes in two back-to-back tests, recording 11 each against Pakistan in Sharjah and Sri Lanka in Christchurch in 2014.
| Right-arm pace bowlers have accounted for 42 per cent of his sixes. Perhaps surprisingly, given his trouble with this type of bowling over the years, he punished left-arm orthodox bowlers to the tune of 29 per cent.
| Left-arm pacemen have proven difficult to get away, with just 8 per cent of sixes coming from this type of bowling.
| Wellington's Basin Reserve has been his happiest hitting ground with 12 per cent. His home ground of University Oval in Dunedin is not far behind with 11 per cent, the same as Christchurch's Hagley Oval and Sharjah Cricket Stadium in the UAE.
| Monty Panesar and Zulfiqar Babar have found the middle of his bat most often, each conceding six sixes. Stuart Broad, Ravi Jadeja and Rangana Herath conceded five each.
| McCullum has been far more successful in his team's first innings, hitting 66 per cent of his sixes then.
| It took McCullum seven tests to register his first six, the longest wait of his career. McCullum also went six tests without hitting a six between hooking Morne Morkel for six at Seddon Park in Hamilton in 2012 and sweeping Suraj Randiv for six in Galle, Sri Lanka, later that year.
|He has hit a six batting in every position from No 1 to No 8, except No 4.