After two years out of MMA, the Kiwi feels dangerous on his return to the octagon, writes Daniel Richardson
After James Te Huna traversed the country presenting MMA seminars at gyms last year, he decided to heed his own advice.
In a sport in which everyone has an opinion, Te Huna decided to return to the coaching that helped him rise through the UFC's light heavyweight ranks in 2010-2014.
The 34-year-old South Islander will make his return to the octagon, following a wretched run with injuries, when he meets Steve Bosse (10-2) at UFC Fight Night 85 in Brisbane next month.
Te Huna (16-8) will make that return under the tutelage of his old coach Stevie Ashby and has also gone back to the Sydney gyms where he cut his teeth in MMA training more than a decade ago.
Going back to working with a tight-knit group of training partners seemed the right fit for Te Huna after he was inspired by seeing Kiwi fighters in small gyms last year.
"I thought about what I was telling those guys in those seminars," he says. "I developed my own style and I kind of went away from that after I went to other gyms and got different people's opinions.
"That was the problem, getting too many opinions - so when it came down to it, I wasn't taking anything on board."
Te Huna and Ashby hadn't worked together for about three or four years but slipped back in to their old routine with relative ease.
"I've gone back to my original team and I'm sticking to one style. That's what I'm good at," Te Huna says. "It is a grind but, outside of training, I'm happy. I'm in a good place and I've got that feeling back again. I feel dangerous. The last few years, I didn't have that feeling at all."
Time away from full-time competition has been good for Te Huna. A bricklayer by trade, he returned to the building site. "It wasn't too bad. I just enjoyed the sun."
Aside from his seminars and bricklaying, he also worked in juvenile centres. Te Huna connects well with young people and serves as a good role model.
He was bullied as a youngster and pursued martial arts as a way to develop confidence. MMA has since taken him around the world.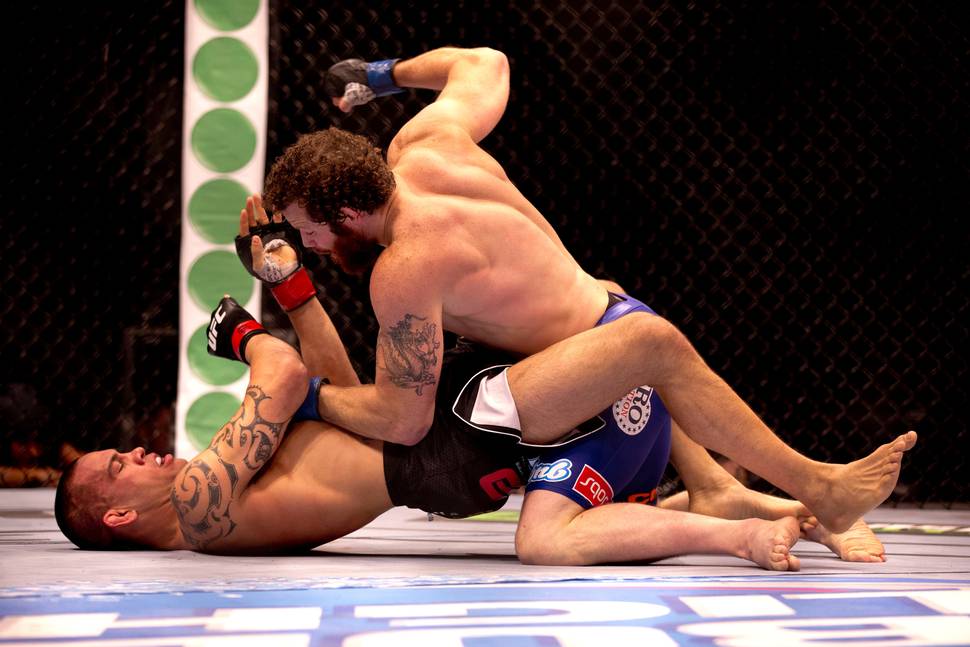 With his body back to normal, he needed to decide recently if his mind would allow him to dedicate himself to training again.
He could have found a spot on the historic UFC 193 show in Melbourne last year but it didn't work out.
Te Huna's last appearance in the octagon was nearly two years ago when he was submitted in the first round by Nate Marquardt (34-15-2) in the main event of UFC Fight Night 43 in Auckland.
That fight took place at middleweight but Te Huna will be back at light heavyweight on March 20 in a bid to keep enough muscle on his body to avoid injury.
The loss to Marquardt was disappointing for Te Huna who took great pride in headlining the UFC's first appearance in New Zealand.
There's talk of another card on these shores later this year or in 2017 and Te Huna would love to be there.
"The last fight didn't end too well so I've got a lot of making up to do."
He is also on a dreaded three-fight losing streak and four losses on the bounce is usually the catalyst for a fighter being given their marching orders by the UFC.
Being in a must-win situation against Bosse doesn't bother him.
"We are both the same type of fighter, so it'll be a good fight for the crowd," he says.
Bosse (10-2) rattled off an eight-fight winning streak in regional promotions in North America before he made his UFC debut in Florida last year.
That didn't go to plan, though, as he was knocked out due to a brutal head kick from Brazilian Thiago Santos (12-3) in the first round of their bout at UFC Fight Night 70 in June.
Bosse, a former hockey enforcer who reportedly had more than 200 scraps on the ice in the semi-pro North American Hockey League, contemplated giving up MMA last year after a string of injuries but decided to fight on.
UFC Fight Night 85 will be headlined by New Zealand heavyweight Mark Hunt (11-10-1) when he meets former champion Frank Mir (18-10). Auckland featherweight Dan Hooker (12-6) will face Mark Eddiva (6-2) on the undercard.