As Brendon McCullum prepares to celebrate his 100th test match since making his debut in 2004, we look back at the previous 99 matches, the highs and lows.
It all began on March 10, 2004 when a 22-year-old McCullum, who had already been playing ODI cricket, got his chance.
He made it count with a 50 on debut against a South African pace attack which included Shaun Pollock and Makhaya Ntini, and for the 14 years since we've seen the development of one of the greats of New Zealand cricket.
McCullum's test career will draw to a close at the end of the second test against Australia at Hagley Park in Christchurch - which he now calls home.
But before that he will celebrate a unique milestone today - becoming the first player in test history to play 100 consecutive test matches from debut.
After the first test is complete the focus will shift to the farewell in Christchurch. But if his ODI farewell was anything to go by (spectacular), then the test match goodbye will be a don't-miss event.
READ MORE
• McCullum milestone to stop nation

Brendon McCullum's test career
South Africa, March 2004
South Africa won the series and McCullum got a taste of test batting in three different positions in his five innings.
Test 1, Hamilton:
c Boucher b Kallis 57
Not out 19
Test 2, Auckland:
b Ntini 13
DNB
Test 3, Wellington:
lbw b Pollock 55
b Boje 3
v England, May-June 2004
McCullum's first away series and four runs shy of a century - batting at No 3 - on debut at Lord's. A 3-0 series defeat though.
Test 4, Lords:
b S. Jones 5
c G. Jones b S. Jones 96
Test 5, Leeds:
b Hoggard 54
c Trescothick b Harmison 20
Test 6, Trent Bridge:
c Hoggard b Harmison 21
c Flintoff b Giles 4
v Bangladesh, October 2004
A maiden test century and a 2-0 series success for New Zealand.
Test 7, Dhaka:
c Kapali b Rafique 143
Test 8, Chittagong:
Not out 17
v Australia, Nov 2004
First test tangle with the closest rivals as New Zealand are thumped heavily twice, and McCullum has issues with Aussie quick Jason Gillespie.
Test 9, Brisbane:
st Gilchrist b Warne 10
c Gilchrist b Gillespie 8
Test 10, Adelaide:
lbw b Gillespie 10
lbw b Gillespie 36
v Australia, March 2004
Australia were too good again, as McCullum fails to reach 30 in five innings.
Test 11, Christchurch:
c Langer b McGrath 29
lbw b Gillespie 24
Test 12, Wellington:
c Clarke b Warne 3
DNB
Test 13, Auckland:
c Gilchrist b McGrath 25
lbw b Warne 0
v Sri Lanka, April, 2005
McCullum comes up against his fifth test opponents, falls one short of a second test ton, and cops his first golden duck.
Test 14, Napier:
lbw b Malinga 99
c Samaraweera b Jayasuriya 7
Test 15, Wellington:
c and b Vaas
v Zimbabwe, August 2005
A first test visit to Africa and a couple of easy innings wins - and a second test ton for McCullum.
Test 16, Harare:
c Cremer b Mahwire 111
DNB
Test 17, Bulawayo:
c Taylor b Dabengwa 24
DNB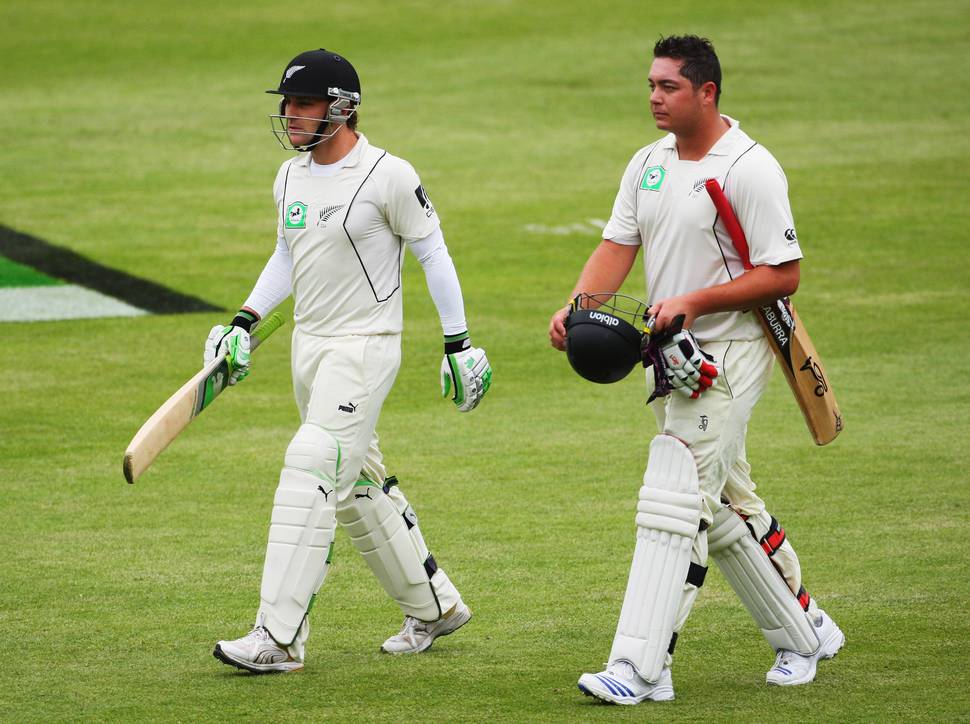 v West Indies, March 2006
Another new opponent and a first sighting of Caribbean dasher Chris Gayle.
Test 18, Auckland:
b Smith 19
c Dwayne Bravo b Gayle 74
Test 19, Wellington:
c Ramdin b Powell 23
DNB
Test 20, Napier:
DNB
DNB
v South Africa, April-May 2006
A very ordinary series for McCullum, just 74 runs in five innings in a well-beaten New Zealand side.
Test 21, Centurion:
c Boje b Kallis 31
c Dippenaar b Steyn 33
Test 22, Cape Town:
lbw b Ntini 5
DNB
Test 23, Johannesburg:
c and b Ntini 0
c Boucher b Pollock 5
v Sri Lanka, December 2006
A low moment for McCullum as he runs out Muttiah Muralitharan as the batsman prematurely left his crease to run and congratulate teammate Kumar Sangakkara for reaching his century. The spinner had his revenge in the second test, a 217-run beating, and a 10-wicket haul for Murali.
Test 24, Christchurch:
b Vaas 0
Not out 14
Test 25, Wellington:
b Muralitharan 43
b Muralitharan 17
v South Africa, November 2007
Two terrible beatings from a formidable opponent and no joy for McCullum with the bat. Also a new test captain, Dan Vettori replacing Stephen Fleming.
Test 26, Johannesburg:
lbw b Steyn 9
c Gibbs b Steyn 26
Test 27, Centurion:
c de Villiers b Nel 13
c Smith b Steyn 21
v Bangladesh, January 2008
A first home series against the fledgling test nation, with predictable results.
Test 28, Dunedin:
c Siddique b Ashraful 7
DNB
Test 29, Wellington:
c Shakib b Shahadat Hossain 40
DNB
v England, March 2008
New Zealand had a 1-0 series lead, and lost the last two. For McCullum there were two half centuries, his first for 11 tests, and Tim Southee marked his debut in Napier in style, taking five first-innings wickets, then thumping 77 in 40 balls.
Test 30, Hamilton:
c Ambrose b Sidebottom 51
c Strauss b Panesar 0
Test 31, Wellington:
c Strauss b Broad 25
c Sidebottom b Panesar 85
Test 32, Napier:
b Sidebottom 9
b Panesar 42
v England, May-June 2008
A second test at Lord's, a second 90 for McCullum, as he is dismissed by only two bowlers.
Test 33, Lord's:
b Panesar 97
c Ambrose b Anderson 24
Test 34, Old Trafford:
c Collingwood b Panesar 11
lbw b Panesar 0
Test 35, Trent Bridge:
b Anderson 9
b Anderson 71
v Bangladesh, October 2008
A 1-0 series win, courtesy of a virtuoso all-round performance from captain Vettori.
Test 36, Chittagong:
c Razzak b Shakib 25
lbw b Razzak 2
Test 37, Dhaka:
c Ashraful b Shakib 66
DNB
v Australia, Nov-Dec 2008
Seven catches in the first test loss at Brisbane but still no joy across the Tasman in a 2-0 series loss.
Test 38, Brisbane:
c Ponting b Johnson 8
lbw b Clark 3
Test 39, Adelaide:
c Haddin b Lee 30
Not out 84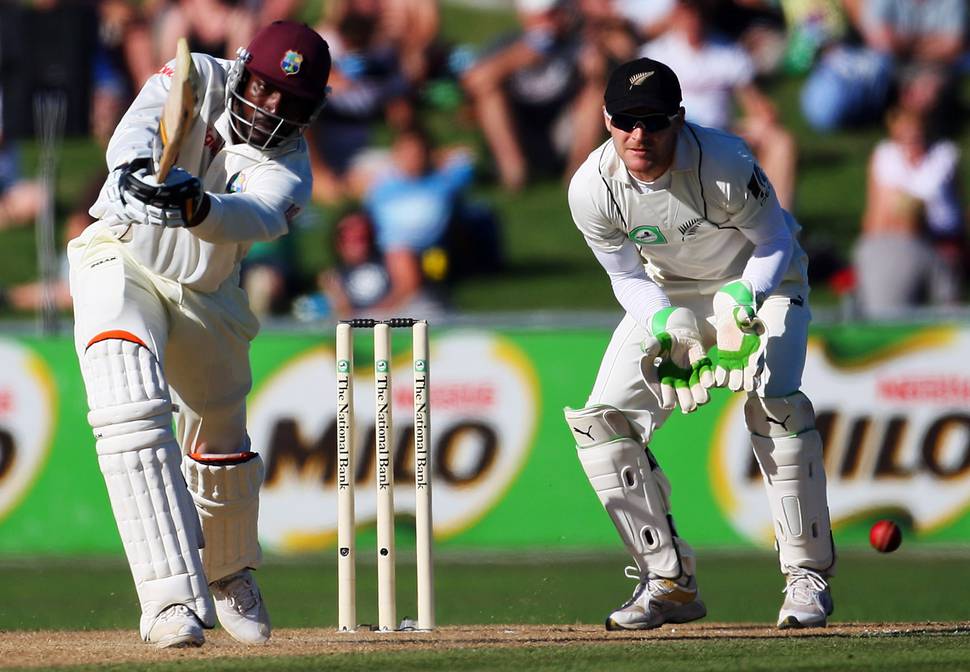 v West Indies, December 2008
Five catches in an innings in the second test in a series otherwise notable for a match-saving 197 by Chris Gayle at Napier, plus McCullum getting dismissed in identical fashion in all three innings.
Test 40, Dunedin:
c Ramdin b Taylor 25
DNB
Test 41, Napier:
c Ramdin b Taylor 31
c Ramdin b Taylor 19
v India, March-April 2009
A third test century, among three in New Zealand's first innings at Napier. Scant consolation for a 1-0 series loss.
Test 42, Hamilton:
c Laxman b Patel 3
c Laxman b Yuvraj 84
Test 43, Napier:
c Tendulkar b Sharma 115
DNB
Test 44, Wellington:
c Dhoni b Harbhajan 24
c Dravid b Tendulkar 6
v Sri Lanka, August 2009
Two tests, two defeats with Sri Lanka's batting too strong and New Zealand unable to match it.
Test 45, Galle:
b Thushara 1
Run out 29
Test 46, Colombo:
c M. Jayawardene b Muralitharan 18
b Muralitharan 13
v Pakistan, Nov-Dec 2009
Troubles with the classy seam bowling jailbird Mohammad Asif brings back-to-back ducks, but eight catches and a stumping in Napier means a New Zealand record for dismissals in a test, since equalled by the man who made his debut at Napier, BJ Watling.
Also a 176-run sixth wicket stand with Vettori at Napier remains the New Zealand record against Pakistan.
Test 47, Dunedin:
b Gul 78
c K. Akmal b Asif 0
Test 48, Wellington:
c Malik b Asif 0
c K. Akmal b Kaneria 24
Test 49, Napier:
c Faisal Iqbal b Gul 89
DNB
v Bangladesh, February 2010
A one-match visit brings McCullum his highest test score to date, 185 in a 339-run stand with Martin Guptill for the sixth wicket - since overtaken twice by New Zealand pairings. An easy win at Seddon Park in his 50th test.
Test 50, Hamilton:
b Rubel Hossain 185
Not out 19
v Australia, March 2010
Another 2-0 beating, but a fifth test ton for McCullum, at the Basin Reserve.
Test 51, Wellington:
c Harris b Bollinger 24
c Clarke b Harris 104
Test 52, Hamilton:
c Ponting b Johnson 5
c Hussey b Bollinger 51
v India, November 2010
McCullum, relieved of the wicketkeeping gloves by Gareth Hopkins, opens the batting, with a spectacular result at Hyderabad, his sixth, and then highest, test century.
Test 53, Ahmedabad:
st Dhoni b Ojha 65
Not out 11
Test 54, Hyderabad:
c Dhoni b Sreesanth 4
c Raina b Sreesanth 225
Test 55, Nagpur:
c Dhoni b Sharma 40
lbw b Ojha 25
v Pakistan, January 2011
A disappointing series, with New Zealand rolled for 110 at Hamilton and unable to press home a win in Wellington. Reece Young has taken over the wicket keeping.
Test 56, Hamilton:
c Azhar Ali b Gul 56
c A. Akmal b Riaz 35
Test 57, Wellington:
lbw b Gul 2
c Tanvir b Rehman 64
v Zimbabwe, November 2011
A one-off test, and another win, but McCullum battles at the top of the order.
Test 58, Bulawayo:
b Jarvis 14
lbw b Price 11
v Australia, December 2011
A poor series for McCullum but a terrific seven-run win at Hobart on a billiard table green pitch to level the series.
Test 59, Brisbane:
c Warner b Starc 34
c Ponting b Pattinson 1
Test 60, Hobart:
c Haddin b Pattinson 16
c Hughes b Pattinson 12
v Zimbabwe, January 2012
Another one-test visit as New Zealand romp to an innings and 301-run win.
Test 61, Napier:
lbw b Jarvis 83
DNB
V South Africa, March 2012
A testing assignment and McCullum, now batting No 3, has an unremarkable series, four scores over 30 in six innings but no biggies.
Test 62, Dunedin:
c and b Tahir 48
Not out 58
Test 63, Hamilton:
c Rudolph b Steyn 61
lbw b Philander 5
Test 64, Wellington:
c Boucher b Steyn 31
lbw b Morkel 0
v West Indies, July-August 2012
Coach Mike Hesson's first series in charge, and a 2-0 loss in the Caribbean. McCullum is still batting at No 3.
Test 65, Antigua:
c Deonarine b Roach 25
b Roach 84
Test 66, Jamaica:
c Ramdin b Best 0
c Fudadin b Deonarine 19
v India, August 2012
A poor return for McCullum, and New Zealand solidly beaten 2-0. Now McCullum is back opening.
Test 67, Hyderabad:
c Kohli b Ojha 22
lbw b Yadav 42
Test 68, Bangalore:
lbw b Zaheer 0
c Dhoni b Yadav 23
v Sri Lanka, November 2012
A momentous series, which New Zealand squared with a memorable 167-run win in the second test. However it proved to be Ross Taylor's last as national skipper. Change was in the wind.
Test 69, Galle:
b Herath 68
c Kulasekera b Herath 13
Test 70, Colombo:
lbw b Eranga 4
st P. Jayawardene b Herath 35
v South Africa, Jan 2013
McCullum's taken charge and things start as roughly as could be expected. New Zealand are rolled for 45 before lunch on the first morning at Cape Town. Game over inside three days. Tough times for the new skipper after the sloppy way the change of captaincy had been handled. South Africa simply too good. Going in first, McCullum has big problems against left arm spinner Robin Peterson. No Taylor or Southee didn't help.
Test 71, Cape Town:
b Philander 7
lbw b Peterson 51
Test 72, Port Elizabeth:
c Kallis b Peterson 13
lbw b Peterson 11
v England, March 2013
A drawn series but which ended with England hanging on, nine wickets down in the final overs. McCullum is now at No 6 and looking more comfortable.
Test 73, Dunedin:
c Anderson b Broad 74
DNB
Test 74, Wellington:
c Trott b Finn 69
DNB
Test 75, Auckland:
c Prior b Trott 38
Not out 67
v England, May 2013
Another poor series, and a 2-0 loss. New Zealand needed 239 to win the first at Lord's and were rolled for just 68. A big chance lost. McCullum calls it the nadir of the first year in charge. Was also dismissed by seamer Stuart Broad in all four innings. Took six catches at Leeds, keeping for the last time in a test.
Test 76, Lord's:
c Prior b Broad 2
lbw b Broad 8
Test 77, Leeds:
c Prior b Broad 20
c and b Broad 1
v Bangladesh, October 2013
Two drawn tests and still the wait goes on for a first test win at the helm.
Test 78, Chittagong:
lbw b Razzak 21
b Gazi 22
Test 79, Dhaka:
c Rubel Hossain b Shakib 11
DNB
v West Indies, December 2013
At last a test win, at the 11th time of trying. There's another century too, at University Oval and a 195-run stand with Taylor for the fourth wicket, a record for that wicket against the West Indies. Taylor gets three hundreds in the series, Trent Boult's 10 wickets in Wellington push New Zealand to the win, and they nab the final test for a convincing 2-0 series win.
Test 80, Dunedin:
b Sammy 113
c Ramdin b Shillingford 9
Test 81, Wellington:
c Edwards b Deonarine 37
DNB
Test 82, Hamilton:
c Sammy b Narine 12
DNB
v India, February 2014
McCullum's defining series. First he hit 224 to help set up a thrilling 40-run win at Eden Park. Then, with New Zealand facing defeat, McCullum became the first New Zealander to hit a triple century, his ninth hundred. He faced 559 balls and batted 12 hours, 55 minutes. He shared a 352-run sixth wicket stand with BJ Watling, then another 179 runs were put on with Jimmy Neesham. The test was saved, the series won.
Test 83, Auckland:
c Jadeja b I. Sharma 224
Run out 1
Test 84, Wellington:
c Jadeja b Shami 8
c Dhoni b Zaheer 302
v West Indies, June 2014
A 2-1 series win should rate a high point. Away series wins are relatively rare. Mark Craig marked his debut with eight wickets in the first test and man of the match. An ordinary tour with the bat for the captain.
Test 85, Kingston:
c Gayle b Benn 7
b Shillingford 17
Test 86, Port of Spain:
lbw b Benn 4
lbw b Taylor 3
Test 87, Barbados:
c Darren Bravo b Benn 31
lbw b Roach 25
v Pakistan, November 2014, United Arab Emirates
Another notable achievement in a 1-1 draw in the desert. The series was squared against the dark backdrop of the death of Australian batsman Phil Hughes. In a bizarre atmosphere, in a match neither side wanted to play, New Zealand thumped Pakistan by an innings, on the back of McCullum's dashing double century in Sharjah.
Test 88, Abu Dhabi:
c Younis Khan b Zulfiqar Babar 18
lbw b Yasir Shah 39
Test 89, Dubai:
c Masood b Ehsan Adil 43
b Babar 45
Test 90, Sharjah:
b Yasir 202
DNB
v Sri Lanka, Dec 2014-Jan 2015
A crunching 2-0 series win and McCullum's last test spectacular, 195 off 134 balls, in a brilliant afternoon to christen New Zealand's newest test ground, Hagley Oval in Christchurch.
Test 91, Christchurch:
c Karunaratne b Kaushal 195
DNB
Test 92, Wellington:
b Lakmal 0
lbw b Prasad 22
v England, May 2015
A depressing defeat in the first test, when New Zealand kept pressing for an improbable win, was balanced by a fine 199-run victory at Leeds. McCullum's last test innings at Lord's? A first ball duck.
Test 93, Lord's:
c Root b Wood 42
b Stokes 0
Test 94, Leeds:
c Wood b Stokes 41
lbw b Wood 55
v Australia, November 2015
Australia won the series 2-0, slightly misleading, as New Zealand were deprived of a royal chance to press on towards victory in the inaugural day-night test at Adelaide. One bold innings in an otherwise lean series for McCullum, who was dismissed by Mitchell Marsh once in each test.
Test 95, Brisbane:
c Voges b Johnson 6
c Smith b Marsh 80
Test 96, Perth:
b Marsh 27
DNB
Test 97, Adelaide:
c Nevill b Starc 4
lbw b Marsh 20
v Sri Lanka, December 2015
Two good wins by New Zealand and a final splash of colour on his home ground in Dunedin for McCullum.
Test 98, Dunedin:
c Vithanage b Sirawardana 75
Not out 17
Test 99, Hamilton:
c Mendis b Heerath 18
c Mathews b Chameera 18
Mode of dismissal
• 98 caught, 32 lbw, 28 bowled, 3 stumped, 2 run out.
Most successful bowlers against McCullum
• 6 dismissals: Stuart Broad (England), Dale Steyn (South Africa), Monty Panesar (England).
• 4: Rangana Herath and Muttiah Muralitharan (Sri Lanka), Jerome Taylor (West Indies), Umar Gul (Pakistan), Jason Gillespie (Australia).
• 3: Makhaya Ntini, Robin Peterson (South Africa), Jimmy Anderson (England), Mitchell Johnson, Shane Warne, Mitchell Marsh, James Pattinson (Australia), Shakib al Hasan (Bangladesh), Pragyan Ojha, Ishant Sharma (India), Kemar Roach, Suleiman Benn (West Indies).
Dismissals by bowler type
• 89: Right arm pace
• 35: Left arm spin
• 22: Right arm spin
• 15: Left arm pace
• 2: Mix