The Black Caps have their sights on victory in the one-day international series in tomorrow's deciding clash against Pakistan at Eden Park.
But on the eve of the clash they proved to be winners after hosting Auckland twin brothers Ashvin and Arvinth Sathiyaseelan at the match venue.
The 9-year-olds have type three spinal muscular atrophy and were surprised by the Halberg Disability Sport Foundation with a special training session, where most of the Black Caps squad were preparing for game three in the series.
Their mother Dharshi said it was an "amazing" experience for the boys, who were diagnosed with the neurological condition aged just 2, and that it was a dream come true for them.
"They are just out of the world - they're still talking, talking, talking," she said.
Ashvin and Arvinth, who attend Mission Heights Primary School in Flatbush, have always loved their cricket and come from a Sri Lankan family that loves cricket.
They play in the hall at home and watch every game on TV, Mrs Sathiyaseelan said.
"They know every statistic for all the players, whoever you ask, they know everything."
After watching their older brother Avinash, 14, play at Howick Pakuranga Cricket Club in east Auckland every Saturday, they were itching to join a club.
"They started watching all the games and they loved it," Mrs Sathiyaseelan said.
So in 2013, with help from the Halberg Foundation, Ashvin and Arvinth were finally able to join their brother's club and take part in organised cricket.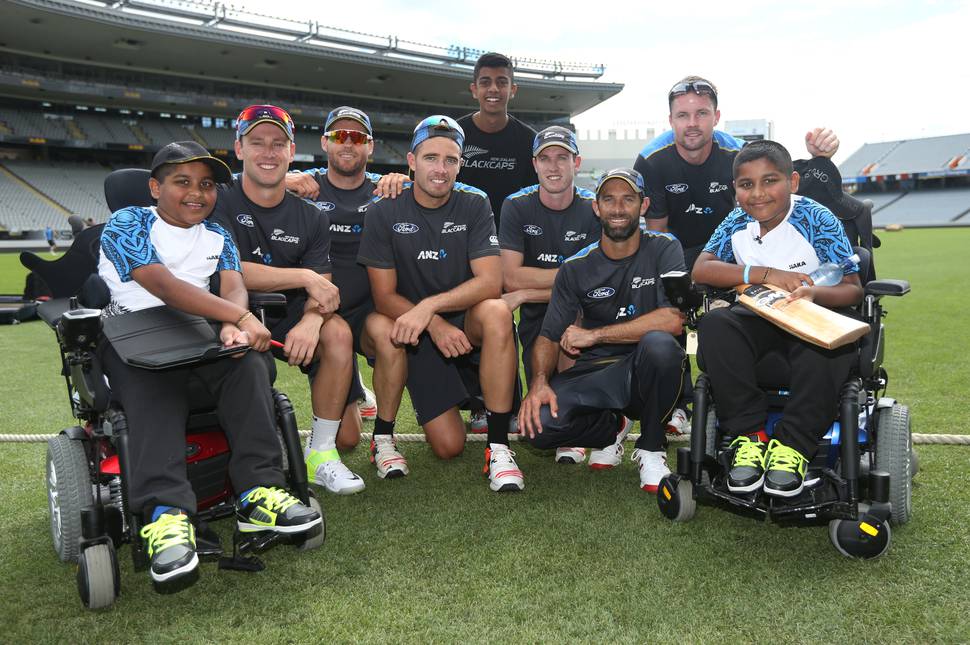 A Halberg Activity Grant funded a support person to help keep the boys on their feet during training sessions and games.
Type three spinal muscular atrophy causes weakness and muscle wasting and so the twins use powerchairs. Their motor skills are also restricted.
After one season, the boys had to give up, however. Mrs Sathiyaseelan said they did not think it was fair on the other kids when it got to the stage of the games being scored.
Last year the boys attended the Saint Kentigern Halberg Junior Disability Sports Day and tried out table top cricket - an adapted version of the game for physically disabled young people.
But at Eden Park they played it against some of their heroes.
"It was like the best experience of my life," Ashvin said.
"I loved when Kane Williamson gave me and Arvinth his gloves," he added.
His brother Arvinth was equally as excited about the surprise visit and special gift from Williamson. He quickly rattled through his highlights.
"Meeting the Black Caps, getting all their signatures on our bat and also getting Williamson's gloves and getting him to sign them and also watching them train and we played with them table top cricket. And also meeting Brendon McCullum."
The Halberg Foundation, formed in 1963 by Olympic gold-medallist Sir Murray Halberg, aims to enhance the lives of physically disabled New Zealanders through sport and recreation.