How good is
Matt Henry
? They say to never trust a man with two first names, but he has become our bowling banker over the course of the Sri Lankan series - 30 overs, 13 wickets at an average of 9.38. I'm on the bandwagon that says that we shouldn't have rested, rotated or dropped the man who looks like a grimacing Mr Fitzwilliam Darcy in the middle of the series. It would have made more sense to have named the squad for the initial games, then tweak it based on what suited the team at the time, surely?
Congratulations are also due to
Martin Guptill
- he was absolutely sensational in this Sri Lankan series: 331 runs at a strike rate of 140, with 19 sixes and 32 fours is utterly ridiculous. Our favourite even-toed ungulate's strike rate is the 5th best of all time in an
, but still more than 40 clicks behind the punishment dealt out by Brendon McCullum in the recent World Cup.
***
Chris Gayle has been rolled, bowled and rissoled this week over his moronic comments to Australian sports reporter Mel McLaughlin just beyond the boundary during the Big Bash League.

I won't bang on for long about this as it has been done to death but I reckon Henry Gayle was asking for trouble, and it wasn't a one-off error of judgment as he has quite a CV on this front. If nothing else it was clear to see McLaughlin was uncomfortable with his shenanigans and that should have been enough for him to hold fire. He crossed the line - and his apology was half-arsed at best, so he's doubled down because that is how he rolls.

As Dennis Freedman puts it, this is par for the course: it's simply Chris Gayle being Chris Gayle, World Boss: "The outcries of sexism over the latest McLaughlin incident have been strong, and rightly so. But how have the cricket or broadcast authorities taken a stand with Gayle in the past? Where has been the united stand that says we don't condone this type of behaviour? If Gayle has such a history with this, why was he even recruited by the Renegades and why are Channel Ten using him as a prop?"

ABC Radio's lunch break yarn with Gerard Whately, colour-blind ex-opener Chris Rogers, Fox Sports' Neroli Meadows and Cricinfo's Mel Farrell was a decent listen. It will be interesting if Gayle rejoins Rogers at Somerset next year after a 2014 season in which he was lauded as a box office-breaking superstar - highlights included pulling pints at the local, whacking golf balls in vibrant pants, and getting on the hammer with Kevin Pietersen. The BBC's review includes this familiar line: "He also answered the phone to BBC Sport in the clubhouse and invited the reporter down for a drink."
***
Pranav Dhanawade is the talk of the cricketing world after plundering an insane 1009 not out off 327 balls in Indian schoolboy cricket: 59 sixes, 129 fours, 395 minutes. Andy Bull has zeroed in on the back story to this one, including the bowling figures because "if it were not for their unstinting efforts, none of this would have been possible..."
Tejas Missar's six overs, none for 142 comes in for some attention and he reserves special praise for Ayush Dubey's 23 overs to collect two for 352.
***
Here in New Zealand, the record for the highest score in any level of cricket belongs to Chris Knight, who compiled 400 for Cornwall U19 against Auckland Sri Lanka U19 back in 1997/98. Next on the list after the Cornwall Quad-ton is probably none other than a babyfaced Bradley-John Watling who hit 378 for Old Boys against Eastern Suburbs in the cauldron of Hamilton senior club cricket back in 2008.
He told the Herald at the time: "You are completely relaxed and seeing the ball like a beach ball. It's a great feeling, free flowing, bizarre. I don't know how to explain it - you're playing shots you never thought you could play. The feet just seem to go where they should, and you hit the ball for places where you wouldn't normally and it goes there. You're so relaxed because you almost don't care if you get out."
Our very own Steady the Ship, Kane Williamson, has been heralded by all the corners of the cricketing globe of late - including some of the more obscure and well-read parts. Last week we saw he was named as the annual Lord Megachief of Gold by the King Cricket blog, their highest award.

There's some good advice in there too for cricket watchers: "We hereby move that henceforth, whenever Williamson comes in to bat, all commentators must intone the words: "New Zealand are about to administer the Kane."

***
The 4-part documentary entitled Never Lundu: The Cricket Bat Doctor is wonderful. Never Lundu is a Zimbabwean bat repairman in Zimbabwe, and we get to see how he lives and what he does. One of his clients is Sikander Raza, who whacked a hundred against New Zealand (in a 10-wicket loss it must be said) with a Lundu-fixed bat in August. "The New Zealand 100 was from his fixed bat. I wish people break more and more bats so that he fixes them and earn more and more money," Raza said.
Good effort from advertising agency Millward Brown in a House of Cards card-building competition, constructing a glorious Lord's out of playing cards. That desk could do with a bit of a tidy-up.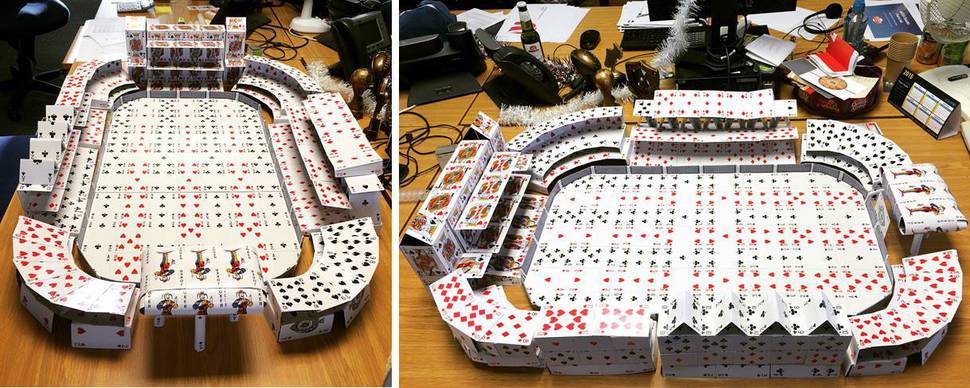 ***
LISTEN:
England and Wales' flaming ginger wicketkeeper Jonny Bairstow clobbered his maiden Test century in the shadow of Ben Stokes' double ton in Cape Town this week. Jonathan Agnew spoke to his mum Janet and sister Becky on
. It's a lovely insight into what players' families go through when they are soaking it up the action in the pantheon of Test cricket - and what Christmas with Geoffrey Boycott is like.
READ:
has written this week about a fellow member (pardon the pun) of the MCG press box "tabbing between his match report and a constant stream of hardcore pornography." WTF? Much less salacious is Rusty's series of amazing posts on cricket marketing's visual history: take your pick from the
,
and
.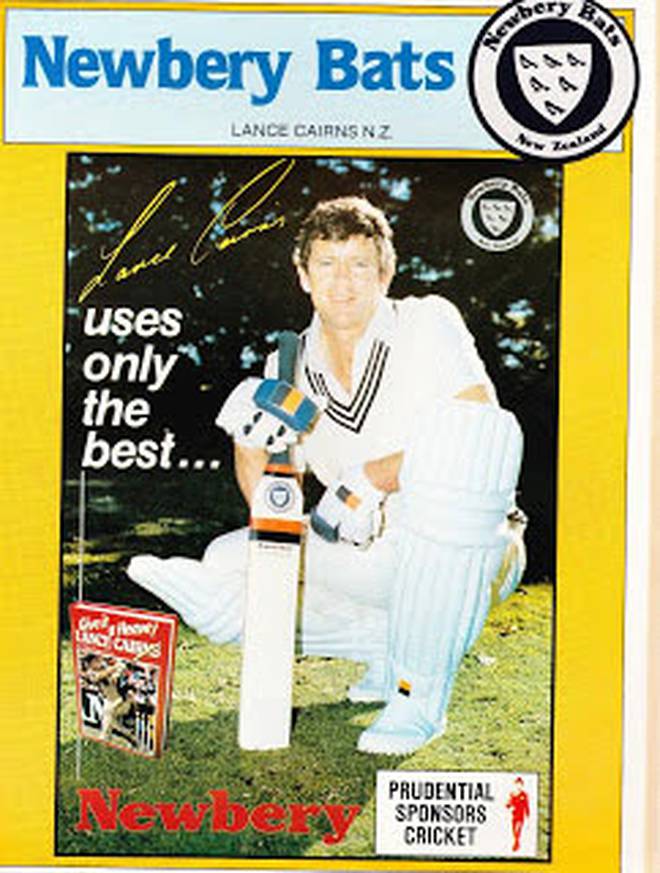 WATCH:
Does this ad featuring Ricky Ponting, red leather and a Kookaburra bat make you want to buy whatever is being sold here? Actually what are they selling? And why is he in Melbourne, not Tasmania?
Middle & Leg is a cricket newsletter for New Zealand cricket fans who like a dose of optimism and a tablespoon of take the piss with their weekly cricket informational. It is tapped out by Paul Ford, co-founder of the Beige Brigade, and one-seventh of The Alternative Commentary Collective. You can email him here beigehq@beigebrigade.co.nz.