If you love Kiwi sport, how can you best pay tribute via a tiki tour through the country? Andrew Alderson goes north to south looking at 10 significant destinations to build into a whistlestop holiday.
1. Bayswater, North Shore
Five-year-old Peter Blake began sailing here in the family Frostply dinghy.
Once he turned eight, his father built him a P-class called Pee Bee and a passion was born when he wasn't practising the piano.
Blake went on to skipper Steinlager II in the Round the World race in 1989-90, winning every leg, and led the Team New Zealand syndicate to win and defend the America's Cup in 1995 and 2000 respectively.
2. The Cornwall Cricket Club nets, One Tree Hill, Auckland
Grab a bat and play a few, preferably MCC-manual, shots. This idyllic setting in One Tree Hill's shadow, and nestled next to Greenlane Hospital, was cricket central for young Martin Crowe.
Under the tutelage of mentor Harold Whitcombe, Crowe spent hours dedicating himself to being the best in the game. His formidable legacy as scorer of the most test centuries for New Zealand still stands.
3. The Waiatarua Route
Winding through the Waitakere Ranges, this is where Arthur Lydiard trained 1960s running heroes such as Peter Snell, Murray Halberg, Barry Magee and Bill Baillie.
The route takes you up Scenic Drive and back down West Coast Rd over 34km and up an elevation of almost 300m. A marathon and half marathon are held here each year in Lydiard's honour.
4. Pukekohe Park Raceway, Franklin
Scott Dixon obtained a special dispensation to race a saloon car aged 13, more than a year before Kiwis at the time could get their learner licences.
Footage of him rolling a Nissan Sentra at Pukekohe resonated with viewers when he emerged with a cushion strapped to his back. He had used it to reach the pedals.
5. Cambridge Stud, Cambridge
Established in 1975, the 400-hectare stud is home to Sir Tristram and Zabeel, stallions who have been pillars of the thoroughbred industry for generations.
Owned by Sir Patrick and Lady Justine Hogan, the stud is advertised as the "leading vendor at the national yearling sales for the past 31 years".
It might be worth popping in to say hello but a word of advice if you're introducing yourself to Sir Patrick. Years ago, a television reporter thought he'd fudge not knowing who he was by opting for the age-old trick of asking him to spell his name. 'S-I-R..." Hogan began with a twinkle in his eye.
6. Titahi Golf Club, Porirua
The original home of 2005 United States Open champion Michael Campbell and a US soldiers' camp during World War II.
Aged 10, Campbell began caddying for dad Tom at the course. Within two years, he had a handicap of 11, and within four, he'd broken the club course record. After helping win the Eisenhower Trophy in 1992, he turned pro and contested the big bucks.
7. Porter Heights ski field, Canterbury
The first Winter Olympic medallist from the Southern Hemisphere began her career at this alpine retreat.
Annelise Coberger took silver in the slalom as a 20-year-old at Albertville in 1992, 17 years after she first took to the slopes at Porter Heights.
She was well placed to try. Grandfather Oscar, an early importer of ski gear, emigrated from Bavaria in 1926. Father Anton was a national skiing champion and both parents went to the 1968 Grenoble Winter Olympics as team officials.
8. The Carter family goalposts, Southbridge, Canterbury
Neville Carter ploughed the family's gherkin and potato field so eight-year-old son Daniel would have somewhere to hone his goal-kicking next to the house.
He became arguably the most complete first five-eighths in rugby history.
Trying your luck at the paddock is now a tourist must-do akin to kissing the Blarney Stone or running with the bulls in Pamplona. Visitors flock to take photos, kick balls over the famous 'H' and picnic.
9. Timaru Boys' High School, Timaru
Jack Lovelock received an oak tree from Adolf Hitler after winning the 1500m gold in a world record 3m 47.8s at the 1936 Berlin Olympics. The former dux and head prefect brought it back to his old school, where it was planted and remains to this day. A nearby bronze statue of Lovelock offers the best clue to its location.
10. St Clair sand dunes, Dunedin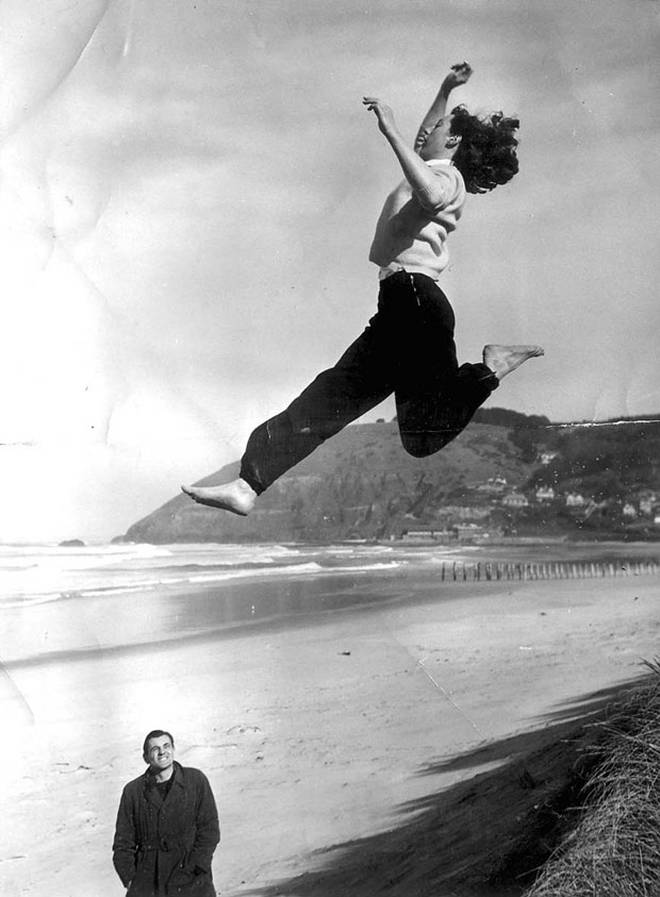 A spectacular picture from the Otago Daily Times archives in the early 1950s shows hunger and athletic skill at its finest.
New Zealand's first female Olympic gold medallist Yvette Williams is in full flight, leaping towards the beach under the eye of coach Jim Bellwood.
Williams used the technique to practise her hitch kick which took her to a world record long jump of 6.28m at Gisborne in 1954.