Gregor Paul selects his World XV for 2015 which features six All Blacks, three Australians and Argentinians, and one Fijian, Georgian and Scotsman — and nobody from South Africa, England, Ireland, Wales or France.
15. Ben Smith (New Zealand)
Ben from Accounts had an outrageously good season. He captained the Highlanders to the most unlikely Super Rugby title and then inspired the All Blacks to a World Cup victory. His aerial skills and footwork are unbelievable.
14. Adam Ashley-Cooper(Australia)
Ashley-Cooper is the Wallaby version of Smith. He's a superb all-round footballer who continually does the right thing. Has pace, footwork, awareness and the ability to covert half-chances. Was deadly at the World Cup.
13. Mark Bennett (Scotland)
A rugged, tough ball runner with innate timing. Picked off the intercept try in the World Cup quarter-final that should have sunk Australia and contributed some big tackling and deft passing.
12. Ma'a Nonu (New Zealand)
Ended his All Black career in the best possible way. Most direct and destructive midfielder world rugby has known. And yet he's more than bash and dash - throws a cracking long pass, has soft hands and a clever short kicking game.
11. Juan Imhoff (Argentina)
He found his best form at the World Cup and it was impressive. He's got natural predatory instincts and the pace and power to make good on them. Scored a try against Ireland that was hugely under-appreciated - his timing, decision making and skill were all first class.
10. Daniel Carter(New Zealand)
The old class returned once he had the confidence in his body. Vintage Carter. No one else could have snapped those critical goals, or kicked as accurately under pressure as he did. Ten years after he beat the Lions with his running game, he won a World Cup with his kicking game.
9. Aaron Smith (New Zealand)
Was electric for much of Super Rugby and while his passing and running were the headline acts, his kicking game developed into a world-class component of his armoury. Does anyone in the game have a better step?
8. Mamuka Gorgodze (Georgia)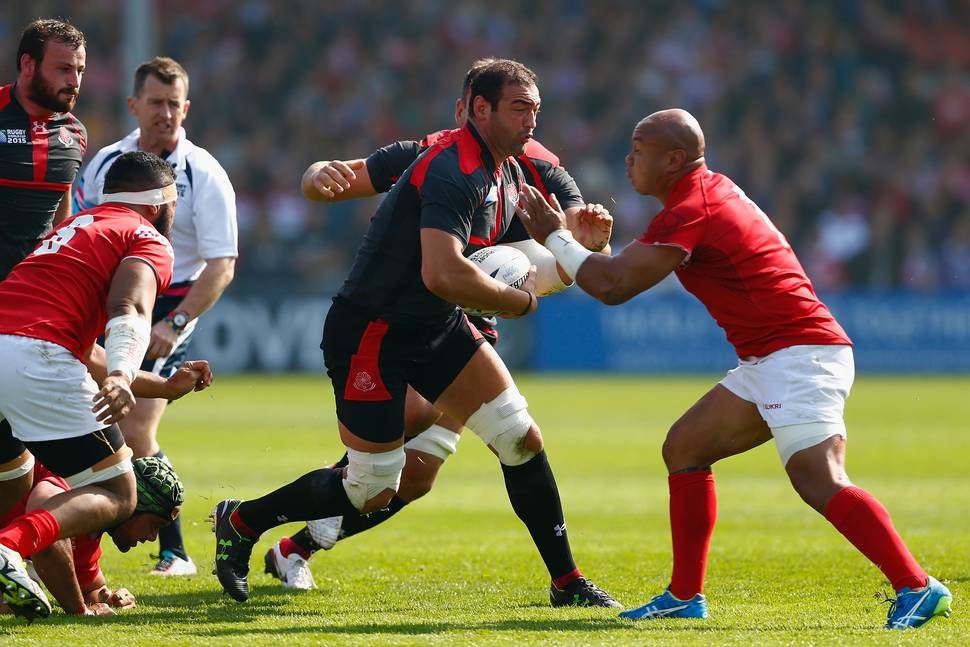 This dude played only 45 minutes against the All Blacks at the World Cup and he was the official man of the match. He's huge, agile, smashes people off the ball and, despite being the size of a house, motors around and keeps up with the ball.
7. Richie McCaw (New Zealand)
The old master played as well as ever and while some of his Aussie backrow mates won rave reviews, neither David Pocock nor Michael Hooper offered the same range of skills and overall influence as McCaw. He cleaned them both up in the World Cup final.
6. David Pocock (Australia)
He was shown up in the World Cup final for having only the one trick, but it is a magnificent skill he has. No one is as effective at the breakdown as Pocock and his ability to win as much ball as he did had a major impact on the World Cup.
5. Leone Nakarawa (Fiji)
The big Fijian showed an incredible ability to offload and yet not shirk his core roles. He won lineout ball, tackled like a loose forward and carried the ball like an outside back. Was named as the Pacific Island Players' Association Player of the Year.
4. Sam Whitelock(New Zealand)
The more he played, the better he got. Was a towering force at the lineout and took some critical steals in the World Cup semifinal win over South Africa. What impressed most about him, though, was his tackle count. Whitelock racks up the same sort of numbers as the best loose forwards and he's also become a world-class ball carrier.
3. Ramiro Herrera (Argentina)
Anchored an impressive Pumas scrum and also thumped about. A huge man but he wasn't in any way lumbering. Gave the Argentines an air of intimidation.
2. Agustin Creevy (Argentina)
The Pumas captain is a late convert to the hooking role and there is still much of the loose forward about him. He gave Argentina much of their go-forward and added a sparkle to their play with his clever offloads. Threw well at the lineout and got his body into great positions over the tackled ball.
1. Scott Sio (Australia)
A strong, agile, mobile prop with the technical ability and skills to hold his own in the set piece and yet play a meaningful role elsewhere. The Wallabies haven't had a player likes this for decades.