Kane Williamson was the hero for the Black Caps on Saturday hitting the match-winning six to clinch a tense Cricket World Cup victory over Australia.
The 24-year-old has been in the Black Caps since 2010 and first featured on the radar of newspapers as far back as 2002 when he started to make a name as a promising young player in Tauranga.
Williamson, along with his twin brother Logan, featured in articles in the Bay of Plenty Times following strong performances in cricket, rugby and basketball.
Below are three pieces that stood out in the NZME. archives.
Kane a big hit with prized test bat
Published 9/12/2003
By Kelly Exelby of the Bay of Plenty Times
It's every young cricketer's dream to pull on the silver fern and the baggy black cap of New Zealand.
Tauranga's Kane Williamson is well on his way to a brilliant sporting career - and he's using England cricketer Graham Thorpe's bat to get there.
Boasting a batting average of 42.4 in a decade-long test career that was revived this year, elegant left-hander Thorpe is one of cricket's most dogged fighters.
But even Thorpe would struggle to match the majestic deeds of 12-year-old Williamson.
Williamson led Bay of Plenty Coastlands to the Northern Districts under-14 title last week in Gisborne.
He amassed an incredible 420 runs in just four visits to the batting crease - pummelling unbeaten Bay of Plenty's opposition with scores of 101, 128no, 100no and 91no.
Tomorrow, Williamson leads Otumoetai Intermediate's first XI to their first national Milo Cup final in Palmerston North - a four-way fight to become New Zealand primary school champions.
Williamson has struck a purple patch since he was given Thorpe's old Kookaburra test bat by former Canterbury player Bill Aldridge two months ago.
He warmed up for the ND tournament with scores of 106no, 71no and 65, with his unbeaten 71 coming in the eight-wicket win over Hawke's Bay's Hereworth Boys School in the Milo Cup zone final.
Thorpe's former test bat had been sitting around virtually unused for almost two years before Williamson picked it up.
Aldridge, father of Northern Districts allrounder Graeme, got the bat from Mount Maunganui's Jim Irwin.
Irwin had been given it by Ireland international and Surrey-contracted seamer Mark Patterson, who played for Mount two years ago.
"Mark got the bat off Thorpe (his Surrey teammate) when England were out here at the beginning of last year and gave it to Jimmy before he left,'' Aldridge said. "I was doing some work for Jimmy and he asked me if I knew anyone who might want it. Kane sprang instantly to mind.''
Williamson is a prodigious sporting talent, excelling at basketball, volleyball and rugby.
Problem was, Williamson had just bought a new bat and was unsure whether he could handle a full-sized men's bat.
"It sat in my bag for a while because I thought it was too heavy and too big but now it's my lucky charm and I don't want to put it down. Now the new one's sitting in my bag.''
Williamson is a prodigious sporting talent, excelling at basketball, volleyball and rugby.
After a lifetime playing soccer, he and twin brother Logan switched to rugby this year.
In five games at the Bay of Plenty primary schools rugby tournament Kane scored 70 points, carrying Tauranga East to their first Tai Mitchell Shield win in 65 years. Rugby coach Danny Tauroa said at the time: "Kane's quite exceptional at anything he does. He has it all - he kicks, runs and defends ... sooner or later he'll have to chose between rugby, cricket, basketball, volleyball and whatever other sport he might happen to pick up along the way.''
Otumoetai Intermediate will take on Kings School (Auckland), Cobham Intermediate (Christchurch) and Wellersley Intermediate (Wellington) in Palmerston North.
Coach Rob Soffe said while Williamson was clearly gifted, scoring 349 runs in the five Milo Cup playoff games without being dismissed, it was a combined team effort that got them into the final.
"Kane's an outstanding player but the rest of the players around him do their bit too, especially in the field where our tight bowling and fielding has been a standout.''
"It's one of those groups of exceptional kids that come through every so often.''
- Bay of Plenty Times
***
Openers blitz rivals with 271-run stand
Published 4/12/2003
Hamilton were left wondering what had hit them when they won the toss and sent Bay of Plenty Coastlands in to bat on day three of the Northern Districts under-14 cricket tournament in Gisborne.
Coastlands' opening pair of Kane Williamson and Doug Bracewell set about demolishing the much-vaunted Hamilton attack, each posting centuries, with the partnership broken only with the last ball of the match.
The astonishing 271-run stand saw Bracewell collect 106 while captain Williamson had his second successive ton in reaching 128 not out.
In reply, the Coastlands bowlers plundered the Hamilton batsmen to have them all out for just 98 runs in the 35th over.
Duncan Managh was the best of the Bay of Plenty bowlers with 3-19 while six other bowlers took a wicket apiece.
Coastlands were expected to be too strong for Thames Valley today, which would set up what could be the game of the tournament when the two Bay of Plenty sides meet tomorrow.
The Bay of Plenty Lakelands bowlers played a significant role in their victory over Northland.
Batting first, Lakelands were dismissed for 127, with Daniel Fisher top-scoring with 23.
A feature of the batting was the performance of the tailenders, who added 39 runs after the side were struggling at 88-8.
A superb bowling performance wrapped the game up for the Bay of Plenty side when they dismissed Northland for 117.
Fisher also starred with the ball, taking 3-12, while James Fendall and Caleb Simpson each took two wickets.
Wicketkeeper Karl Timmins also had a sparkling game, taking four catches behind the stumps.
Results:
BOP Coastlands 271-1 (K Williamson 128no, D Bracewell 106; C Jamieson 1-39) defeated Hamilton 98 (D Managh 3-19, D Bracewell 1-5, Jesse Farnum 1-8, C Tozer 1-11).
- Bay of Plenty Times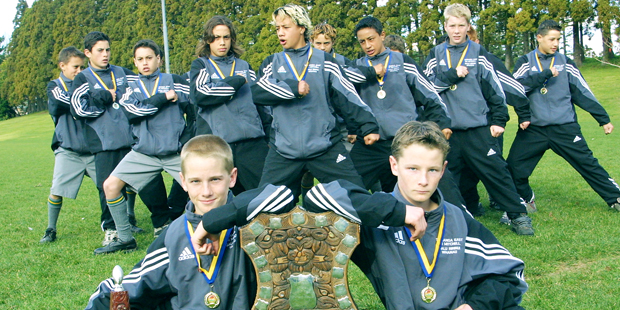 Twins (L-R) Kane Williamson and Logan Williamson with the Tai Mitchell winning rugby team. - Jimmy Joe/Bay of Plenty Times

Bay score 13 tries in mismatch
Published: 4/12/2003
Rotorua's Andrew Walker scored three tries as Bay of Plenty Roller Mills primary schools rugby team overwhelmed King Country 79-0 at Mount Maunganui on Sunday.
Walker handled the firm conditions at Western Bay Finance Stadium with ease as BOP crossed for a total of 13 tries in the game.
Tauranga's Kane Williamson added seven conversions and try for a personal match total of 19 points.
Scorers:- Bay of Plenty 79 (Walker 3, Denim Paroa 2, Courtney Mita, Wihelm O'Brien, Warren Bush, Luke Willoughby, Himiona Mair, Williamson, Matthew Fraser, Michael Martin tries, Williamson 7 cons) King Country 0.
BOP Lakelands 127 (D Fisher 23, D Hudson 20, K Timmins 18; S Thornton 3-15) defeated Northland 117 (R Darkins 19, F Gallagher 19; D Fisher 3-12, J Fendall 2-15, C Simpson 2-28).
- Bay of Plenty Times