A look back on the 14 tests played by the All Blacks in 2014.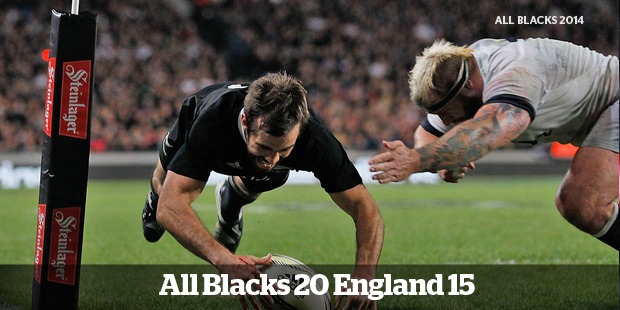 Even by first game of the season standards, this was an ugly, wart-ridden test that had a save-all redeeming feature in that the the All Blacks won it.
At 15-all, and with a kickable penalty in front of the sticks, was Aaron Cruden inspired or guilty of madness when he tapped and took off?
His bravery, if it was indeed that, created the opportunity for the All Blacks to scrum five out and work Conrad Smith into the corner to win the game.
Match report: All Blacks leave it late
As it happened: All Blacks v England
Player ratings: Top rating - Jerome Kaino (8)
Match statistics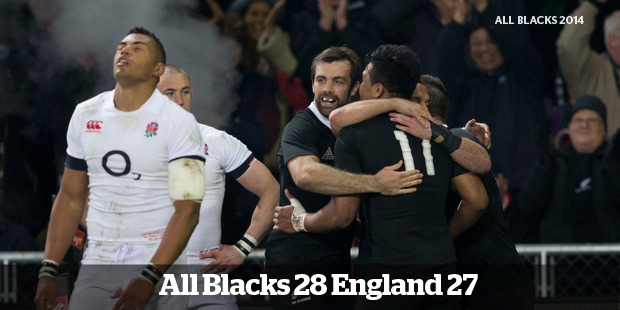 Victory isn't supposed to have different flavours, but there is no doubt that the second test victory in Dunedin tasted so much sweeter than the one in Auckland.
Just as curiously the margin of victory was just one point and yet it never felt like victory was in danger - that England were going to snatch it. This game was in the bag 10 minutes before the end and while the All Blacks won't be happy they allowed England to score the last 14 points, they know they were a fair way better. They know that England will also know the All Blacks were a fair bit better.
Sweet All Blacks win
All Blacks savour a tasty victory
Player ratings: Top rated - Ben Smith (9)
Match stats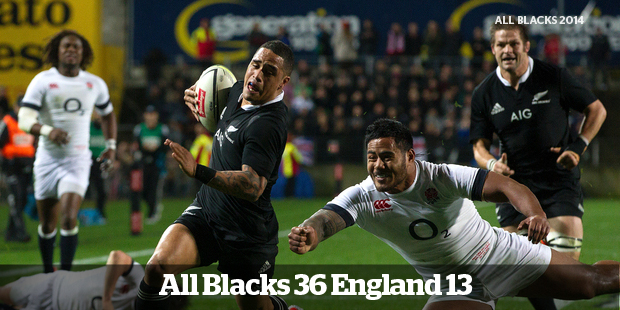 The All Blacks could probably have Julian Savea him out on his own and got pretty much the same result.
His third try - the last act of the game - provided the gloss the scoreboard needed to demonstrate the true gulf between the teams. If the All Blacks are old, slow and over the hill... goodness knows what that makes England who were well beaten.
All Blacks sparkle in win
As it happened: All Blacks v England
All Blacks can ask - 'Is that all you got?'
Player ratings: Top rated - Corey Jane (9)
Match statistics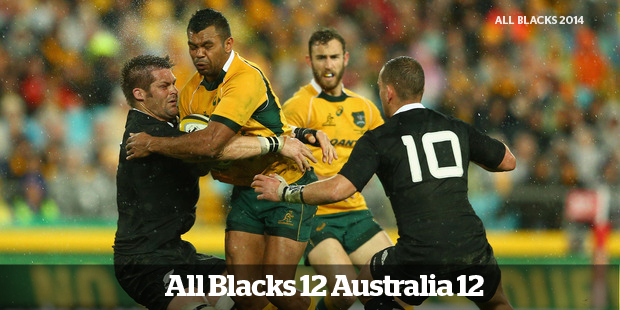 The All Blacks unbeaten run continued but their run of consecutive victories ended. The record of 18 wins finished and they can't really have much complaint about it.
They escaped in Dublin last year, but couldn't do it again in Sydney. And in truth, they should feel they did well to hang on for the draw. Australia looked the more likely winner and on balance, played more of the rugby: exerted more of the pressure.
All Blacks battle to draw
Justin Marshall: All Blacks don't have one defeatist bone
Poor night at the office down to too many mistakes
Player ratings: Top rated - Richie McCaw, Sam Whitelock, Dane Coles (7)
Match statistics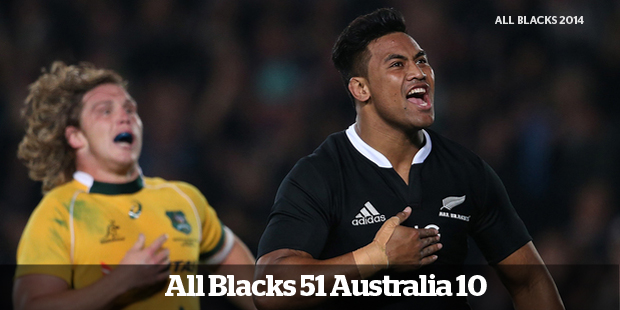 Thank goodness for that. A bit of order was restored and, with it, a little relief that all may not be so bad in the world of rugby - in the world of New Zealand rugby.
As emphatic performances go, this would be hard to top. The tight five can rest assured they made amends for the Sydney draw. They pretty much took a stick of dynamite and obliterated the Wallaby pack. There were a couple of scrums - albeit when the visitors had a man in the bin - that could only described as annihilation.
All Blacks thrash Wallabies to retain Bledisloe
As it happened: All Blacks v Australia
Hansen looks for ABs to lift bar - again
Player ratings: Top rated - Brodie Retallick (9)
Match statistics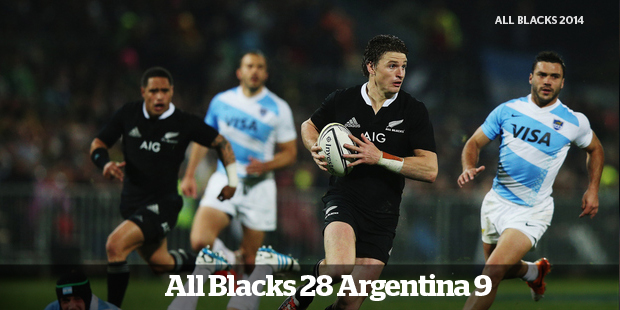 Maybe the victory didn't scream out as convincing, but there was enough there for them to feel they are progressing. Games against Argentina are never pretty. The rugby tends to be stop-start and they are about as hard as a plastic bag to break down.
The result is all important in these encounters and the All Blacks got one of those. A bonus-point win against the Pumas could be gold down the track.
All Blacks grind past Pumas
As it happened: All Blacks v Argentina
Savea makes habit of being in right place ... 26 times
Player ratings: Top rated - Seven different players (7)
Match statistics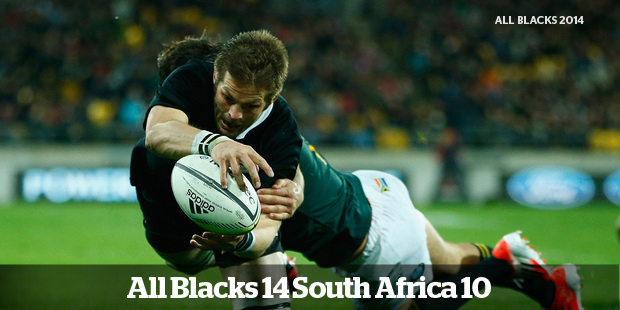 No wonder everyone loves a game against the Springboks - they are what test football is all about.
The All Blacks were taken deeper into themselves than they have been at any other time this year to find the victory they desperately wanted. The ending was World Cup tight. The All Blacks will know they were hanging on and maybe lucky to get home in the end.
But got home they did and for that they should be hugely proud. It was brutal, fast, no-mercy rugby from both teams and, while the Boks may have been poor in Australia the previous week, they showed they are a rising force.
All Blacks hold on in gripping finish
Resolute ABs refuse to lose
As it happened: All Blacks v South Africa
Player ratings: Top rated - Kieran Read, Richie McCaw, Duane Vermeulen (9)
Match statistics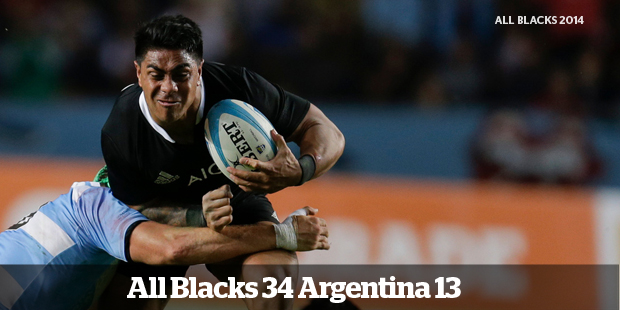 The All Blacks won the Rugby Championship with a test to spare, a bonus-point victory over Argentina at La Plata in which Julian Savea again proved he is one of the deadliest backs in the world sealing their dominance. Savea scored a try, had one ruled out, and provided one for replacement halfback TJ Perenara as the All Blacks capitalised on a dominant first half to once again roll over the top of the Pumas at the Ciudad Estadio de La Plata near Buenos Aires.
All Blacks seal Championship
As it happened All Blacks v Argentina
Savea's pace and power slays Pumas
Match statistics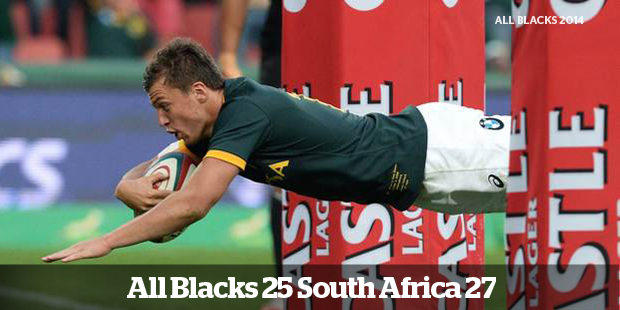 A brilliant game. A bad result. But the All Blacks can't feel too down about suffering their first loss in who knows how many games.
The Boks took their win. They fought for everything. They were superb everywhere and maybe they were a bit lucky with the final penalty - but no one could begrudge them their win. It was yet another epic encounter between the two and what's become clear is that while there is nothing between them - there is a big gap back to everyone else now.
All Blacks lose in Johannesburg thriller
Great players were missed in loss
Wynne Gray: Remedies for defeat will fire up All Blacks
Player ratings: Top rated - Julian Savea, Richie McCaw (8)
Match statistics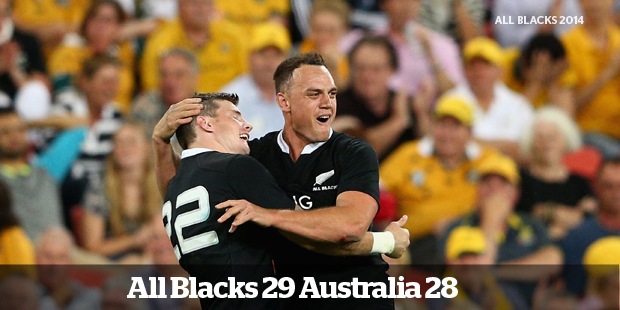 These All Blacks simply don't know when they are beaten. This was Dublin all over again. Maybe it was even braver because the opposition were better and had given them nothing all night. They had to pull the rabbit out of the hat when it looked like they surely couldn't. And then, fourth-choice first-five, Colin Slade had to nail a tough conversion. What a kick.
Last minute win for All Blacks
Wynne Gray: The great escape
Player ratings: Top rated - Richie McCaw (9)
Match statistics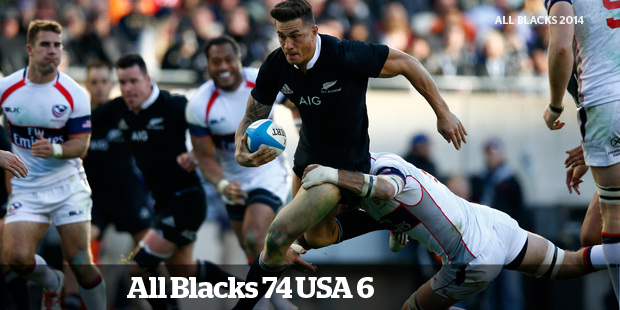 It's difficult to know whether the All Blacks did more harm than good at Soldier Field in terms of selling rugby to the Americans.
The visitors were slick, clinical and adventurous - playing the sort of pass and run football that could only have engaged the uninitiated.
Sonny Bill Williams was in full flow; Kieran Read edged closer to his best form and Patrick Tuipulotu provided a ball carrying crunch that long suffering visitors to Soldier Field must be craving to see from the Chicago Bears' big men.
All Blacks conquer America
All Blacks win American hearts
Justin Marshall: Rugby really was the winner as All Blacks put on a show
Player ratings: Top rated - Israel Dagg (8)
Match statistics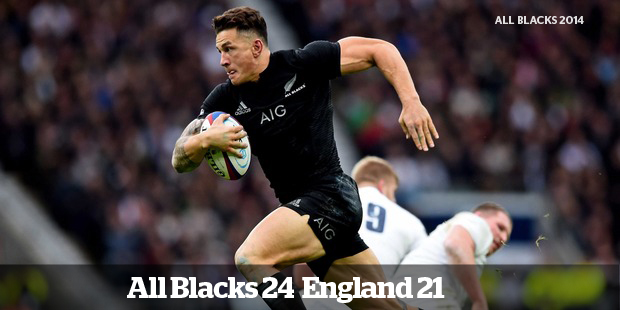 The All Blacks survived a slow start, the controversial second-half sinbinning of Dane Coles and a late penalty try to beat England at Twickenham.
Steve Hansen's men shook off the numerical disadvantage and drizzle after the break to beat the English, making it four victories from four this year after the clean sweep in the June series.
All Blacks come from behind to beat England
Gregor Paul: All Blacks deliver when it matters
Player ratings: Top rated - Richie McCaw (9)
Match statistics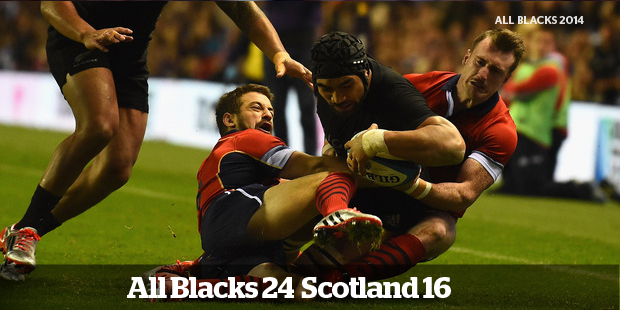 The All Blacks were looking for the perfect performance but instead almost fell to a perfect storm of constant mistakes and Scottish fire at Murrayfield.
That they emerged victorious in front of a increasingly excited crowd of 66,000 and prevented Scotland from winning their first ever test against them owed much to their coolness in the final stages and a deserved try to lock Jeremy Thrush with six minutes remaining.
Scrappy All Blacks survive Scottish scare
Gregor Paul: Bench saves the day
Player ratings: Top rated - Charles Piutau, Jeremy Thrush (8)
Match statistics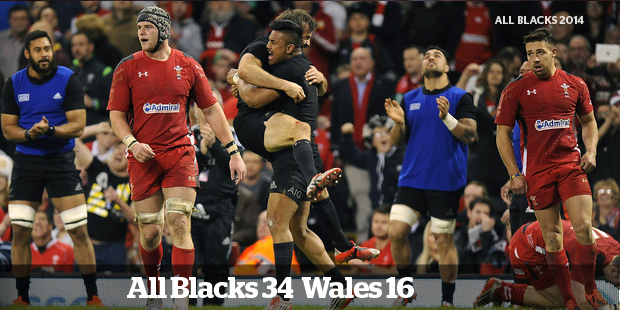 The margin of this victory looks comfortable, but the All Blacks were again asked to dig extremely deep for it by a defiant Wales, who at one point, must have thought their first win over their nemesis since 1953 was within grasp.
Instead, it was once again the All Blacks, led by the tireless Richie McCaw in his 100th test as skipper, who left Cardiff triumphant.
All Blacks power home
All Blacks win all about character
Match statistics