Fireworks display lands woman in hospital and injures two others
All Black fans ducked and screamed in terror as they were struck by stray fireworks during a pre-match pyrotechnics display at Eden Park last night.
NZRU chief executive Steve Tew pledged to investigate after one spectator wound up in hospital with serious head injuries and two others were wounded by the misdirected missiles.
A spectator described the scene of panic as the deafening boom from the fireworks caused parts of the 48,000-strong crowd to duck below their seats. They were then hit by what felt like shot-gun pellets, she said.
"When those explosions went off after the haka they gave us a hell of a fright. We all ducked. They were so loud. Then immediately afterwards people in front started screaming and crying out as the injured ones got out of their seats and shocked people were looking round trying to see where all the blood had come from."
She saw a man and a woman with blood pouring from their head.
"There was blood splattered everywhere down the steps and chairs. I don't think people realised what had happened until the people got up with blood streaming down their faces."
The woman was taken to hospital but the man and a third person returned to their seats after treatment.
The trio, who were seated separately in the southwestern corner of the ground, were pulled over the barricades and treated on the field.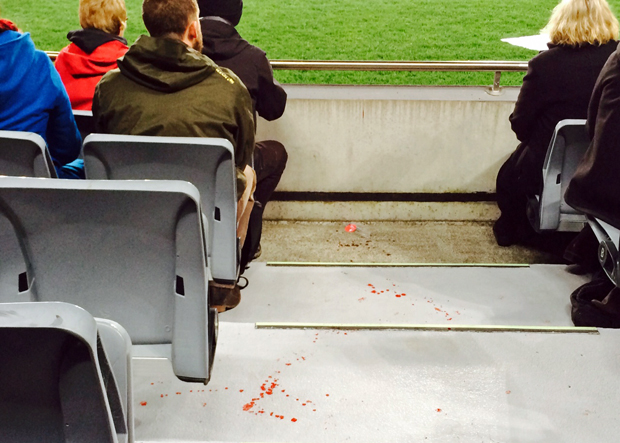 Blood seen in the stands at Eden Park.
Eden Park staff mopped up large amounts of blood that had spilled down three concrete steps.
Tew comforted the injured after full time and invited them to attend an official post-match celebration. He admitted "something has clearly gone wrong", and 'profusely apologised' to the injured.
"We will contact those who were affected this evening to personally offer our apology."
He said the NZRU and Eden Park officials would work with authorities to establish what had happened.
St John spokesman Robbie Walker confirmed one person had suffered serious injuries.
The person was initially treated at the scene for the injuries and then taken to Auckland City Hospital where they remained in a stable condition last night.
A director at Van Tiel Pyrotechnics, who provide fireworks at Eden Park, would only say the firm had previously had an unblemished safety record.
A bumper Eden Park crowd of more than 48,000 saw the All Blacks trounce the Wallabies 51-20 to retain the Bledisloe Cup.