From betting on brides to a hero-cat throwing a baseball pitch, Daily Shorts looks at the light hearted side of sport.
Not known for their sensitivity, Irish bookmakers Paddy Power have harshly opened a betting book predicting Rory McIlroy's next girlfriend after he called off his engagement to Caroline Wozniacki today.
The bookies have identified 26 candidates in total, but have kindly offered to name prices for others on request. What price for a Lydia Ko/McIlroy romance? We are still waiting for our suggestion to be processed, but expect it to be longer than the 100/1 offered up to Serena Williams.
McIlroy dramatically ended his relationship with tennis star Wozniacki just days after sending out invites to their wedding.
The 25-year-old says he got the jitters when the reality of marriage dawned on him.
Paddy Power has made Rory's old flame Holly Sweeney 3/1 favourite to be the next girl to win his heart, while Tiger Woods' ex-wife Elin Nordegren is a 275/1 outsider.
Meanwhile the odds of both McIlroy and Wozniacki bouncing back from the breakup and winning their respective upcoming majors (McIlroy to win US Open and Wozniacki to win French Open) is paying $1,100 for a $1 bet at the New Zealand TAB.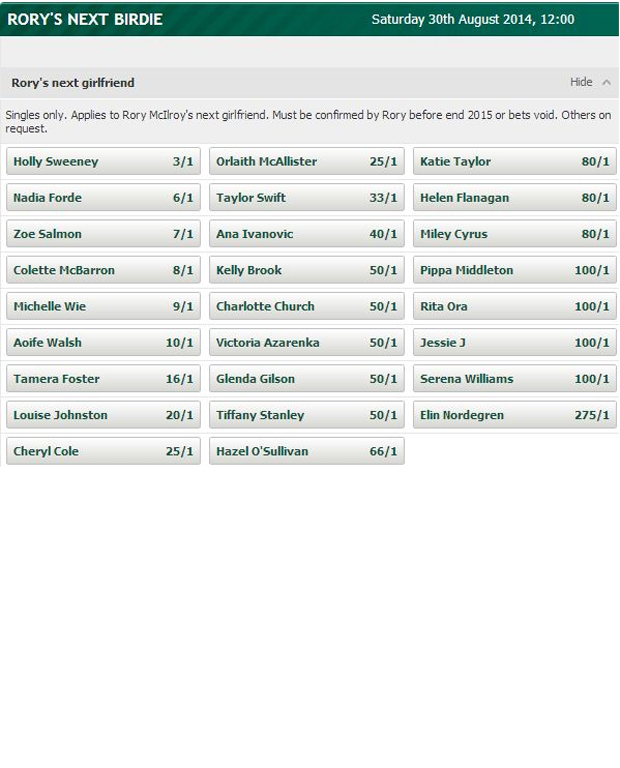 Quick links:
Check out this three second Karate match
Check out Roger Federer cranking some google glasses
Attractive teenage girl gets 40k Twitter followers overnight
A remarkable thing happened at last night's NBA Draft. The Milwaukee Bucks were represented by Mallory Edens, the attractive 18-year old daughter of team owner Wes Edens, and the internet nearly broke.
Despite her limited TV time, she became an instant sensation with viewers, was trending nationally and saw her Twitter account grow from 212 to over 40,000 in just 24 hours.
Guy watching the NBA Draft Lottery be like...I'd take Mallory Edens with the #1 pick! #NBADraftLottery pic.twitter.com/EeRnMAXtRr

SHARE THIS QUOTE:
Edens has become a legitimate mini-celebrity, with her looks being covered by every US news outlet imaginable. Only in America.
Hero cat throws out pitch
Remember Tara, the cat from America who became an international hero and Internet sensation by stopping a neighborhood dog from viciously making a chew toy of a little boy in her family?
Well, Tara has turned his 15 minutes of fame into 30, by throwing out a ceremonial first pitch at a baseball game. Kind of.
With the help of her owner and a ball-on-a-string contraption, Tara had the first-pitch honors before at a Class A Minor League game. As for her "throw," it wasn't purr-fect... but it got the job done.
Throwback Thursday
27 years ago today was the first ever Rugby World Cup match, the 1987 tournament opener between the All Blacks and Italy. The All Blacks won 70-6.
Here's the Herald's take (with the help of a few Lego men) on John Kirwan's fantastic try.