He carries dual nationality and while John Kirwan adores all things Italian, his sporting soul lies deep in New Zealand with the Blues at its epi-centre.
That undiminished passion bubbles near the top of any sports conversation with Kirwan who is in charge of the Blues for the second crucial season of his appointment. There was some progress last year but a swag more is expected by the staff, players and fans.
"For me it is about making the playoffs this year at minimum and I will be really disappointed if we don't do that," he said.
Coaching is the latest phase of Kirwan's rugby life which first came into public focus when he was picked as a teenager on the wing for Auckland. He had grown rapidly and with his speed intact, was a key man in coach John Hart's plans about continuity rugby with Auckland.
Kirwan was initially anxious about training with such a high profile side, but his butcher father gave him a kilo of ham and a kilo of luncheon to offer teammates as they cooled down in the sheds after practice.
"See you Thursday JK," the grateful players cooed for another month until Kirwan's father cut off the meat supplies.
After an impressive repeat '83 season, Kirwan was told he would be picked for the All Blacks end of year tour to the UK because Bernie Fraser could not take time off work. However there was a late sponsors' reprieve for Fraser and Kirwan stayed at home over summer.
A year later he made his debut against France in Christchurch although his season ended early when he dislocated his shoulder. There were other dramas like hamstring strains and a ruptured Achilles tendon in '89 as Kirwan played 63 tests and 33 other All Black matches in his marvelous career.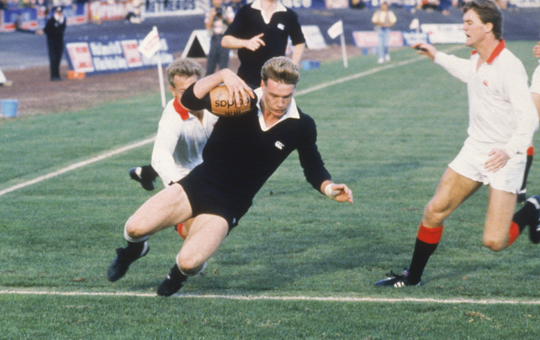 John Kirwan's energy on the field has now transferred to his coaching aspirations. Picture / Getty Images
"I never got back to my explosive power off the mark (after the Achilles) but I probably didn't rehab properly either," he said.
There was time for some more duels with Wallaby great David Campese, a player Kirwan feared because of his great speed and nimble footwork.
"It was difficult and daunting to play him because he had all the tricks. I tried to intimidate him as much as I could by getting close to him before I'd step and using my physicality against him."
Kirwan's box-office appeal soared with tries like his end to end classic against Italy in the '87 World Cup, a try for Auckland when he beat about five Canterbury players and his favourite, another '87 classic when he beat a cluster of top defenders to score against Queensland.
"When your mental side and your body come together, it is an incredibly powerful feeling and that day I felt just unstoppable with ball in hand," he said.
A failure to get on the same wavelength as new coach Laurie Mains brought Kirwan's All Black career to an end in '94 before he swapped codes to the Warriors and then returned to rugby in Japan.
His regrets are few but he believes if he had switched to centre after the '91 World Cup that would have stimulated him to stay in the game longer.
That passion has now transferred to his coaching aspirations in New Zealand after stints in Italy and Japan. He is ambitious but knows he has to learn his trade. He wants to succeed, he wants to be recognized as a top coach but knows that will only happen if the Blues perform.
Statistics
Date of birth: 16 December 1964
Position: Right wing
Matches: 96
Tests: 63
Test debut: 16 June 1984 v France, Christchurch
Last test: 6 August 1994 v South Africa, Auckland
Province: Auckland
Test tries: 35
Test points: 143