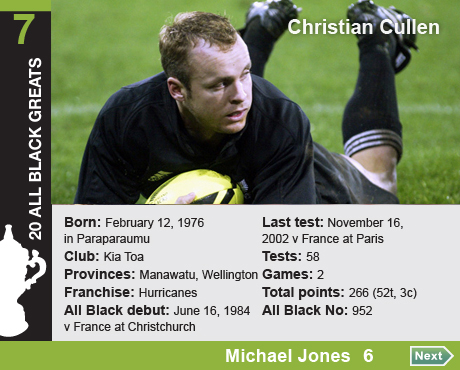 The Paekakariki Express was first class on all its journeys, writes Chris Rattue.
In hindsight you always have a few regrets and that was one. Fullback was my true position and I would love to have played there on the big stage.
John Gallagher started the revolution as a free running All Black fullback when he helped enliven and win the first World Cup.
Pick your top 20 greatest All Blacks of all time.
Christian Cullen completed the job, taking the running fullback role to heights that may never be scaled again, especially since the spaces he turned into his playground have been shut down as rugby evolves.
Cullen was a truly remarkable sight and adored by a rugby public which hoped a serious 2001 knee injury would be overcome.
It wasn't sufficiently, according to the men who counted. As the All Blacks' official website recalls, his ousting by coaches John Mitchell and Robbie Deans before the 2003 World Cup provoked an emotional reaction not seen since the dumping of Wayne Shelford.
At just 27, he headed overseas. The great Cullen era was over.
Cullen's speed, instinct, eye for opportunities and sheer strength - which also made him a terrific defender - left opponents grasping and the crowds gasping. The Paekakariki Express was first class with an economy of movement.
Until Gallagher came along, the most enduring All Black fullbacks since the 1960s had been cut from a different cloth, or make that stone.
The most famous was the giant Don Clarke, a true legend, followed by the pugnacious if more mobile Fergie McCormick. They were granite. Cullen was a diamond.
Born in Paraparaumu, Cullen rose from Kapiti College to play in the national schools and under-19 sides, and then for Manawatu (he switched to Wellington in 1998).
His first season for the Hurricanes in the inaugural 1996 Super 12 launched him into the All Blacks. His debut came at Napier, against Samoa, where he scored three tries. A star was born.
At just 20, he had been thrust into a test side alongside players who were his childhood heroes.
"The first player I loved watching was Joe Stanley. He was uncompromising and I loved that hardness," says Cullen.
"Then there were Michael Jones, Zinzan Brooke, Sean Fitzpatrick ... to find I was playing alongside them was quite a freaky and scary thing."
His roommate in Napier was Brooke, who proved to be flesh and blood.
"They put the youngest guy with one of the most experienced - I just kept my mouth shut," Cullen recalls.
"I remember the doctor coming in giving out flu jabs and Zinny was @#$ per cent scared of needles - he was hiding behind the double bed I'd let him have.
"A few of the boys almost had to hold him down ... one of my heroes, and he's scared of needles. It put me at ease a bit."
Cullen will forever be linked to New Zealand's shock World Cup semifinal exit against France in 1999.
Having tried him on the wing during the year, coach John Hart shifted Cullen to centre so Tana Umaga, Jonah Lomu and Jeff Wilson - who played at fullback - would all fit into the team.
It was a cruel and unwise way to deal with Cullen's extraordinary fullback talents.
Cullen says: "In hindsight you always have a few regrets and that was one.
"Fullback was my true position and I would love to have played there on the big stage.
"John Hart came down and had a chat with me - I was reasonably young so I probably didn't speak my mind.
"I would play anywhere for the All Blacks - that was my thinking at the time.
"But I hadn't played centre since the school stuff. You need more than that."
As for favourite memories, Cullen picks the 1996 tour of South Africa when the All Blacks won a test series there for the first time.
"I was fairly new and the history didn't mean so much to me. I was just loving winning test matches ... looking back it is very special," he says.
"I remember going to some pretty dodgy places for the mid-week games, sitting in the stands worrying about my safety. It was interesting."
The game which stands out is the Sydney test in 2000, when the All Blacks stormed to a 24-0 lead in front of a 110,000 crowd, Australia levelled and Lomu scored the winner.
The try he will never forget was the long-range classic at Carisbrook when he twisted Aussie defenders this way and that. It's often played when he does promotional work, so the memory is kept fresh.
He modelled his game on South African Andre Joubert, the "Rolls-Royce" of fullbacks, but Cullen took the fullback arts to a new level.
Of players past, he is, without any doubt, one of those who could excel now.
"The boys are bigger, faster, stronger, but it is not all about size - I would love to play in some of the games," he says.
He doesn't miss the rugby drills or "feeling sore every day".
"I do miss the buzz though, scoring tries and running out on the park," says Cullen, who scored 46 tries in 58 tests.
Christian Cullen's World Cup prediction
"Obviously the All Blacks will be in the final and if the draw works out I think they will play Australia. England are much better these days and often rise to the World Cup challenge."
Pick your top 20 greatest All Blacks of all time.

Next Monday nzherald.co.nz will compare our experts' list with the public's.