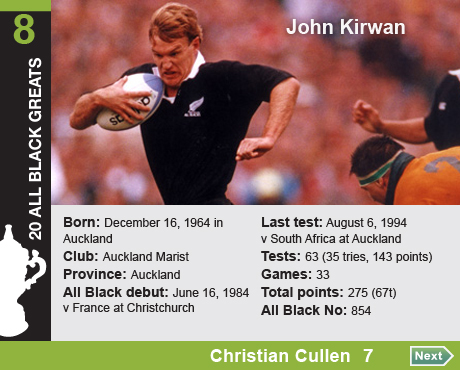 For JK, nothing compared to touring the world with the All Blacks, writes Wynne Gray.
Mention the All Blacks and John Kirwan gets seriously animated.
He has surfed through life on his ability and that team's reputation, a combination which was his passport to build an expanding coaching portfolio.
"It was such a great team to be a part of, playing at the highest level of rugby for such a high quality side," he recalls.
Pick your top 20 greatest All Blacks of all time.
"Nothing could be more rewarding. I have great memories of great tours, playing with your mates and travelling round the globe with a special team.
"What could be better than that?
"I was a butcher boy from Mangere for God's sake and the next thing I was playing in France or somewhere else, it was fantastic. I left school at 15 and now I live just outside Venice or in Tokyo, all because of a game of rugby and a special rugby team. It's pretty damned good isn't it?"
Kirwan reckons his best years as an All Black came in the late 80s before he ran into his problems with depression and then suffered an Achilles tendon injury.
But he looks back and marvels at the sporting ride he had with the All Blacks, the great times he had. He is unequivocal. Becoming an All Black was the greatest thing that happened to him and it continues to have its benefits.
The most important try he remembered was at Ballymore in 1988 which allowed the All Blacks to escape with a 19-all draw.
The All Blacks had won the first test comfortably, struggled to a draw and then surged away again to win the series in Sydney.
"The try I've been acknowledged for right round the world was the one against Italy in the first game of the 1987 World Cup.
"My favourite though was a try that same year for Auckland against Queensland when I managed to beat a fair few good tacklers," he said.
Greatest memories for Kirwan were his test debut against France in 1984 and having a significant role in winning the first World Cup.
It was a great event, one which started without anyone knowing how popular it would be.
And he scored a try in the final.
Another special moment was regaining his place in 1994, before a spell in rugby league then rugby once more in Japan.
"People ask me if I have any regrets and I don't. I loved being part of the whole All Black ethos.
"However at some stage like Tana I should have tried to go from wing to centre, to get more involved."
Nothing compared with the inner rewards of playing for the greatest rugby side in the world.
He and his wife, Mandy, live in Paraparaumu with their three children who are all aged under 3. Business interests include a Wellington sports bar.
He cringed at the rugby "kick-fest" of a few years ago, and would relish operating behind Crusaders midfielders Sonny Bill Williams and Robbie Fruean.
"Fullbacks and wingers live off those sort of guys," he says.
During a marvellous time not too long ago, we all lived off Christian Cullen in full flow.
John Kirwan's World Cup prediction
Kirwan will coach Japan at this year's tournament, one he looks forward to immensely. Picking a winner is tough, all guesswork.
"Once you get to the semis then it is anyone's game. But I'm thinking the All Blacks will make the final. It might be close for one of the other big sides in the quarters but if England meet the Wallabies on the other side of the draw, I think England are in good shape and will be a bit too strong."
Pick your top 20 greatest All Blacks of all time.

Next Monday nzherald.co.nz will compare our experts' list with the public's.