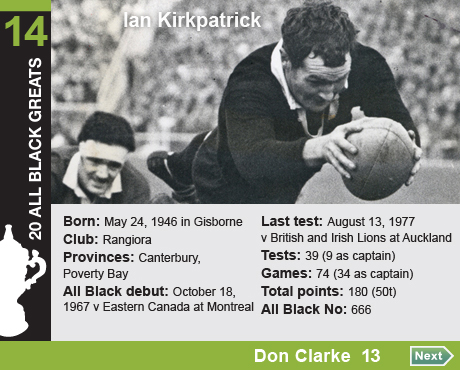 From Waka Nathan and Kel Tremain through to Michael Jones and Richie McCaw, the All Blacks have been often blessed with loose forwards of the highest pedigree, yet even in that company Ian Kirkpatrick deserves to stand out.
Like all of those great flankers, "Kirky", who played 39 tests between 1967 and 1977, was supremely athletic, fast, fearless and with an uncanny sense of anticipation. But one important measure - try scoring - puts him at the head of the list.
His tally of 16 test tries was astonishing for the era. Even today, when high-scoring tests are common and the All Blacks regularly play the minnows of the international game, only two forwards have scored more tries than him - and neither has a better tries-per-test record.
Pick your top 20 greatest All Blacks of all time.
McCaw, has 19 tries in 94 tests (a try every 4.9 tests) and Zinzan Brooke scored 17 in 58 tests (a try every 3.4 tests). Kirkpatrick scored every 2.4 tests.
Four of McCaw's tries have been against Italy while Brooke's tally includes tries against Argentina (2), Canada, Italy and Samoa. Kirkpatrick played all his internationals against traditional first-tier foes.
His scoring exploits started early - in his first test in Paris, aged 21, having displaced Tremain after a meteoric rise through the Juniors and All Black trials.
He made an even greater impact in his next international, coming on as an injury replacement for Brian Lochore against Australia. Replacements had not been permitted before that series and Kirkpatrick remembers his entry to the game as a strange experience. "The warm-up was walking down the stairs of the members stand at the Sydney Cricket Ground." It seems to have been sufficient preparation: Kirkpatrick scored three tries, the first All Black hat-trick in more than 30 years, and became an automatic test selection for the next nine years.
He says he "fluked" those tries in Sydney but there was nothing lucky about his most famous score, against the 1971 Lions on a sun-drenched Lancaster Park. The image of a rampaging Kirkpatrick bursting from a maul in All Black territory and fending off J.P.R. Williams to score in the corner is treasured by a generation of rugby fans. When he scored, the packed crowd of nearly 60,000 erupted in celebration. "I wondered what the hell they were going so nuts about to be honest."
These days, Kirkpatrick looks back most fondly on his first test - "I was really lucky to be on the tour, for a start" - and also on the second test victory in South Africa in 1970, another game in which he scored a brilliant try, beating numerous tacklers on his way to the line. The "hardness" of the physical contest that day and the determination of the All Blacks to win made it particularly special though he is clearly still regretful the All Blacks couldn't maintain the momentum in the subsequent tests. "We didn't really play as well as we should have on that tour. We played some great rugby but it didn't win us the test series."
He became All Black captain in 1972, leading the side on the controversial 1972-73 British tour and through a disappointing 1973 season before having the captaincy taken from him without notice in 1974.
If the selectors ever contemplated dropping him from the team entirely, his subsequent form absolutely vindicated his ongoing inclusion. Unburdened by captaincy, he was outstanding in the series win against Australia that year, snaffling tries in two tests, and remained a crucial member of the side for another three years.
When the end came in 1977, Kirkpatrick deserved better treatment than he was accorded by the rugby hierarchy: he learned of his surprise axing from the All Blacks on the Poverty Bay bus after a game in Pukekohe. "I wondered why [his teammates] were bloody quiet," he recalls. "My brother said, 'By the way, you're not in the All Blacks'."
Meanwhile, under the Counties stand, the locals were celebrating the inclusion in the side of Andy Dalton.
Ian's World Cup prediction
Ian Kirkpatrick has the All Blacks pencilled in as one finalist and favours another Tri-Nations team for the other spot, with the caveat that France can't be discounted and England are "probably not that far away, either."
Pick your top 20 greatest All Blacks of all time.

Next Monday nzherald.co.nz will compare our experts' list with the public's.