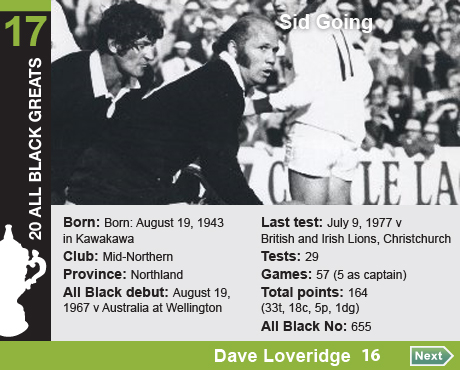 For a decade, Sid Going was one of the most distinctive and influential players in international rugby.
Bald, with luxuriant side whiskers in later years, he was an mistakable figure at the base of an All Black scrum or ruck, casually lifting his head to identify the opposition's defensive frailties then flashing into explosive action - most often with a snaking run, craning forward, his centre of gravity seemingly just centimetres from the turf, bumping off tacklers and darting through gaps.
"Super Sid" Going was a one-off, a rare package of speed, strength, elusiveness and tactical cunning, held in high regard around the rugby world as a match-winning halfback of the highest quality.
Pick your top 20 greatest All Blacks of all time.
Yet, somehow, he was also at times a controversial All Black selection, one of those players whose merits and supposed failings were the subject of endless debate around the nation's smoko tables and pub leaners.
To hear his detractors talk, you would imagine that entire generations of lightning-fast thoroughbreds in the outside backs had their careers stymied by his tendency to run rather than pass.
At times the selectors actually preferred the passing attributes of relative journeymen Bruce Gemmell and Lyn Davis to Going's full box of tricks.
Looking back, it seems hard to credit. Going played to New Zealand's strengths and provided a scintillating attacking option, tailor-made for test rugby.
Perhaps familiarity bred contempt. A glance at the record book - and, better still, a session spent watching television recordings of Going's performances - make it clear he deserves his place in the front rank of our greatest All Blacks. His electrifying runs, backed up by loose forwards like Ian Kirkpatrick and Alex Wylie, helped define the era in which he played.
The debates about his merits can be traced back as far as Going's early rivalry with Chris Laidlaw, possessor of an exceptional pass but not a patch on Going as a runner. It was Laidlaw's unavailability through injury that opened the way for Going to play his first test against Australia in Wellington in 1967, and his poor form that produced another opportunity for the young North Aucklander against France in Paris in 1967 when Going scored the first of his 10 test tries. Going got another two tries against France at Eden Park in 1968 and played a big hand in the defeats of the Welsh in two tests in 1969 but gave way to Laidlaw when the Otago player was available, as in three of the four tests in South Africa in 1970.
From 1971, though, Going became a fixture at halfback for 13 tests in a row, including the memorable series against the Lions that year and on the 1972-73 tour of Britain. Not selected in three tests against Australia in 1974, he bounced back to play nine further tests, including all four in South Africa in 1976.
Today, Sid Going looks back fondly on that 1967 test in France - the All Blacks won 21-15 playing a quality brand of 15-man rugby - but also rates highly the victory over Wales at Cardiff Arms Park in 1972, the first game to be broadcast live back to New Zealand. "We knew that for the first time there would be a million-plus New Zealanders watching it live on TV," he recalls. "That really boosted the team."
Going was an outstanding figure among the 1972-73 tourists, whose superb on-field record is commonly overshadowed by the off-field drama of Keith Murdoch's being sent home. Murdoch's first-half try in the Welsh test provides a typical example of the halfback's influence: Going hoisted a kick from a lineout, knocked over the Welsh winger John Bevan who received it, pounced on the loose ball and flipped up a pass to the tryscorer.
Going claims not to remember his own tries so well but when pressed nominates the two he scored against France at Eden Park in 1968, both from darting down the blindside.
"They were good because they turned the game in our direction."
Another memorable Going classic came in his penultimate test against the Lions at Athletic Park in 1977. When a pass to his first five-eighth Duncan Robertson was blocked, he attempted to break in the opposite direction but was blocked again. His darting changes of direction had so confused the Lions forwards that the way opened for him to scamper through to the tryline.
"That was good," agrees Going, "because it was late in the career, too, and I knew there was a lot of press, South Island press in particular, wanted me out of the team." How was he affected by all the criticism of his game? "It made me more determined."
Sid's World Cup prediction
Going and his wife have spent the last year on a Mormon mission in Campbelltown, South Sydney, so he hasn't seen much rugby recently. He's guarded, therefore, about predicting the World Cup finalists but expects all three Tri-nations sides and England to be in the running.
Pick your top 20 greatest All Blacks of all time.

Next Monday nzherald.co.nz will compare our experts' list with the public's.