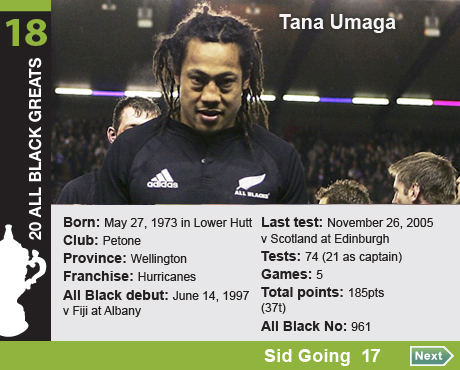 Hearing the national anthem exaggerated the pride of being an All Black, it pressed more buttons for Tana Umaga about representing his country and knowing he was one of a special club.
He often mused about the rare privilege, how special it was to be part of the nation's rich rugby history and how he had to honour the past, the present and the future.
It was difficult to make the All Blacks, it was a tough club to enter and once he made it, Umaga became even more aware of how hard he needed to work to stay there.
Pick your top 20 greatest All Blacks of all time.
"You feel very fortunate and when I start to look back and people ask me about it, I tell them about having a dream, having a goal and making that come to fruition," he says.
"You have to understand how these times are fleeting and you have to keep working hard to enjoy them.
"I gave it up voluntarily and that was satisfying to go out on my terms. It was extremely hard but when you start to think about the reasons why you attain the jersey and when they start to blur, or you are not giving it the full commitment, then you know you do not want to undermine the jersey and the traditions."
Umaga made his debut in 1997 against Fiji at Albany, linking arms with the great Michael Jones during the anthems.
"I remember his calming words and passion during the singing. I was very nervous but he was whispering to me about enjoying the game. He was my childhood hero, my idol, a great man and I felt honoured to play with him.
"He hurt his knee again in this test but Michael was a very powerful man, spiritually and mentally."
As his own career hurtled through 74 tests, Umaga built up a huge bank of memories. Several tries remain favourites.
In 2002, Umaga toured at the end of the year rather than stay at home with most of the top All Blacks and scored a crucial try in the 22-all draw with France.
"I recall that whole tour. We ended up beating Wales with a few of our guys playing their first test and I felt I took a step up as a player and a leader on that trip.
"Some of the best rugby I played was in the Lions visit in 2005. After the previous World Cup I had worked really hard to get my body right to make an impact. It was a chance to redeem myself and I was very happy with the results."
Daniel Herbert and Stirling Mortlock were tough opponents, players who never took a backward step.
Umaga had a great deal of respect for Todd Blackadder's leadership in the All Blacks. That admiration began on the 1997 tour when Blackadder moulded the midweek side.
It was always magic playing with the All Blacks and if Umaga had a few wishes he would have asked for some of Doug Howlett's speed, Christian Cullen's balance or Jonah Lomu's power.
"It made you try and adjust your skills as much as you could. It drove you to do better and raise your levels," he says.
"They were always around and you never wanted to let them down, it was magic playing with them."
Tana Umaga's World Cup prediction
"It is not always the most flamboyant side which wins these tournaments, it is the side which can sustain and absorb pressure for long periods," Umaga predicts.
Knockout matches were being played mid-evening and history said sides with low-risk patterns and strong defence were tough to beat.
"Our acknowledgment of the conditions may not have been as flash as it should be but if we get that sorted, the All Blacks should do all right."
The All Blacks had a strong domestic record and consistent recent results. The Wallabies were building well. While the Boks were in disarray, they understood the World Cup grind.
Pick your top 20 greatest All Blacks of all time.

Next Monday nzherald.co.nz will compare our experts' list with the public's.