Manchester United's worst season since at least 1992 was underscored by the departure of coach David Moyes. As a business, the club still has few peers in soccer.
Moyes, a 50-year-old picked by fellow Scot Alex Ferguson as his successor, was replaced on Tuesday, four games before the end of United's worst Premier League season. The team has lost 11 of its 34 league games under Moyes and is in seventh place, a year after winning a record 20th English title.
Off the field, United boosted sponsorship sales by 39 per cent in the quarter ended December 31, the most recent for which results are available. It has bigger ticket and other match-day sales than any club in the world, according to international accounting company Deloitte. Moyes was less than a season into a six-year contract.
"It's an unsettling time for the team but sales aren't going to drop off a cliff," Dave Chattaway, who helps compile an annual soccer club brand ranking for London-based Brand Finance, said by telephone. "Most other teams are still playing catchup."
United is using what Executive Vice Chairman Ed Woodward calls a "scalpel, not a spade" approach to snagging sponsors from Chile to Vietnam. Since the Glazer family - Americans who also own the National Football League's Tampa Bay Buccaneers - took over in 2005, United has set up commercial offices in London and Hong Kong. FC Barcelona followed United last year by agreeing to rent a Hong Kong office.
The English club's profit for the three months ended December 31 was 19.8 million pounds ($33.3 million), compared with 19 million pounds in the year-earlier period. That's about the same profit that Real Madrid and Barcelona, soccer's biggest teams by sales, make in an entire year.
United had gross debt of 356 million pounds at the end of last year, down 2.7 per cent from a year earlier, according to its most recent earnings report. The team was debt-free before the Glazers' purchase, and it has paid about 600 million pounds in interest and other financing costs since then.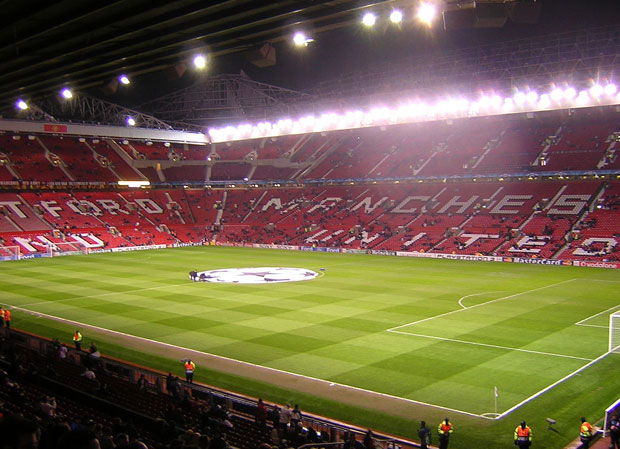 Photo / Wikipedia-Xavoun
The debt sparked fan protests and attempts to buy the team, with thousands of supporters wearing green and gold to represent the club's origins as Newton Heath.
Some of the newest sponsors in United's 35-company portfolio - South Korean food company Ottogi and Thai confectionery maker European Food Public - were announced this month.
"It's a very robust business," Dominic Curran, managing director of London-based sponsorship consultancy Synergy, said. "They've always been slightly ahead of the crowd. One poor season won't affect that."
Manchester United's share price rose 6 per cent to $18.78 in New York Stock Exchange trading on Tuesday. The Glazers held an initial public offering in August 2012, raising $233 million by selling 10 per cent of the club at $14 per share.
Some of the IPO shares were purchased by fans, which also helps support the stock price, Andrew Wilkinson, chief market analyst at Greenwich, Connecticut-based Interactive Brokers, said in a note. At the same time, investors' view of United's earnings outlook could be too optimistic, Wilkinson added.
There could be "deeper disappointment at stake should the trophy cabinet remain bare for a second season," he said. Wilkinson said in an email that he doesn't own shares of United.
United will miss out by not qualifying for the Champions League for the first time in 19 years. The elite European competition earned United 35.6 million euros ($49.1 million) in prize money last season as well as extra ticket and corporate hospitality sales.
It had match-day sales of 127.3 million euros last season, 35 per cent more than London-based Premier League competitor Chelsea, according to Deloitte.
United's slump under Moyes will limit future sponsorship deals and affect jersey sales, according to Edward Freedman, who headed United's merchandising unit in the 1990s. A 13-year jersey deal with Oregon-based Nike, worth 303 million pounds, expires next year, and Woodward will try to increase that income.
United is "living on former glories at the moment," Freedman said.
Most United fans will stay loyal while the 136-year-old club seeks to recover its form, and commercial partners will also remain in place, Chattaway said. General Motors is paying $559 million to put its Chevrolet brand on United's shirts through 2021.
"They have plenty of markets locked up," he said.
- Bloomberg