"So jealous of the mermaids and mermen that get the best coverage of Vodafone's new 4G service," says Renee after spotting this on the telco's website.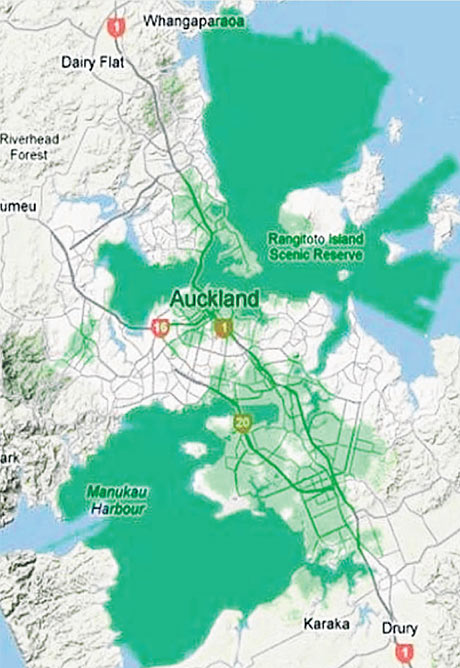 See-through pants pulled
Sports apparel company Lululemon Athletica has recalled 17 per cent of the women's yoga pants in its stores because the latest batch were too see-through. "The ingredients, weight and longevity qualities of the pants remain the same, but the coverage does not, resulting in a level of sheerness in some of our women's black Luon bottoms that falls short of our very high standards," the company stated. "We want you to Down Dog and Crow with confidence and we felt these pants didn't measure up." (Source: CNN.com)
New Lynn, Wellington?
Glenn writes: "After calling the insurance company the other day to add a Toyota Caldina Turbo station wagon to our insurance policy, the very helpful customer services person told me what our premium would be - $20 per month lower than our basic Honda Accord, valued abut the same. Since the Toyota was a Turbo, I was expecting it to be more expensive than the Honda. I was told that the Honda is a higher premium because we live in New Lynn, a 'high risk' area (apparently) and the Toyota Turbo is in Auckland! Despite confirming the address details for both cars were the same, she insisted that New Lynn according to her computer is in fact not Auckland. We actually live in Green Bay ..."
Quad bike makes a dash
A reader writes: "Arranged to meet a so-called Taupo farmer at Bombay Service Centre to look at a quad bike that was for sale. After a lot of quad talk he asked to start it up in the forecourt. After a little test it was last seen heading to Pukekohe, so if anyone saw a nice blue quad making a dash ... please call the boys in blue. Hopefully a severe case of gravel rash is coming this person's way."
Next time use the bushes
Robyn of Mt Albert writes: "To the woman driver in the white vehicle on the Laingholm road on Tuesday around 6pm, who stopped in the middle of the road, left the driver's door wide open, and proceeded to answer the call of nature in the middle of the road, causing the traffic to come to an astonished halt or veer into the ditch on the other side, could you not have moved your vehicle to the side of the road and used the bushes?"
Helping hand: How piss poor that the New Zealand government won't help Vernon Gardener, a 66-year-old New Zealander in a Filipino prison for 20 years because of a $4800 debt he can't pay. TV3's current affair show 3rd Degree had the story last night, asked all the right questions and stumped up a grand. If you would like to help free Vernon Gardiner - donations to 3rd Degree: 03-0104-0924021-001 Ref VERNON
Hero: A woman in a Perth supermarket when her two-year-old daughter suddenly lost consciousness and stopped breathing. CCTV footage from the supermarket shows her carrying her daughter's lifeless body to a counter appealing for help...(have tissues on standby!)
Media: Source Bottle is a website which helps journalists find people who are willing to talk; in this ad a major Australain news website is looking for men who have had their penis stuck in their zipper... (hint: you can give 'em a quote online)
Picture this: Replacing guns with thumbs (in movies stills)...
Video: The pill to lower your IQ permanently , because ignorance is bliss...