Multimedia skills showing rigours of ocean racing make James Blake asset to race, writes Andrew Alderson.
When the late Sir Peter Blake won the Whitbread round-the-world race in May 1990, a toddler was passed from the Southampton dock to the skipper's Steinlager 2 boat and enveloped by an almighty cuddle.
Twenty-seven years later, that boy is about to embark on his maiden traverse of the globe.
James Blake, Sir Peter's son, will travel as an onboard reporter when this year's race begins on Sunday night in Alicante, Spain.
He will predominantly report on the feats of Team AkzoNobel, skippered by Kiwi Brad Jackson, but will race the first leg with Vestas 11th Hour Racing.
Reporters are expected to file dispatches from any boat as the race unfolds.
Blake has eked out a reputation as a documentary-maker producing film for the likes of the BBC and Discovery Channel.
The 30-year-old auditioned among 10,000 hopefuls from 126 countries to race the 45,000-nautical mile route across four oceans, five continents, 11 legs and eight months.
He went through a "boot camp" in Alicante, before being anointed race-ready.
"The [onboard reporter field] was narrowed down through interviews. We sailed with some of the teams and had to be signed off by two skippers. We spent a while at sea and basically had to show we could get on with people, because you're stuck with them for a long time during the race."
Blake needed no introduction to the nautical world, having sailed on boats since birth. However, his multimedia skills illustrating the rigours of ocean racing are what make him an asset to the race.
"I took a different path from my father and have been working as a cameraman for six or seven years. I've been involved in TV for about 12.
"Mum [artist Lady Pippa] is probably a bigger influence. She encouraged me to do what I wanted more in the art than the sailing or exploring worlds. I'll take a few of her images with me on the boat.
"I prefer to steer clear of the limelight, but when I walk around and see Dad's words printed in the race headquarters [at Alicante], it's quite moving. Fortunately this is a job that allows us to explore areas where he spent so much of his life."
Sir Peter was shot and killed by pirates while monitoring environment change on the Amazon River in December 2001.
James Blake is most looking forward to reaching the Brazilian city of Itajai on the seventh leg. That journey will take him from Auckland around Cape Horn where he will experience the Southern Ocean's most trying conditions.
Blake has an affinity for the region after being sent, courtesy of New Zealand's Antarctic Heritage Trust, to document the centenary of Ernest Shackleton's 1914-17 Imperial Trans-Antarctic Expedition.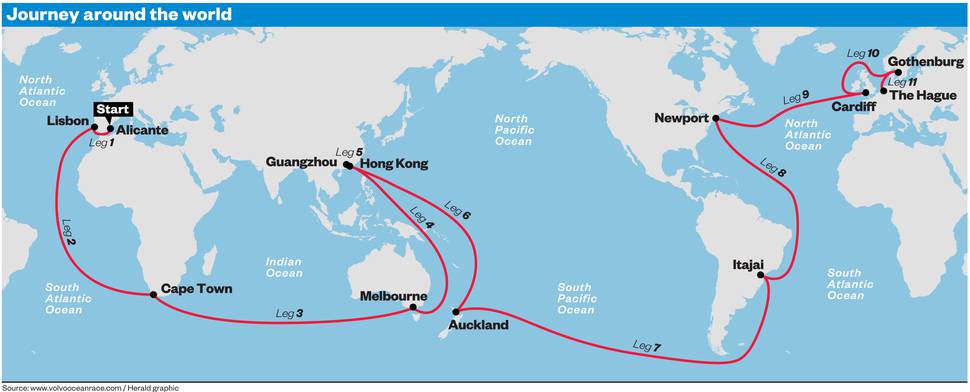 Shackleton and his 27 men had their ship, the Endurance, crushed by ice. On a diet of predominantly seals and penguins, they camped on a floe which took them 600 miles north in five months, before launching life boats for Elephant Island, south of Cape Horn. From there, six of the party, including Shackleton, embarked for South Georgia in a gamble to get everyone rescued. They endured gale-force winds, apartment-sized waves and frostbitten temperatures to cover 720 nautical miles of Southern Ocean in a fortnight. All the men were rescued by August, only for many to return home and enlist for World War I.
Blake was left in awe.
"We went across South Georgia Island which, for us, was a four-day trek. We found that tough. Even after doing it with modern equipment, I'm still not sure how he managed."
Blake might feel similarly about the Volvo Ocean Race when he finishes next June.
Meet teams and sailors set to traverse the globe
Volvo Ocean race teams
AkzoNobel (Netherlands)
Skipper: Brad Jackson (NZL)
Team AkzoNobel has had a number of notable firsts with regard to their entry in the Volvo Ocean Race. The Dutch campaign was the first to sign for the event. They were the first (and only) team to build a new boat, and now they are the first team to fire their skipper. The team took the remarkable step of axing skipper Simeon Tienpont just a week out from the start of the race for a "breach of contract". The late controversy saw Kiwi sailor Brad Jackson elevated to skipper.
DongFeng Race Team (China)
Skipper: Charles Caudrelier (FRA)
Dongfeng Race Team are back for a second shot at the Volvo Ocean Race under inspirational French skipper Charles Caudrelier, after far exceeding expectations with a podium finish in 2014-15. Caudrelier's mixed crew will again include Chinese sailors. The French skipper has boosted his squad with world-class offshore ocean racers from around the globe.
MAPFRE (Spain)
Skipper: Xabi Fernandez (ESP)
MAPFRE return to the Volvo Ocean Race and their goal could not be clearer -- to win the prized event for the first time in Spain's history. The experienced crew have set the pace in the warm-up races, topping the leaderboard for "Leg Zero" before taking out the Prologue to the race. Xabi Fernandez's crew features one of New Zealand sailing's biggest names -- Blair Tuke, who has a chasing history in his first Volvo campaign. Tuke has a chance to become the first sailor to pull off the triple crown of Olympic, America's Cup and Volvo Ocean Race wins.
Vestas 11th Hour Racing (USA/Denmark)
Skipper: Charlie Enright (USA)
Vestas are back in the Volvo Ocean Race after an ill-fated 2014-15 campaign, which came to a dramatic halt when their boat ran aground on the Cargados Carajos Shoals in the middle of the Indian Ocean on the second leg. This time, their campaign is being run in full partnership with 11th Hour Racing, a programme of The Schmidt Family Foundation working to implement real change on marine health. Vestas 11th Hour Racing are led by the American duo of Charlie Enright and Mark Towill, and the experienced crew includes Kiwi sailor Tony Mutter.
Team Sun Hung Kai/Scallywag (Hong Kong)
Skipper: David Witt (AUS)
Representing Hong Kong, Sun Hung Kai/Scallywag are led by experienced heavy weather sailor David Witt and go into the race with an added goal to promote competitive sailing in Asia, while building a long-lasting youth sailing legacy. The team have a core with plenty of experience sailing together and in David Witt they have a leader who knows the race well, with the Australian returning to compete for a second time, 20 years on from his debut with Innovation Kvaerner.
Team Turn The Tide on Plastics (United Nations)
Skipper: Dee Caffari (GBR)
Turn the Tide on Plastic is a mixed, youth-focused team with it's guiding mission is to amplify United Nations Environment's Clean Seas: Turn the Tide on Plastic campaign throughout the eight months of the race. Britain's Dee Caffari has built a multinational, 50-50 male-female squad, with the majority under 30 years of age, including Bianca Cook, who is the first New Zealand woman to take on the race in 15 years. Alongside the sustainability focus, the messages around inclusiveness in age and gender will be strong themes of a campaign that may not start as a favourite, but could surprise.
Team Brunel (Netherlands)
Skipper: Bouwe Bekking (NED)
One of two Dutch entries in this year's event, Team Brunel are among the pre-race favourites for the upcoming edition of the race. The team is led by Bouwe Bekking, who has sailed more miles in the Volvo Ocean Race than any other in the fleet, making his first appearance as a crew member on Philips Innovator back in 1985-86. They have Kiwi sailing royalty on board as well, with Team NZ helmsman and Olympic gold medallist Peter Burling joining the crew for his first round the world campaign, setting up an intriguing side battle with Tuke.