Kiwis can be found nearly everywhere there's a rugby ball, even in Mexico.
Tamaha MacDonald doesn't have the profile and standing of Warren Gatland (Wales), Joe Schmidt (Ireland) and Vern Cotter (Scotland) but is no less passionate, and is attempting to improve the standards of the world's 60th-ranked side.
MacDonald is Mexico assistant coach and coach of the Black Thunder club, who play in the Mexican Major Rugby League.
The 39-year-old was meant to be in Mexico City - population 22 million - for only a few months as he and his Mexican wife travelled to London in 2010 but the pair are still there four years later.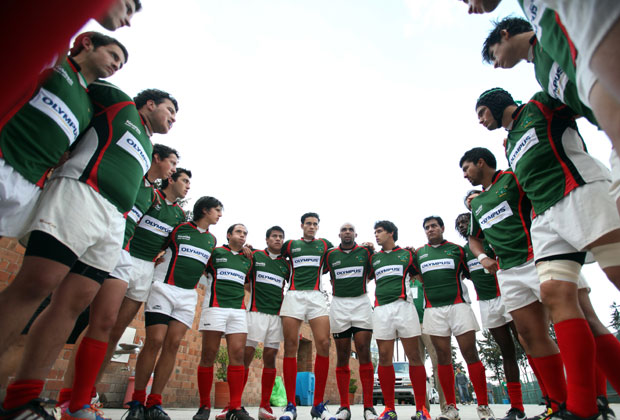 Mexico are ranked at 60 in world rugby. Photo / Getty Images
MacDonald has long led a nomadic existence due to study, work and rugby. A second-five, he played at provincial level for Marlborough and Counties Manukau, played club rugby in Wellington and Dunedin and finished his career at the Sunshine Coast Stingrays in Queensland in 2009.
MacDonald and his wife Jennifer decided to stay in Mexico City after her job fell through. She picked up other work quickly and MacDonald felt it was natural to pursue a career in rugby.
"I'm just starting my career as a coach, really," he says. "I'm doing my time with Black Thunder and Mexico and then I want to be the head coach of Mexico."
MacDonald's long-term ambition is to return home to New Zealand to continue his coaching career, which would suit him and his wife.
Jennifer suffered a severe stroke a year ago and needed emergency brain surgery. She has a plate in her skull and still hasn't been cleared to return to work but MacDonald says the medical facilities in New Zealand would further help her recovery.
"She's on her way back," he says.
Football dominates sporting conversations in Mexico but rugby has a small niche with around 15,000 players. Mexico are sandwiched between Israel and Latvia in the world rankings and annually play the likes of Bermuda, Cayman Islands and Bahamas in the North America Caribbean Rugby Association Championship.
"We play really organised [rugby]," MacDonald says. "When we start having regular camps with them, we bring them in to camp for three days, sometimes four, and work them hard. There's a lot of conditioning, a lot of work as a team and on defence."
Their camps are held at the Olympic facility in Mexico City built for the 1968 Games but there are no rugby fields.
MacDonald looks after the backs at national level and Mexico also boasts men's and women's sevens sides, although international success is a long way off.
He also helps out with the national under-19 team, although there are no academy systems or development pathways for young players and all the members of the senior side have day jobs.
"We are currently amateur but, when we bring them into camp, we are trying to make it professional," he says.
The main thing they lack, aside from experience and professionalism, is size - "our rugby guys are built like boxers and cross-country and middle-distance runners" - but the altitude is often a leveller.
Life in Mexico has been a culture shock in every way possible and he talks about the "intensity" of Mexico City. It starts with driving.
"You've got to go hard, you've got to be mad, you've got to be aggressive and you've just got to not let anyone in," MacDonald says.
Just like playing rugby, then.