Mike's Famous Seafood Kitchen and Oyster Bar
Queen's Rise
125 Queen St
Ph: (09) 377 8828

WE THOUGHT: 13 - Good
WE SPENT: $103.50 for two
Wagyu burgers. Gold-leafed icecream. Pāua hot dogs.
They're all part of a trend food academic Alison Pearlman once dubbed "haute pop" - the dishes that invoke childhood, remade with ingredients that require a grown-up pay cheque.
It used to be the domain of very, very expensive restaurants. Now every gastropub worth its truffle salt is putting saffron in its chip sauce and I'm at a downtown Auckland food court eating mac 'n'cheese and scampi.
Mike's Famous Seafood and Oyster Eatery is new to Queen's Rise, in the space that was Grace Dining. It's unclear whether the ownership has changed, however, the menu definitely has.
This is a fish and chip shop with benefits. They'll do two-and-a-scoop with a glass of wine for $21 - but don't stop there. I was going to say the menu reads deliciously, but then I remembered there was something called "Made it! Over the Wall Taco" so I'll rephrase: the seafood selection is a step-up from the surimi "crab" sticks of my youth.
Whitebait? I suppose we could slum it.
A good whitebait fritter is a symphony; a Radiohead song that starts delicately and builds to crazy good. Where I grew up, you use the 'bait to hold the batter together. By the time you finish eating, you're in the rain, up a river, feeling the weight of expectation in every lift of the net. On the strength of all that, I have just one message for Famous Mike: Get a bigger net.
The $20 "fritti" was an eggy puff. You could have driven a ute through it and not hit a fish, though you might have got bogged in the aioli-soaked sourdough. A little whitebait will go a long way, but this stuff really had to work hard. If you want a seafood sandwich, Mike's market mussel fritter is a much better option.
The fritter is a ridiculously cheap $5, tastes like mussels and comes on proper supermarket white bread that squidges like playdough in your teeth but won't leave you too full for chips (or "chups", as the menu charmingly states). Yes, you could get the prawns - we did - but it's that simple little sandwich that I liked best from our long lunch on the deck.
Mike's is one of the few Queen's Rise restaurants with both indoor and outdoor seating. Perfect. Fish and chips ALWAYS taste better outside.
We'd kicked off with a $10 dish of chips and dip - tooth-shatteringly crisp slices of bread and a smoky mix of "kawhai" and "terakihi" (egregious spelling restaurant's own). The flavour was really good, but the fish mixture needed to be looser to fully qualify as a dip.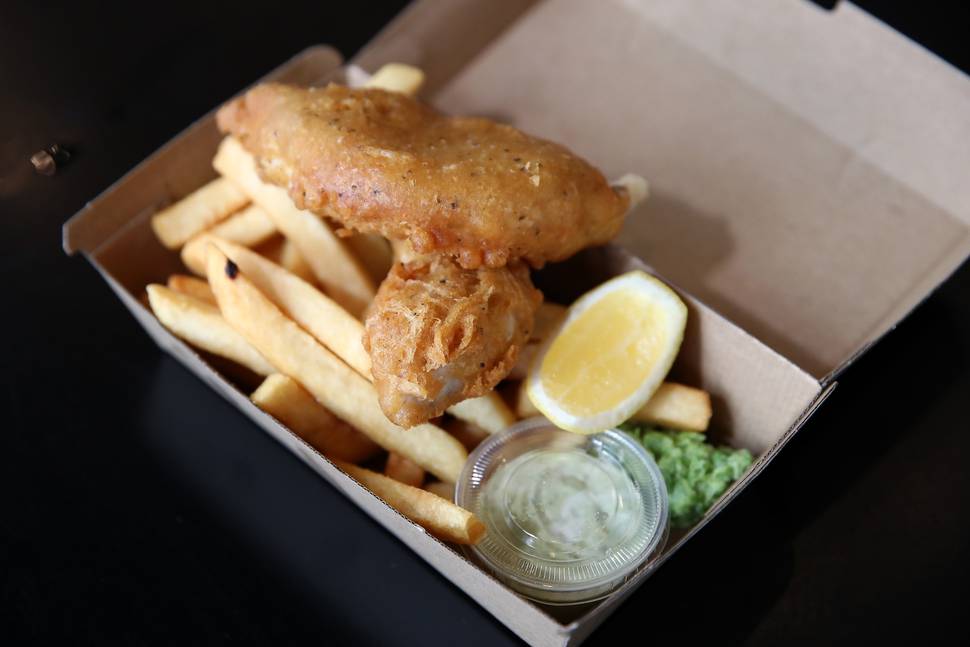 Our butterflied prawns ($15 for four) were also a little dry. Swipe them through the garlicky butter and she'll be right. They came with bread, but see above: we'd maxed our carb capacity and there was still that mac 'n' cheese.
Two tables down, a couple slurped freshly steamed mussels. I couldn't find them on the menu, but no matter - they were the last available that lunch service, said our waitperson cheerfully.
The staff were excellent. Friendly, accommodating and not in the least bit judgmental about how much food we'd ordered.
I wouldn't have minded if there had been longer gaps between plates, because by the time the scampi arrived I was in no mood to do it justice. Neither was the kitchen. The pasta appeared to have been plopped from pot to plate. No pretty sheen of the grill; no chewy, cheesy top. The thumbnail pieces of scampi were actually perfectly cooked - sweet and succulent - but the chilli was tasteless and an orange crumb was just weird. It occurs to me that just because you can make the ordinary ostentatious, doesn't mean you should.