When our kids were growing up, our favourite Friday night treat was to head out to one of the hundreds of little hole-in-the-wall ethnic eateries around Auckland. It was cheap and cheerful fare and delivered exciting flavour experiences from around the globe.
The kids, who were incredibly fussy eaters, baulked at most of the food on offer but there was always rice or bread for them to fill up on, and Ted and I got to enjoy many wonderful meals, often with ingredients and flavour profiles that we hadn't tried before. Gradually the children's palates developed and, before long, both of them were chorusing for me to make laksa, pad thai and falafel at home.
In New Zealand we can enjoy a vast choice of amazing food from all around the globe. Head to Auckland's Dominion Rd to discover 100 restaurants, one of the largest concentrations of international food in the city. The local Business Association has recently launched a campaign with a series of menu guides to showcase the diversity of food available on this iconic strip.
The growth of both YouTube and food blogging has fuelled New Zealanders' love for all things food to dizzy heights. Prior to February 2005, YouTube didn't exist and food blogging was a relatively new idea. Tap "YouTube recipes" into the Google search box today, and 650 million results come up. Add in the more than 230 million food blogs out there and it's easy to see how the internet has become one giant recipe-swap.
When you taste a new ingredient, you open the door to explore a new culture. Perhaps you enjoyed a delicious Middle Eastern salad with tomatoes, cucumber and walnuts, and then found out from the kitchen that the dressing was made with nothing more than pomegranate syrup, olive oil, salt and pepper. Just like that, you want pomegranate molasses in your kitchen — its potent sweet and sour flavour will lend depth and richness to Middle Eastern-style stews and slow bakes, as well as dressings and sauces.
Before you know it you will be exploring recipes and ideas that use pomegranate molasses and delving into the food culture around this useful ingredient. You don't have to worry about it wasting, as it will keep for years.
Updating your pantry means that you don't have to head to the streets or hit speed dial for the delivery guy to enjoy your favourite takeaway classics. These simple recipes will have everyone salivating — and you'll have them on the table in next to no time.
Seafood Laksa
Ready in 30 mins
Serves 4
50g dried rice stick noodles
2 Tbsp neutral oil
2-3 Tbsp laksa paste, to taste
2 cloves garlic, crushed
1 Tbsp fresh ginger, finely grated
Zest of 1 lime, finely grated
4 cups chicken or fish stock
1¾ cups coconut cream
1 Tbsp fish sauce
1 tsp soft brown sugar
500g skinless, boneless white fish, cut into 3cm chunks
150g raw squid rings or prawn tails
Salt and ground black pepper, to taste
4 hard-boiled eggs, peeled and halved lengthways
Lime wedges, to serve
Salad garnish
½ telegraph cucumber, cut into fine batons
150g bean sprouts
2 spring onions, shredded lengthways or finely angle-sliced
1 handful each of coriander and mint leaves, finely sliced
1 red chilli, sliced, to taste
Place rice stick noodles in a heatproof bowl and cover with boiling water. Stir to fully submerge and allow to soak for 10 minutes while you make the laksa. Heat oil in a large pot and sizzle laksa paste, garlic, ginger and lime zest for 1 minute without browning. Add stock, coconut cream, fish sauce and sugar and simmer for 5 minutes. Reduce heat, add fish and simmer gently until almost cooked through (about 3 minutes). Add squid or prawns and cook just until they change colour (about 2 minutes). Season with salt and pepper. Drain noodles and divide between four serving bowls. Arrange two egg halves on top of each and top with soup. Divide salad garnish between bowls and serve immediately with lime wedges on the side.
Annabel says: For chicken laksa, swap the fish for sliced boneless chicken thighs, add button mushrooms and baby spinach leaves. For a vegetarian version, pan-fry tofu in a little soy sauce and add it to the soup. You can use any kind of wheat or rice noodles, but rice stick noodles make it so easy as they just need soaking. Adjust the amount of laksa paste to suit your own palate. If you don't have laksa paste, use Thai red curry paste — the flavour profile will be a little different but nonetheless delicious.
Crispy Southern Baked Chicken
Ready in 45 mins
Serves 4-6
12 chicken drumsticks or 8 bone-in chicken thighs
2 Tbsp neutral oil
4 Tbsp rice flour
Eight secret spices mix
2 Tbsp milk powder
2 tsp each paprika, mustard powder, dried oregano, garlic salt and celery salt
1 tsp ground black pepper
½ tsp fine white pepper
¼ tsp cayenne pepper, or more to taste
To make eight secret spices mix, shake all ingredients together in a jar. You will have more than you need for this recipe, so keep the rest in the jar for next time. It will keep for several months. Preheat oven to 220C fanbake and line a shallow oven dish with baking paper for easy clean-up. Coat chicken with oil. Combine rice flour and 2 Tbsp of the spice mix in a shallow dish or clean plastic bag, add chicken and toss to coat. Arrange in a single layer in a prepared oven dish and bake until golden and cooked through (about 30 minutes).
Annabel says: I like to make my own spice mix for this chicken but you could use a store-bought mix if preferred – just add a little milk powder as this helps the spices stick and caramelise and provides depth of flavour. Rice flour creates a wonderful crunchy coating on the chicken, but if you don't have any and aren't trying to avoid gluten, you can just use standard flour.
Falafel Pita Pockets
Ready in 35 mins
Serves 4-6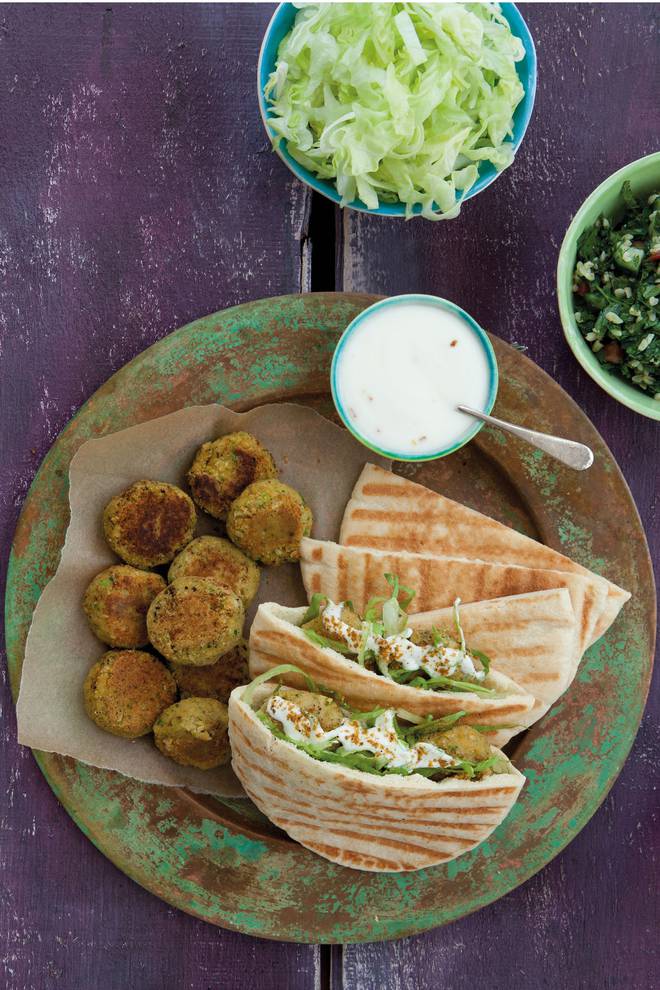 x 400g cans chickpeas, rinsed and drained
1 cup frozen peas, thawed
2 cloves garlic, crushed
2 spring onions, finely chopped
Zest of 1 lemon, finely grated
1 Tbsp lemon juice
2 tsp rice flour
¼ tsp baking soda
2 tsp ground cumin
1 tsp ground coriander
A pinch of chilli
¼ cup finely chopped parsley leaves
Salt and ground black pepper, to taste
Neutral oil, to fry
Pita pockets
Lightly toasted pita breads, cut in half
Fillings of your choice, such as shredded lettuce, sliced tomato, tabbouleh, hummus, tomato relish or yoghurt
Ras el hanout, to sprinkle (optional)
Combine all falafel ingredients except oil in a food processor and whizz to a smooth paste. Use wet hands to form the mixture into small balls, then flatten slightly. Heat about 2 Tbsp oil in a large frying pan and fry in batches until golden (about 3 minutes each side). Transfer cooked falafel to an oven tray lined with paper towels and keep warm in a 120C oven while you cook the rest of the mixture, adding more oil to the pan if necessary. Serve in pita pockets with fillings of your choice, sprinkled with ras el hanout, if using.
Annabel says: Adding a pinch of baking soda to the falafel mixture makes them nice and light – but don't overdo it, or they will taste fizzy and sour.