Knowing how to transform tough cuts to tender succulence is a skill that will deliver you lots of appreciative oohhs and ahhs at the dinner table — and also save you some dollars.

When comes to tough cuts of meat, tenderness takes time. Hard-working, high-activity muscles have a lot of flavour but they contain a lot of collagen, a connective tissue that helps hold the muscle fibres in meat together.
When cooked in the presence of liquid (such as wine tomatoes, water or stock), collagen slowly dissolves into gelatin, which allows the meat fibres to separate more easily and gives the texture of the finished dish that highly desirable, melt-in-the mouth, almost sticky, succulence. Cut up a piece of beef cheek and you'll be wondering if you should be cutting out all that white tough connective tissue, but in fact this is what will cook down and make the meat very tender.
There is no point in making a slow-cook dish with an expensive, tender meat cut, in fact it won't taste nearly as good. Tender meat cuts, such as fillet, scotch, rib eye and sirloin, come from muscles that do very little work, so they have very little connective tissue. If you cook them long and slow, they tend to be dry, and they don't have anywhere near the flavour of the tougher cuts.
Low temperatures are key with tough cuts. When you boil meat at a high temperature the muscle fibres tighten and shrink and the meat becomes tough. Collagen takes a long time to break down so the key to ensuring tenderness and reducing shrinkage is to reduce the temperature and use a long cook time.
When life is on the run (and I don't have the slow-cooker out) I cook my casseroles for around three hours at 150-160C. If you want to coax out even more tenderness and succulence, allow more time and drop the temperature. The other weekend I popped a lamb shoulder on at 120C with a bunch of aromatics and a bottle of red wine. Nine hours later it was utterly insanely delicious.
This week's recipes are exactly the kind of warming, nourishing meals you feel like eating when the winter weather kicks in. Low and slow, it's the way to go.
Slow-Baked Duck and White Beans with Crispy Crumb Topping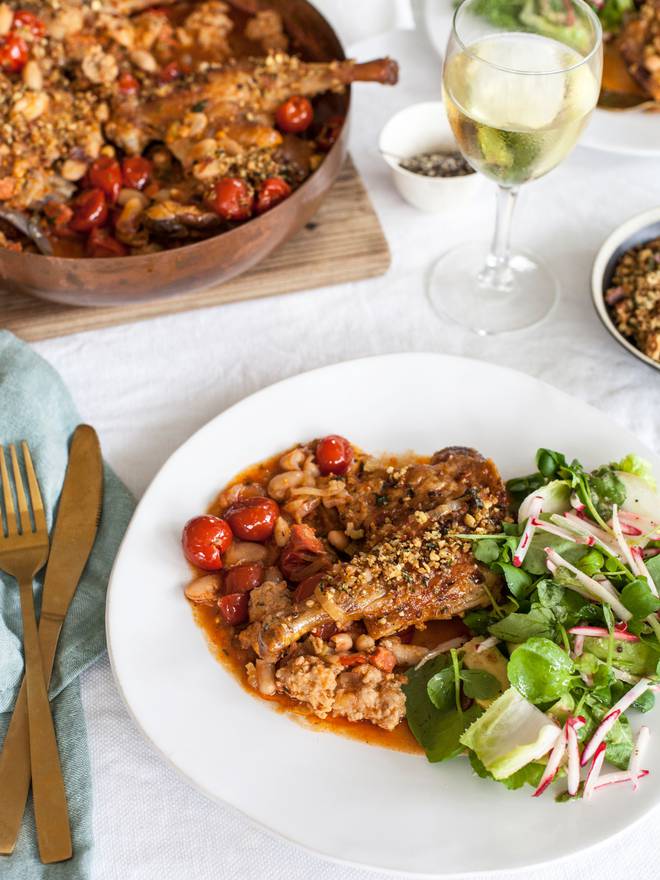 Ready in 3 hours
Serves 6
6 duck leg quarters
Salt and pepper, to taste
2 onions, halved and sliced thinly
2 stalks celery, thinly sliced
3 cloves garlic, crushed
2 chorizo sausages, quartered lengthwise, thinly sliced
1 cup white wine
3 cups chicken stock
2 x 400g cans cherry tomatoes
Zest of 1 lemon, finely grated
1 Tbsp thyme leaves
2 bay leaves
2 tsp rosemary leaves, chopped
6 pork and fennel sausages
2 x 400g cans white beans, rinsed and drained
Crispy crumb garnish
50g butter or 3 Tbsp fat from roasting the duck
2 cups panko crumbs
1 clove garlic, crushed to a paste with ½ tsp salt
½ cup chopped parsley leaves
Preheat oven to 220C fanbake. Prick duck all over with the tip of a knife (this helps the fat to release). Season with salt (about 1 tsp) and pepper. Place in a single layer in a large casserole dish that can be used on the stovetop. Bake uncovered until skin is golden and fat has rendered (about 45 minutes). Remove browned duck pieces and set aside. Drain off most of the fat and reserve to use in the crumb and to use when roasting potatoes. Reduce oven heat to 160C fanbake. Add onions, celery, garlic and chorizo to the dish and cook on stovetop over medium heat until onions are softened and just starting to brown (about 15 minutes). Add wine, stock, tomatoes, lemon zest and herbs and bring to a simmer. Season with about 1 tsp salt and pepper to taste, then simmer for 10 minutes. Remove from the heat. Squeeze small nuggets of pork and fennel sausage out of the skins directly into the sauce, discarding the skins. Mix in drained beans and place browned duck on top, pressing it into the sauce a little but ensuring the skin remains above the liquid so it can stay crisp. Return to oven and bake until duck is very tender (about 1½-2 hours). While duck is cooking, make the crispy crumb garnish. Melt butter or duck fat and mix with all remaining ingredients. Spread out on a roasting tray and bake at 160C fanbake for about 20 minutes until crispy. The crumb will keep in a sealed container for at least a week. Serve duck on a bed of beans with sprinkle of crispy crumbs.
Annabel says: I like to partner this celebratory French cassoulet with a simple winter salad. Use a little watercress or radicchio, and radishes to cut the richness.
Slow-Baked Pork and Apricots
Ready in 3½ hours
Serves 6
1.5kg shoulder pork, cut into 3-4cm chunks
2 tsp ground cumin
1 tsp smoked paprika
1 tsp salt
Ground black pepper, to taste
A little olive oil, to brown
2 large onions, cut into thin wedges
2 Tbsp grated fresh ginger
2 cups chicken stock
Zest, finely grated, and juice of 1 orange
100g dried apricots
1 cup pitted kalamata olives, sliced
¼ cup finely chopped parsley
Wilted spinach and couscous or soft polenta, to serve
Preheat oven to 160C fanbake. To prepare the pork, mix cumin, paprika, salt and pepper and sprinkle evenly over the pork to lightly coat. Heat 1 Tbsp of the oil in a large, heavy-based pan and brown pork over a high heat, working in batches so as not to overcrowd the pan. Add more oil as needed between batches. Transfer pork to a large ovenproof dish as it browns. Add onion and ginger to pan and stir over a medium heat until lightly browned (about 5 minutes). Add stock and orange zest and juice and bring to a boil, stirring to lift any pan brownings. Scatter apricots around the pork and pour the hot sauce over the top. Place a piece of baking paper on top of the meat and then cover the dish tightly with a lid. Bake for 3-3½ hours or until meltingly tender (if using a slow-cooker, cook on low power for 9-10 hours). If you want to make this dish a day or two in advance, cook it for less time and then reheat it. Cook initially for 2½ hours, then cool and store in the fridge for up to 48 hours. Bring back to room temperature and then reheat in a 170C oven for a further 45-60 minutes, adding a little more water or stock if it appears to be drying out. When ready to serve, add olives and parsley. Serve with wilted spinach and wet polenta or couscous.
Annabel says: The tart sweetness of dried apricots beautifully balances the richness of the pork in this winter casserole. It's such an easy meal to make in the weekend when you feel like playing in the kitchen, and have ready to pull out of the fridge to reheat for a mid-week dinner. Serve with mashed potato or rice and wilted spinach. It's also good in the slow-cooker – if you have the time, brown the meat first, but if not just fire everything in, cover and cook on low for 9-10 hours.
Twice-Cooked Asian Brisket with Star Anise and Ginger
Ready in 5 hours + chilling
Serves 6-8
1.2-1.4kg beef brisket, flat end
Salt and ground black pepper, to taste
2 Tbsp neutral oil
1 tsp sesame oil
2 red onions, sliced into thin wedges
4 spring onions, white parts coarsely chopped and green parts reserved for garnish
2 tsp fresh ginger, grated
2 cups tomato juice
1 cup water
3 Tbsp soft brown sugar
2 Tbsp rice wine vinegar
¼ cup soy sauce
6 whole star anise
4 dried chillies
6 cloves garlic, peeled
2 kaffir lime leaves or finely grated zest of 2 limes
Pickled ginger, to serve
Preheat oven to 150C fanbake. Place brisket in a deep roasting dish (with a lid) that fits the meat snugly. Season with salt and pepper. Heat both oils in a frying pan over a medium heat and cook red onions, whites of spring onions and grated ginger until nicely browned (8 to 10 minutes). Add all other ingredients except pickled ginger garnish and bring to a simmer. Pour sauce over the brisket. Place a piece of baking paper on top of the meat and then cover the dish tightly with a lid. Bake in pre-heated oven for 4 hours (if using a slow cooker, cook on low power for 9-10 hours). Remove from oven and turn meat so the top half is submerged in the braising liquids. Remove and discard kaffir leaves. Cover dish and chill for up to 48 hours. When ready to serve, skim off and discard fat from the top of the sauce. Heat oven to 200C fanbake, then return dish to oven for 30 minutes to heat through and lightly brown the crust. While the meat is heating, cut the reserved spring onion greens into long thin slices. Place in a bowl of iced water to crisp and curl. Lift the meat out of sauce and shred using two forks. To serve, spoon a little sauce on to heated serving plates, top with pulled meat and more of the heated sauce. Garnish with spring onion curls and pickled ginger.
Annabel says: I like to prepare this slow-cooked beef dish a few days in advance, so the flavours can develop and I can easily remove all the fat. Oxtail, beef shin, pork shoulder and lamb shanks also work well with these flavours. Serve with rice.