The long weekend makes a perfect time to share food in a relaxed meal with loved ones around the table.
Recently, as part of the Writers and Readers Programme at the New Zealand Festival in Wellington, I was lucky enough to sit on a panel debating the idea of "Good Eating" with US food writer and author of Salt, Fat, Acid, Heat, Samin Nosrat, and Wellington food writer Martin Bosley, also known for his work tutoring long-term prisoners in the kitchen of Rimutaka Prison. Moderated by New Zealand writer, yoga teacher and human rights advocate Marianne Elliott, we discussed what good cooking actually means and how to make better decisions in the kitchen.
The food trends for 2018 provide interesting, sometimes challenging ideas. Above all, the rise of self prevails. Just today I have been asked to come up with a menu for someone who is gluten-free, paleo and vegan. I think the combo is called pegan (acombination of vegan and and paleo, which are actually opposites — go figure).
As Elliott said during our panel discussion: "Never has there been so much attention to the politics of what we put on our plates." And, as far as I can see, never more confusion about what might be "good" or "bad".
Among the 2018 trends of increased vegan and plant-based eating, more street food, more gut-friendly food, more foraged and hyper-local food (ingredients sourced within walking distance), is the introduction of 3D-printed food.
When I was working in China at the end of last year, the talk among the architects in Shanghai was around the idea that 3D food printers will one day be installed in place of kitchens. One of the first prototypes of this 3D food can be experienced at the FoodInk pop-up in London, where the furniture, utensils and food are all 3D-printed.
Just thinking about this makes me feel anxious. Where in this prospect is the connection to nature that will make us all care more about the natural world that sustains and feeds us?
Beyond this, one of the defining aspects of what makes us human is our socialibity as a species. For millennia, we have come together around the table to share food. Feeling relaxed and comfortable in someone's home and enjoying food they have prepared (no matter how simple) is one of life's greatest pleasures. Sharing our table returns us to a tradition that has nourished humankind for centuries, and through which grow ideas and the bonds of friendship and family.
Our panel all agreed that sharing the table and developing a sense of community around food will make us stronger and healthier to face the challenges climate change will bring.
This week's recipes are all heart-warming shared dishes that are perfect for enjoying around the table with family and friends this long weekend.
Huntsman's Chicken Pie
Ready in 1½ hours
Serves 6
2 Tbsp butter
4 rashers bacon, finely chopped
2 onions, finely chopped
2 stalks celery, finely chopped
400g mushrooms, sliced
1 Tbsp thyme leaves
1 tsp finely chopped rosemary leaves
2 Tbsp cornflour mixed with 1½ cups water
1 cup white wine
Salt and ground black pepper, to taste
700-800g skinless, boneless chicken thighs, cut into thirds
Dumpling topping
2 cups self-raising flour, plus extra
1 tsp finely chopped rosemary leaves
½ tsp each salt and fine black pepper
¾ cup milk
¼ cup oil
1 beaten egg, to glaze
Preheat oven to 180C fanbake. Melt butter in a heavy-based frying pan, add bacon, onions and celery and cook over a medium heat until softened without browning (8 minutes). Add mushrooms and herbs and cook until the pan is dry (5 minutes). Add cornflour mixture and wine and stir until sauce boils and lightly thickens. Season well, tip into a shallow casserole dish and stir in chicken. To make the dumpling topping, place the flour, rosemary, salt and pepper in a bowl. Shake together the milk and oil in a jar, make a well in the centre of the dry ingredients and use a knife to mix in the liquids quickly, mixing to a softish dough. Turn out on to a lightly floured board and cut about 12 rounds. Arrange, overlapping rounds on top of the filling, brush with beaten egg and bake until topping is puffed and golden and sauce is bubbling (about 40 minutes).
Annabel says: When someone invites me over for dinner I always ask what I can bring along. If I'm the host I tend to make the main course — maybe something like this hearty pie — and let everyone else bring along sides, starters and desserts. Pot luck is such an easy way to entertain and everyone likes to feel like they've contributed something. I like to make this pie with a speedy dough topping that's crisp on the outside and light and pillowy in the middle, but if you prefer you can use regular flaky or shortcrust pastry.
Powerhouse Vege Platter
Ready in 1 hour
Serves 4
1kg beetroot, peeled and cut into 3cm wedges
4 large carrots, peeled and cut into finger-sized batons
1 large red onion, cut into 1cm wedges
4 Tbsp extra virgin olive oil
1 tsp each sugar and salt
Ground black pepper, to taste
400g can chickpeas, rinsed and drained
2 cloves garlic, crushed
¼ cup natural yoghurt, plus extra to serve
2 Tbsp lemon juice
¼ cup each chopped parsley leaves and chopped mint leaves
2 tsp apple glaze or pomegranate molasses
½ cup roasted hazelnuts, chopped
½ tsp sumac (optional)
Preheat oven to 180C fanbake. Line two oven trays with baking paper for easy clean-up. Place beetroots on one tray and carrots and onion on the other. Drizzle each tray with 1 Tbsp oil, toss to coat and season with sugar, salt and pepper. Spread out on trays and bake until tender and just starting to caramelise (35-40 minutes). To make a creamy beetroot hummus, place half the cooked beetroots in a food processor with chickpeas, garlic, yoghurt, lemon juice and remaining oil. Blend to a smooth puree. Season to taste. To assemble, spread hummus on to a platter. Toss the remaining beetroots with the carrots, onions and herbs and pile on top. Finish with a drizzle of apple glaze or pomegranate molasses, a dollop of extra yoghurt and a sprinkle of hazelnuts and sumac, if using, to serve.
Annabel says: Eating family-style from shared platters placed in the centre of the table is such a friendly way to eat — the informality of passing food around makes everyone feel relaxed.
Apricot Anise Cake with Crunchy Almond Topping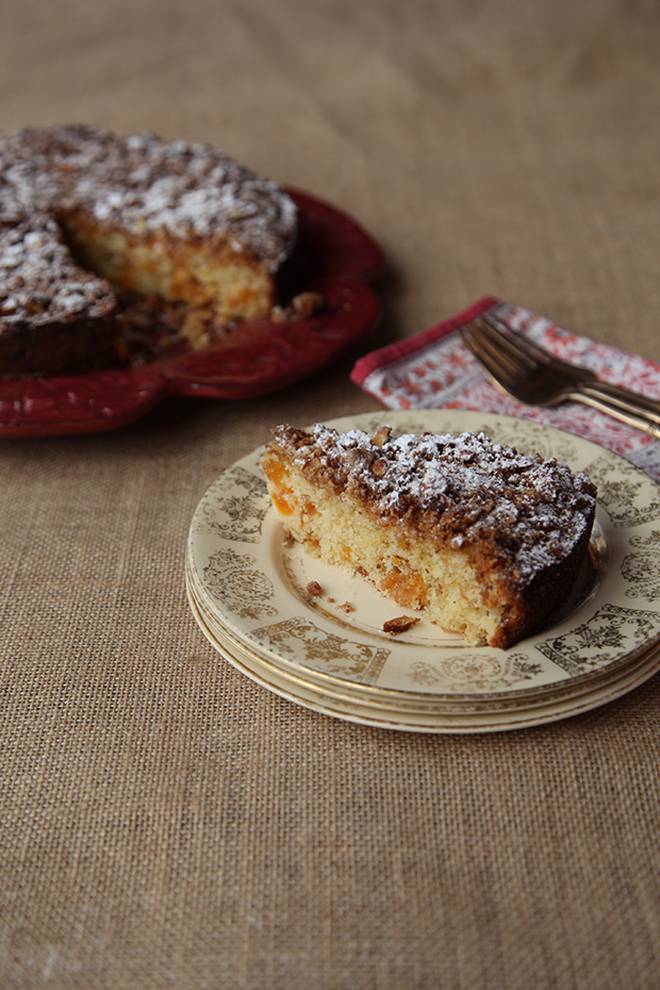 Ready in 1½ hours
Serves 8
100g butter, at room temperature
¾ cup sugar
2 eggs, at room temperature
1 tsp vanilla extract
½ cup sour cream
1 cup flour
1 cup ground almonds
2 tsp baking powder
½ tsp baking soda
2 cups chopped dried apricots
Crunchy almond topping
½ cup chopped almonds
¼ cup brown sugar, tightly packed
2 Tbsp ground almonds
1 tsp anise or five-spice powder
2 Tbsp melted butter
Preheat oven to 180C fanbake. Line base of 23cm spring-form or loose-bottomed cake tin with baking paper and grease the sides with a little butter. In a mixing bowl, beat butter and sugar until creamy. Beat in eggs and vanilla then add sour cream and beat until combined. Mix in flour, ground almonds, baking powder, baking soda and apricots, stirring until just combined. Spread mixture into prepared tin and smooth the top. Combine topping ingredients and sprinkle over cake. Bake until risen and golden, no longer wobbly, and a skewer inserted in the middle comes out clean (about 60 minutes). Stand for 15 minutes before taking out of the tin and cool before cutting. Cake keeps for about a week in an airtight container.
Annabel says: When a friend is sick or a new neighbour arrives into your community, there's nothing like the gift of a home-baked cake to make them feel cared-for and welcome.