Everything tastes so rich and sweet after a summer of sunshine. Harvests abound in a full flush of glorious colours and flavours, making the production of simple, delicious dinners easy beyond belief.
As a kid I remember Mum was always busy bottling at this time of year. Her kitchen would be transformed into a production line and we would have to climb over boxes and bottles just to get a glass of water. But there was still dinner to contend with. She would send Dad out to the garden to dig new potatoes, gather lettuce, cucumber, spring onions and tomatoes. The potatoes would get fired into a pot to boil, a little steak or chop would go into the frypan, and she would toss the salad without dressing it (ensuring the leftovers would hold for lunch the next day).
Dad's tamarillo chutney would come out of the fridge, along with some of Mum's homemade mayo, and our dinner — one we loved — was on the table, done and dusted in less than half an hour.
Occasionally I head back there to those good old meat-and-three-veg days, but more often than not these days I like to build my summer meals around the centrepiece of a toss-and-serve salad.
Cooked pulses, grains and rice make a nourishing base for a salad meal that is both cheap and satisfying, and having these cooked at hand allows you to get a yummy one-dish dinner on the table with very little effort. Toss with dressing and add veg of your choice – raw or cooked, some nuts and seeds and a crumble of feta or some grilled haloumi.
Simply by changing the dressing you can create a different flavour profile. Thin a big spoon of salsa verde or pesto with a little olive oil, or jazz up a classic vinaigrette with a splash of pomegranate molasses. Sometimes I make a tahini dressing with a big spoonful of tahini, lemon, olive oil and a little garlic, or a creamy yoghurt one with runny natural yoghurt, lemon juice, toasted cumin seeds and coriander.
Served up on a big platter with some baked chicken or lamb on the side, or piled with slices of grilled haloumi and a scatter of tamari almonds for a vegetarian option, these bulky salads make a fabulous one-dish meal that looks stunning and is wonderfully satisfying to eat.
On another salad tangent, crusty ciabatta bread makes a great start for salads like panzanella or fattoush. Tear the bread into a bowl and drizzle it with olive oil and red wine vinegar. Add garlic, salt and pepper and then pile in the salad veg — tomatoes, peppers, cucumbers, onions. Add a shaving of parmesan or a crumble of feta and a handful of soft, sweet basil and tangy rocket and it's ready for the table.
This week's salad recipes make the most of summer's bounty. Salad days rule.
Broccoli Salad with Vietnamese Dressing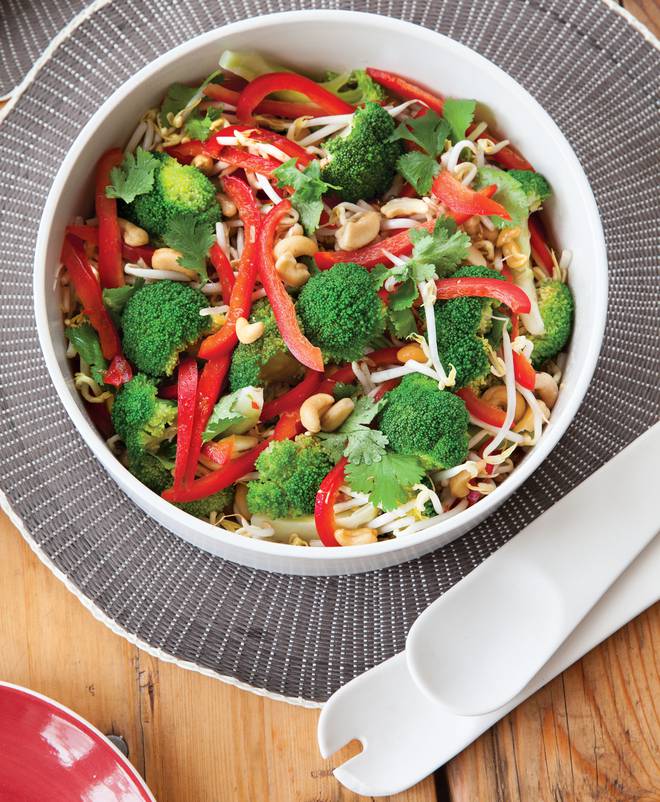 Ready in 30 mins
Serves 4-6
1 large head broccoli, cut into florets
1 red pepper, finely sliced
4 cups (250g) bean sprouts
½ cup roasted salted cashew nuts
½ cup coriander leaves
Vietnamese Caramel Chilli Dressing
1 cup raw sugar
¾ cup water
2 long red chillies, including seeds, very finely chopped
finely grated zest of 1 lime
¼ cup lime juice
2 Tbsp fish sauce
1 tsp tamarind paste or concentrate
To make the dressing, combine sugar and water in a heavy-based pot, bring to a boil and boil until the bubbles become very large and the colour is a rich gold (about 6 minutes). Remove from heat and stir in the chillies and lime zest. Allow to cool for 5 minutes then stir in the lime juice, fish sauce and tamarind.
To make the salad, drop broccoli florets into a large pot of salted boiling water and cook for 3 minutes. Drain, rinse under cold water to stop the cooking process and drain again. To serve, toss with all other ingredients and ¼ cup of the dressing.
Annabel says: This great salad is your cue to springboard into a healthy summer. Aside from the nuts, it's fat free, yet so tasty. You will need only about ¼ cup of the dressing for this salad but the rest will keep for months in a jar in the fridge and is great as a dipping sauce or as a marinade and stir-fry sauce for tofu, chicken or pork.
Thai Watermelon Salad
Ready in 10 mins
Serves 4-6
¼ head iceberg lettuce, torn into chunks
¼ small watermelon, finely chopped into 2-3cm chunks
¼ cup each roasted salted peanuts and toasted coconut flakes
1 spring onion, finely angle-sliced
About 20 mint leaves, torn
Fat-Free Chilli Dressing
1 Tbsp white or rice vinegar
2 tsp fish sauce
2 tsp honey
½ long red chilli, finely angle-sliced, or more to taste
To make dressing, place all ingredients in a jar and shake to combine.
To make the salad, arrange lettuce on a platter, top with all the other salad ingredients, drizzle with dressing and serve.
Annabel says: This deliciously tangy, refreshing salad makes a terrific partner to pork ribs, Asian-style chicken or barbecue prawns. Make the dressing and chop up the melon ahead of time and throw it all together when you are ready to serve.
Corn and Black Bean Salad
Ready in 20 mins
Serves 6 as a side
3 cups corn kernels
2 Tbsp olive oil
1 red pepper, finely diced
2 cloves garlic, crushed
1 tsp ground cumin
½ tsp chilli flakes or cayenne pepper
400g can black beans, rinsed and drained
2 spring onions, finely sliced
1 avocado, cut into chunks
Juice of 1 lime or ½ a lemon
Salt and ground black pepper, to taste
Place corn in a frypan with olive oil, red pepper, garlic, cumin and chilli flakes and cook over a low heat until red pepper is softened (about 5-7 minutes). Remove from heat and add black beans, spring onions, avocado, lemon juice, salt and pepper. Toss together gently before serving.
Annabel says: Soaking the beans in a hot dressing helps them to absorb the flavours quickly and gives a pleasing depth to the salad.