A couple of years ago I was working in my vegetable terraces, snacking my way around — as I am wont to do while I work — on a few fresh leaves, a handful of sun-kissed tomatoes and the first little Lebanese cucumbers (so crisp and sweet). There are always so many morsels of flavour and goodness to sample I often don't need lunch.
For the first time, I'd grown several rows of borlotti beans. I paused at the borlottis — though I had planted them to dry for my winter soups and stews, it was early in the season and their skins were still fresh and soft, so I decided to try one. The pretty, mottled pink bean was utterly delicious – nutty, crisp and sweet. Every few minutes I would find myself back at the row, no longer snacking but greedily devouring the beans from pod after pod of this newfound delicacy.
I guess I was about 15 whole pods down and in a state of thrall over my new gastronomic discovery when a friend turned up for a visit. I passed her a raw bean to try, extolling its many virtues, but her reaction was not what I expected. Throwing her hands up in horror, she pronounced, with some authority, that raw beans like this were highly toxic.
Ohhhh how right she was! It took about half an hour for the toxin to take effect, and then over three hours of sheer horror my body purged itself, end to end. Lesson learnt!
Beans fall into two key categories: those that are eaten as a green vegetable before the seeds inside start to mature (usually known as snap or string beans), and seed beans that are grown until the seeds are fat and mature and the pods have died back — these are dried for later use. All dry beans need to be soaked and thoroughly cooked.
I always knew that when it comes to the mature bean seeds inside the pods, thorough cooking is needed — so you have to cook soup beans really well — but I had never stopped to consider that the raw beans would contain the very same nasty toxin, known as phytohaemagglutinin (green snap beans picked before the seeds have noticeably started to swell are fine to eat raw or very lightly cooked — it's the bean seed that's the problem).
Luckily, the borlotti experience didn't put me off growing beans — on the contrary, they are one of my favourite crops to grow over the summer, as they require so little work to produce a prolific harvest that goes on for many months.
They're also incredibly versatile in cooking so this week's recipes show how you can dress them up to work with a range of cuisines.
Grilled Beans with Pumpkin Seed Salsa
Ready in 20 mins
Serves 8
800g green beans, trimmed
½ cup roasted pumpkin seeds
2 small spring onions, coarsely chopped
2 cloves garlic, crushed
4 Tbsp neutral oil, plus extra to grill
Zest of 2 limes, finely grated
Salt and ground black pepper, to taste
2 long red chillies, whole
Drop beans into a pot of well-salted boiling water and boil for 3 minutes. Cool under cold water and drain well. To make the salsa, puree pumpkin seeds with spring onions, garlic, oil and lime zest. Season with salt and pepper to taste. Preheat a ridged grill pan or barbecue hotplate with a little oil and grill beans and chillies until lightly browned (about 3 minutes). Transfer beans to a platter. De-seed and finely chop chillies and add to salsa. When ready to serve, spoon salsa over beans and serve warm or at room temperature.
Annabel says: These beans make a tasty side dish, and are particularly good with Mexican meals. They are good warm or at room temperature and will keep for several hours so can be prepared in advance.
Green Beans with Olives and Garlic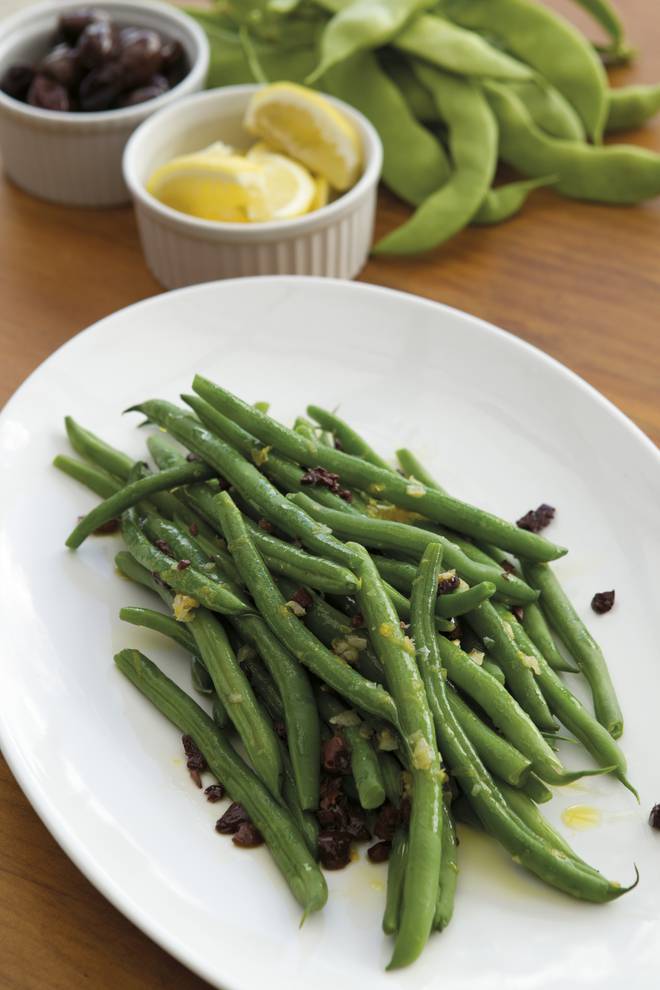 Ready in 20 mins
Serves 6
500g green beans, trimmed
2 Tbsp olive oil
2 cloves garlic, crushed
Zest (finely grated) and juice of ½ a lemon
Salt and ground black pepper, to taste
2-3 Tbsp finely chopped kalamata olives
Drop beans into boiling water and cook for 3 minutes. Refresh under cold water and drain without shaking off all the water (you want them wet so they cook evenly later). Heat olive oil in a frying pan and gently fry garlic, lemon zest and salt for one minute without browning. Add olives and beans and cook over a medium-low heat until warmed through (1-2 minutes). If they dry out and start to brown, add a little water. Transfer to a serving plate, season to taste with salt and pepper and drizzle with lemon juice to serve.
Annabel says: To test if beans are going to be tender and juicy, bend them — they should snap crisply. If they are too mature you will need to de-string and cook them long and slow.
Green Beans with Mustard and Shallots
Ready in 10 mins
Serves 4
400g green beans, trimmed
1 Tbsp butter
1 medium shallot or small onion, finely chopped
2 tsp seed mustard
1 Tbsp lemon juice
Salt and ground black pepper, to taste
Boil beans in lightly salted water until just tender (about 5 minutes). While beans cook, heat butter in a frying pan and sizzle shallots or onion until soft and lightly browned (about 3 minutes). Remove from heat and stir in mustard, lemon juice, salt and pepper. Drain cooked beans, add to the pan and toss to coat. Transfer to a serving platter to serve.
Annabel says: The flavours of these beans go really well with grilled meats and chicken.