You shouldn't need reasons to jusifty your indulgences, but when it comes to chocolate the good news is that your pleasure need no longer be a guilty one.
The world over, studies on the effects of eating chocolate have revealed some fascinating benefits. I'm talking dark chocolate here, with at least 70 per cent cocoa solids (milk chocolate doesn't fit the bill as it contains few if any cocoa solids and can often contain up to 50 per cent sugar). Several long-term studies have linked eating dark chocolate to a reduction in the "bad" LDL cholesterol. Others suggest that when chocolate ferments in your gut it forms useful anti-inflammatory compounds that are also good for heart health. Dark chocolate has been shown to improve brainpower and memory, as well as improve insulin sensitivity, which enhances our ability to absorb sugars rather than store them as fat.
In the Netherlands, a study showed that even smelling dark chocolate resulted in a decrease in the hunger hormone, ghrelin. In 2009, a Swiss study found that subjects who ate 40g of dark chocolate each day for two weeks recorded reduced levels of cortisol, our natural stress hormone. It's all good news unless you suffer from irritable bowel syndrome, in which case the stimulating effects of the caffeine in chocolate can wreak havoc on your gut.
And it turns out that all the happy vibes you always suspected you got from good-quality chocolate do have an actual foundation in science. When digested in the human gut, chocolate releases several neurotransmitters with fancy scientific names, which make us feel happy. Phenethylamine, which is sometimes called "the love drug", causes alertness and a degree of excitement, quickens the pulse rate and makes you feel happy. Serotonin, another mood-lifter, is released by tryptophan, a protein also found in (wait for it!) chocolate. Theobromine is a stimulant similar to caffeine (and also happens to be the molecule that makes chocolate poisonous to dogs). Among the many fats in chocolate, one called anandamide, named after the Sanskrit word for "bliss", activates a receptor that causes dopamine production, producing intense feelings of well-being.
The Aztecs weren't wrong when they granted chocolate the highest status in their food chain. They believed that cacao seeds were the gift of Quetzalcoatl, the god of wisdom, and they were once so highly valued that they were used as a form of currency.
Chocolate is such a key part of the celebrations of Christmas, it really is the ultimate feel-good food that you now have every reason to feel good about. So bring on the baking, and welcome the festive season with these divine chocolate treats — just perfect for an indulgent, make-ahead Christmas Day dessert.
I've even included a wonderful chocolate mousse that tastes rich and creamy but is free of gluten, dairy and refined sugars, so it's perfect for tricky Christmas Day guests. Make it with maple syrup instead of honey and it's even suitable for vegans.
Meringue Roulade with Chocolate Mousse
Ready in 1 hour
Serves 8-10
4 egg whites
2 Tbsp cornflour
1 tsp white vinegar
1 cup caster sugar, plus a little extra to dust
Quick chocolate mousse
100g dark chocolate
2 cups cream
1 tsp vanilla extract
To serve
1 cup raspberries or sliced strawberries,
plus extra to garnish
Extra chocolate, melted, to garnish
Preheat oven to 160C fanbake. Line a large slice or swiss roll tin (about 36cm x 25cm) with baking paper, trimming edges and corners to fit neatly, or mark a 33cm x 26cm rectangle on a piece of baking paper and invert on an oven tray. To make the quick chocolate mousse, melt chocolate in a bowl set over a little simmering water, or in short bursts in the microwave. Remove from heat and stir in ¼ cup of the cream until smooth. Allow to cool while you whisk the remaining cream with the vanilla to soft peaks. Stir into the cooled chocolate. Chill until needed — it will firm further as it cools.

Place egg whites in a very clean bowl and whisk with an electric mixer or beater until fluffy. Beat in cornflour and vinegar. Gradually add sugar and beat until the mixture forms stiff peaks but is still just a little gritty. Spread evenly into prepared tin or within marked borders on baking paper and bake until puffed and very lightly golden (12-15 minutes). It needs to be fully set like a sponge — if not cooked enough it will split when you roll it. Leave to cool for 10-15 minutes. It will be puffy when it comes out of the oven but flatten as it cools. Lightly dust a sheet of baking paper with extra caster sugar, then carefully invert the meringue on top and remove the baking paper it was cooked on. Cool fully. Spread chocolate mousse over the meringue and top with 1 cup fresh raspberries or sliced strawberries. Gently roll up, finishing with the join at the base. Slide on to a platter and chill until ready to serve. Serve with a drizzle of extra melted chocolate and berries. You can freeze the filled roulade in a container for up to six weeks (remove from freezer about half an hour before serving).
Annabel says: Fancy a change from the traditional pavlova? This rolled meringue is just as easy to make, but looks even more impressive on the table. It's also good drizzled with berry coulis.
Triple-Chocolate Bombe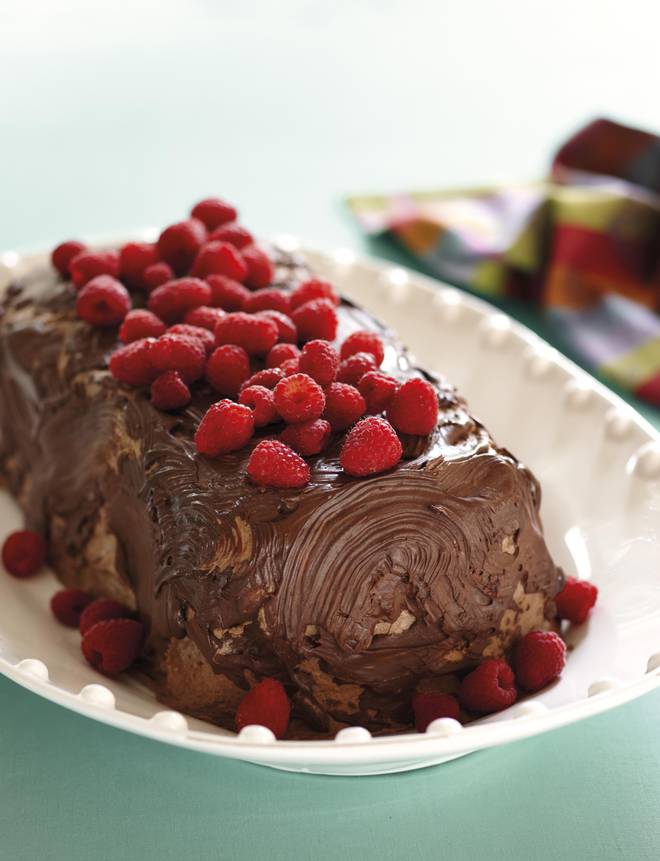 Ready in 20 hours + chilling
Serves 20
Chocolate meringue
5 egg whites
¾ cup sugar
½ cup cocoa
1¾ cups icing sugar
Light-as-air chocolate mousse
450g dark chocolate, roughly chopped
3½ cups cream
8 egg whites
1 tsp vanilla extract
Chocolate ganache
150g dark chocolate, roughly chopped
150ml cream
To serve
Fresh raspberries
To make chocolate meringue, preheat oven to 150C. Line 2-3 baking trays with baking paper and mark baking paper with a total of 3 rectangles, each measuring 28cm x 12cm.
In a very clean bowl, whisk egg whites to soft peaks. Beat in sugar a little at a time until the meringue holds stiff peaks. Sift together cocoa and icing sugar and gently fold into meringue. Divide mixture between the 3 rectangles and spread evenly to fit the marked shapes. Bake until meringue is crisp and dry (1¼ hours). Allow to cool. To make chocolate mousse, melt chocolate with 1½ cups of the cream over a gentle heat or in a microwave. Stir until completely smooth, then cool. Whisk egg whites until stiff but not dry. In another bowl whisk remaining cream with vanilla to firm peaks. Fold a third of the egg white into the cooled chocolate mixture to lighten the mixture, then gently fold in remaining egg white and cream. Chill until quite firm (2-3 hours or overnight). To assemble, place a layer of meringue on a serving dish and spread with a 1cm layer of mousse. Cover with further layers of meringue, then mousse, then meringue, pressing meringue into mousse to sandwich firmly. (If the mousse becomes too soft to work with, refrigerate between stages.) Spread mousse all over the finished cake. Cover and freeze overnight or up to three weeks. To make chocolate ganache, heat chocolate and cream over a low heat until melted. Whisk until glossy. Allow to cool. About half an hour before serving, remove bombe from freezer, swirl cooled ganache over the top and sides, and top with raspberries. Allow to soften slightly (about 10-15 minutes) before slicing thinly to serve.
Annabel says: Layers of chocolate meringue are combined with a rich chocolate mousse and topped with chocolate ganache to create this spectacular frozen dessert, which is much easier to make than its glamorous appearance might suggest. I like the fact that you make and freeze it in advance for a stress-free Christmas morning.
Healthy Hedonists' Chocolate Mousse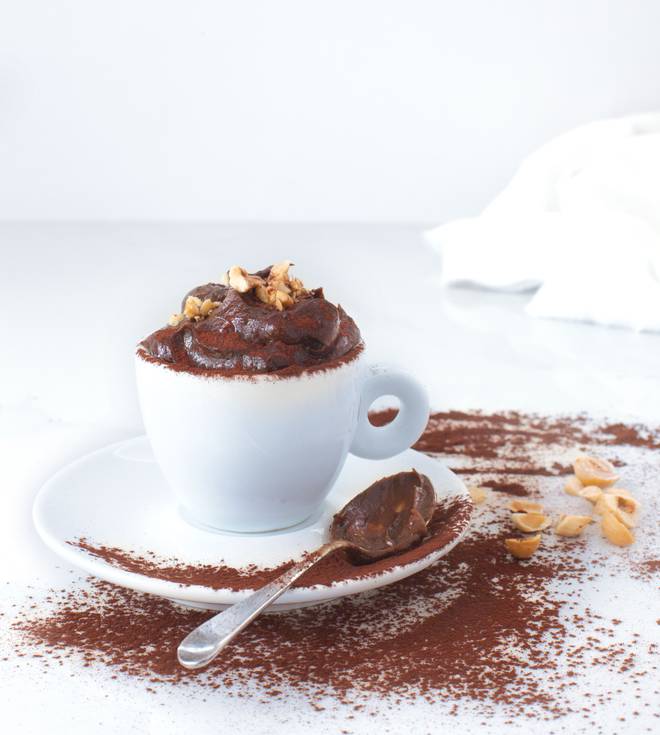 Ready in 10 mins
Serves 6
7 medjool or other very soft dates, pitted and coarsely chopped
¼ cup fresh orange juice
Flesh of 2 large, just-ripe avocados
½ cup almond milk or coconut cream
¼ cup runny honey or maple syrup
½ tsp vanilla extract
3 Tbsp good-quality cocoa powder or cacao powder
3 Tbsp chopped roasted hazelnuts, to garnish
Whizz dates and orange juice in a food processor until smooth. Add avocado, almond milk or coconut cream, honey, vanilla extract and cocoa or cacao powder then whizz until very smooth. Divide between six serving cups or bowls. Top with chopped toasted hazelnuts to serve.
Annabel says: Sweetened with dates, orange juice and honey or maple syrup and free from dairy and gluten, this chocolately treat suits just about every special diet (including vegan if it's made without honey). It's easily doubled if you're cooking for a crowd. If your dates are a bit hard, cover them with boiling water and leave them to sit for 5-10 minutes while they soften. Drain well before use.