The first time I ate Scandinavian food was in a fancy restaurant in Bloomingdale's department store in New York. I was just 17 at the time, on an adventure with my mother and eager for life – and anything and everything new. (My mother's survival kit for travelling with me on this four-month trip required a bottle of Valium, a bottle of gin and a jar of Vegemite. Need I say more?)
I piled up my plate from the smorgasbord – beautifully garnished open sandwiches on dark, nutty, rye bread; fine slices of smooth, smoky, cured salmon; egg salad; beetroot and bowls of all things fishy (I'm sure there was more but this is what I can remember). I should have been warned by the grey, sullen look of the herring but it was all so new and gloriously exciting and I had never had a smorgasbord before.
I piled up my plate with everything I could see on that board. It was all so delicious until near the end, when I got to the herring. The herring went in, and then ohhhh – too quickly I was into the ladies' bathroom and it came out again, along with all the rest of my smorgasbord. If I'm truthful, I probably would have thrown up anyway, having ingested so much of so many different flavours, but for quite some time Scandinavian food and its obsession with pickled and salted fish was right off my agenda.
But then the Nordic cuisine movement was formed, and a whole new brigade of clever chefs appeared on the scene, with culinary genius Rene Redzepi, of Noma fame, at the helm.
Their focus was on design and nature, exotic wild ingredients, fermentation, smoking and salting, all delivered with the style and finesse of clean, Scandi precision.
By 2007, a Nordic food laboratory was established in Copenhagen and the restaurant Noma landed its second Michelin star. In 2010, Noma was number one on the San Pellegrino 50 Best Restaurants List and considered the most famous restaurant in the world.
Nordic cuisine was no longer defined by smoked salmon, marinated herring and rye bread. The new "taste of the north" featured ingredients such as birch sap, bulrushes, puffin eggs, foraged chickweed, Arctic brambles, heirloom Nordic grains and livestock breeds from the times of the Vikings.
New Nordic cuisine is dynamic, honed, distilled and obsessive in a way that only truly talented professional chefs can be. At home, the new Scandi kitchen offers elegant dining with fresh, simple flavours. The special-occasion menu below, inspired by my clever Swedish friend Birgitta, will have you in and out of the kitchen in next to no time, with maximum wow factor for your guests. It would make a wonderful summer Christmas lunch. If you're feeding more mouths, just add some slices of glazed ham and an iceberg lettuce salad, and finish with a chilled dessert.
Scandinavian Potato Salad
Ready in 45 mins + cooling
Serves 8-10
1.5kg baby new potatoes, scrubbed
A knob of butter
Caper dressing
2 shallots, very finely diced
2 Tbsp white wine vinegar
2 Tbsp olive oil
2 tsp Dijon mustard
2 Tbsp capers
2 stalks celery, finely chopped
¼ cup finely chopped gherkins
¼ cup very finely chopped parsley leaves
Salt and ground black pepper, to taste
Place potatoes in a saucepan and cover with cold water. Add a small knob of butter, season with salt and bring to a gentle simmer. Cook for about 20 minutes until just tender (turning the heat off in the last 5 minutes helps them retain a waxy texture). Drain potatoes and cover with cold water. Allow to cool for 5 minutes before peeling off skins and transferring to a large bowl. While potatoes are cooling, make caper dressing by combining shallots and vinegar in a bowl. Mix in olive oil and mustard then capers, celery, gherkins and parsley. Spoon dressing over potatoes and toss gently to combine. Stand for at least 1 hour before serving. The salad will keep in the fridge for up to 24 hours. Bring back to room temperature before serving. If making in advance, leave parsley out of dressing and add to potatoes just before serving.
Annabel says: This is one of my favourite ways to serve waxy new potatoes. Tossing the cooked potatoes with the dressing while they are still warm means they soak up the flavours more.
Hot-Roasted Salmon
Ready in 45 mins + brining + resting
Serves 10
2 sides fresh salmon (700-800g each), skin on, de-boned
1 cup boiling water
2 Tbsp salt
2 Tbsp sugar
5 cups cold water
1 Tbsp lemon-infused oil or extra virgin olive oil
Salt and ground black pepper, to taste
Sprigs of watercress, to garnish
Prepare brine in a shallow dish large enough to take both sides of salmon. Mix boiling water with salt and sugar until dissolved then add cold water. Place salmon in brine, cover and refrigerate for 30-60 minutes. (If you don't have a large enough dish, brine the salmon in a clean plastic bag.) Preheat oven to 250C fan-bake. Lift salmon out of brine, pat dry and place on a shallow tray lined with baking paper. Drizzle with lemon-infused oil or extra virgin olive oil and season with salt and pepper. Roast for 8 minutes. Remove from oven, cover with tinfoil and a tea towel to retain the heat and allow to rest for at least 20 minutes (it will continue to cook while it rests). To serve, use a spatula to lift portions of salmon off the skin. Serve with sprigs of fresh watercress.
Annabel says: Brining the salmon adds flavour and also prevents the protein from forming white beads on the surface of the cooked fish. Serve with beetroot and horseradish confit.
Beetroot and Horseradish Confit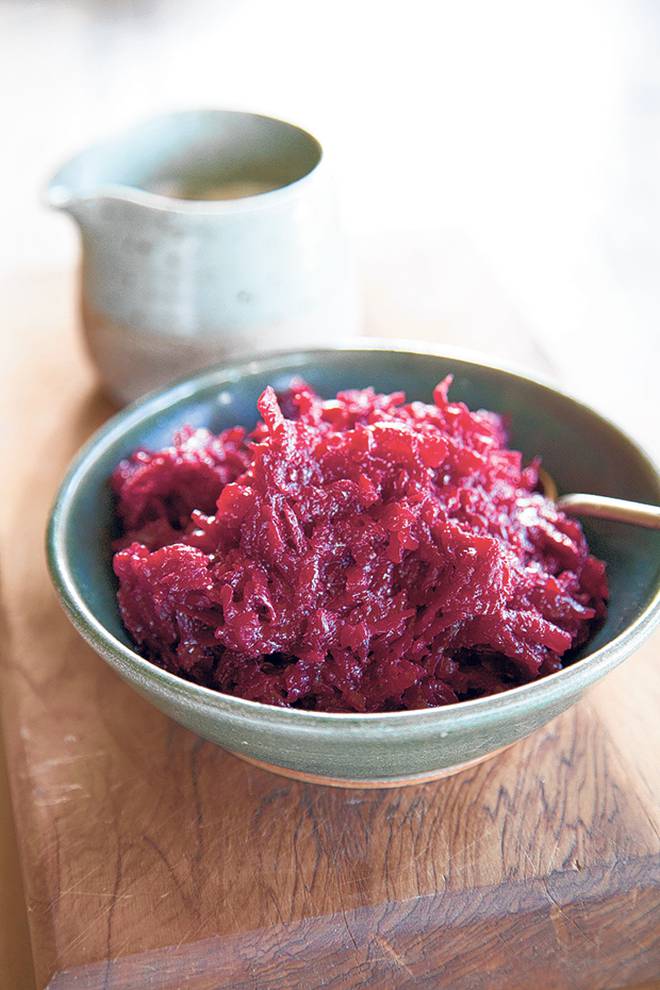 Ready in 30 mins + cooling
Serves 10
2 medium beetroot (about 200g)
½ cup water
2 Tbsp olive oil
2 Tbsp white wine vinegar
2 Tbsp sugar
2-3 Tbsp horseradish, to taste
Salt and ground black pepper, to taste
Peel and grate beetroot and place in a pot with all remaining ingredients except horseradish. Simmer, stirring occasionally, until the liquids have fully evaporated and beetroot is glossy and tender (about 15 minutes). Remove from the heat and, when cool, mix in the horseradish. Serve at room temperature.
Annabel says: The earthy flavours of this pretty side dish are fabulous with salmon, beef or pork, or in sandwiches. It will keep in the fridge for more than a week and reheats well.