Swine flu was on the rampage in Mexico back in 2009. As a result of the epidemic, tourism was in a major slump, which meant amazing deals on hotels.
I didn't even think about getting sick. I had been working like a mad thing in New York and was totally exhausted, and all I could think was, "Wow, I can get an incredible holiday for next to nothing." And so I did, booking into remote luxury eco resort Verana on the western coast of Mexico, south of Puerto Vallarta near the small village of Yelapa.
To get to Verana is an adventure in itself. You take a 45-minute taxi from Puerta Vallarta down to Boca de Tomatlan then jump into a speed boat and blitz about 20 minutes down the coast through the Bay of Banderas. As you come into view of the Bay of Yelapa, the driver cuts the engine and you drift in towards the coast. The mules are standing on the rocks. Your luggage is strapped to their backs, and you hike up the hill into the lush jungle.
It didn't take long to discover that I was the only person at the resort who was not on honeymoon. And so I headed to the kitchens. The chef was local to the tiny village of Yelapa, a 20-minute walk away, and he sure knew his way around a dinner plate. Each day as part of his mise en place he would prepare 16 fresh salsas, each offering differing degrees of heat and flavour. I could always find him working over a fire outside the kitchen, brewing up rich, slow-cooked braises of pork in big terracotta dishes set on a thick piece of steel over the embers. The locals would bring fresh local cheeses, which he would crumble over eggs and sauces, and tortillas to be grilled and filled or fried for corn chips. Everything was sourced and made locally either in the resort or the village nearby. It was all so fresh and delicious.
Down in the village, taco bars and restaurants offered the gambit of chimichangas, tacos and burritos, all cooked to order with fresh ingredients. These divey places with plastic-covered tables, blaring TV screens and often questionable hygiene (think plastic bowls for washing dishes, and lots of mud), offered amazing authentic tastes, layered with flavours. The cooks were all local women, bringing the tastes of their homes to these humble kitchens.
Some may say Mexican cooking is ruled by chillies, but it's so much more. In their fiery power there is history, culture and passion. You can taste it on every plate. Here's a simple meal using three of my favourite Mexican recipes.
Smoky Chilli Beans
Ready in about 2 hours + soaking
Serves 10 as a side
2 cups dried kidney beans (4½-5 cups cooked beans)
4 dried smoked chillies (ancho)
2 cups boiling water
3 tsp cumin seeds
1 tsp coriander seeds
¼ cup olive oil
2 onions, coarsely chopped
4 cloves garlic, chopped
1 Tbsp oregano leaves
1 red chilli, finely chopped
1.2kg tomatoes, chopped, or 3 x 400g cans chopped tomatoes or tomato pulp
1 tsp sugar
1 tsp salt
Ground black pepper
¼ cup chopped coriander leaves, to garnish
Place beans in a large pot, cover with cold water and leave to soak overnight. Drain and cover with fresh water (do not add salt). Bring to a boil and cook uncovered until tender (about 1-1½ hours, depending on age and dryness of beans). While beans are cooking, remove stems from dried smoked chillies and discard. Cover chillies with boiling water and soak 30 minutes until tender. Meanwhile, toast cumin and coriander seeds in a dry pan over medium-high heat, shaking occasionally, until fragrant and starting to pop (about 1 minute). Crush with a mortar and pestle. Heat oil in a large pan and cook onions and garlic over a low heat until softened but not browned (about 10 minutes). Add crushed seeds, oregano, fresh chilli, tomatoes, sugar, salt and pepper and bring to a boil.Lift the smoked chillies out of their soaking liquid, reserving the liquid. Chop finely and add to the tomato sauce with the soaking liquid and the drained cooked beans. Bring to a boil and simmer uncovered, stirring occasionally to prevent catching, until thick (about 45 minutes). Alternatively, bake for about 1½ hours in an oven preheated to 180C. To serve, adjust seasonings to taste then spoon into a deep serving dish and top with coriander.
Annabel says: I'll often soak and boil a big batch of beans and freeze them, ready to throw into dishes like this. If you don't have time to soak and cook the beans, use three 400g cans of kidney beans instead. Smoked ancho chillies are available online from specialty Mexican food stores but if you can't find any use 2 tsp pureed chipotle chillies in adobo sauce instead - they won't need to be soaked so just add to the tomato sauce with two extra cups of water.
Mexican Pulled Pork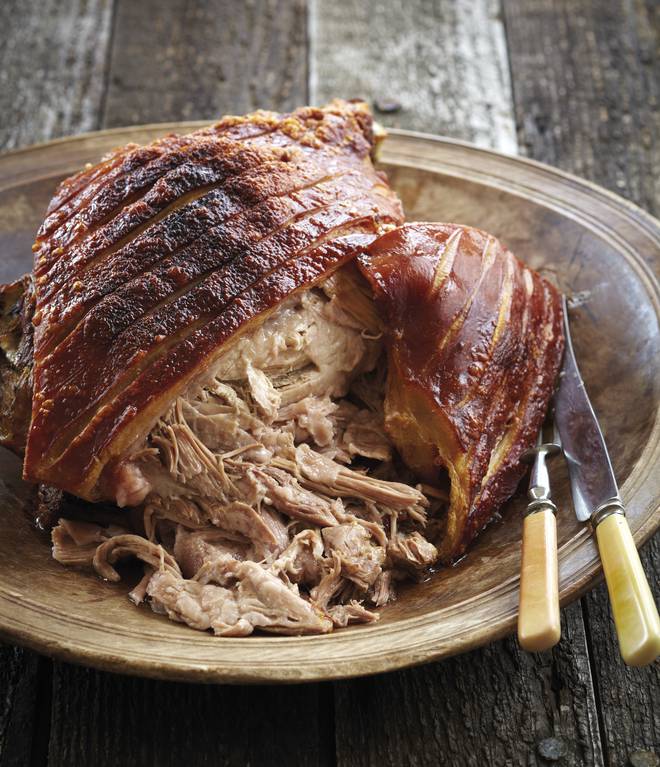 Ready in 9 hours + marinating
Serves 10
6-7kg bone-in pork forequarter or leg, skin scored
1 Tbsp white vinegar
2 cups water
Mexican rub
3 red chillies, finely chopped (more or less, to taste)
4 cloves coarsely chopped garlic
2 tsp ground cumin
2 Tbsp fresh or 2 tsp dried oregano leaves
1 tsp salt
1 tsp ground black pepper
Juice of 1 lemon
2 Tbsp olive oil
To make the Mexican rub, combine chillies, garlic, cumin, oregano and salt in a mortar and pestle or food processor and pound or whizz to a paste. Mix in pepper, lemon juice and olive oil. Rub the meat side of the pork with Mexican rub, leaving the skin side clean. Cover and allow to marinate overnight in the fridge if possible. When ready to cook, preheat oven to 250C. Place pork skin-side up in a roasting dish (do not use a glass baking dish or it might shatter when you add the water later) and brush the skin with vinegar. Roast until the skin starts to blister (about 40-50 minutes). Reduce oven temperature to 140C. Pour water around the base of the roasting dish and cook, uncovered, for about 8 hours. Test for doneness by pushing the meat with your finger - it should give way completely. Drain off and discard fat and liquid and allow meat to stand for 10-20 minutes.
To serve, lift off crackling and with two forks pull the meat in loose shreds. Break up the crackling into chunks to serve on the side.
Serve with Smoky Chilli Beans, Chunky Guacamole and tortillas, if desired.
Annabel says: This recipe works for any bone-in pork roast weighing 3kg or more. Pork shoulder is the best cut to slow-cook as the intramuscular fat keeps it tender and sweet. You can slow-cook pork with all manner of flavours, such as a Moroccan rub, Cajun spices or a fennel, garlic and salt mix instead of the Mexican rub. Any leftovers are delicious in a bun with coleslaw or in a wrap with hoisin sauce. The Mexican rub keeps for weeks in a jar in the fridge and is a simple way to transform fish, chicken, pork and other meats.
Chunky Guacamole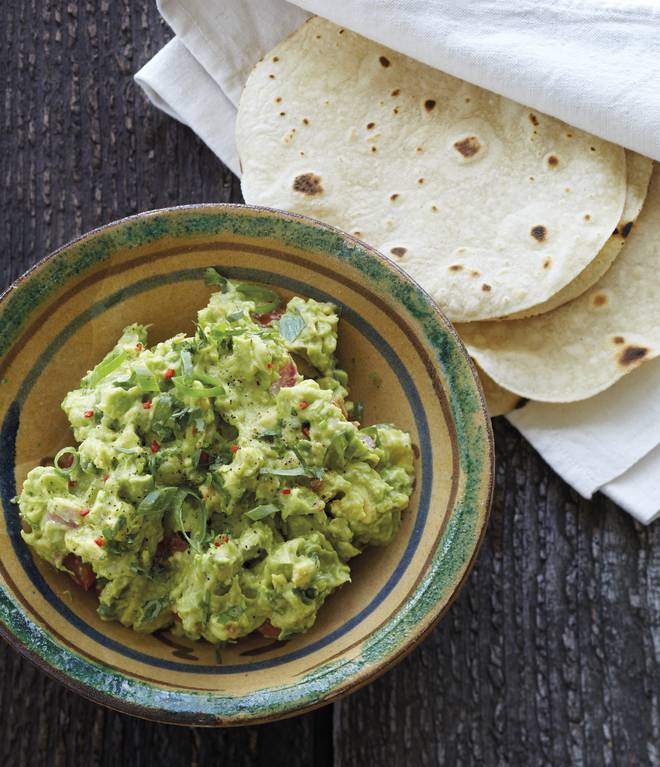 Ready in 5 mins
Makes about 2 cups
Flesh of 3 just-ripe avocados
1 large tomato, finely diced
1 spring onion, finely sliced
1 large clove garlic, crushed
Salt and ground black pepper
¼ cup lemon juice
½ tsp finely chopped red chilli, or more to taste
1 Tbsp chopped coriander leaves
Place avocado in a medium bowl and mash with a fork until semi-smooth. Stir in all other ingredients, reserving a little of the green part of the spring onion, a little coriander and a little of the chilli for garnish. Adjust seasonings to taste. Transfer to a serving bowl and garnish with spring onion greens, chilli and coriander. Use within 3-4 hours of making.
Annabel says: There are as many versions of guacamole as there are cooks. Sometimes I make it smooth and simple with just crushed garlic, salt and lots of lemon juice, but to make avocados go a little further and a chunkier mixture, I add tomato, spring onions, chillies and coriander.
• Essential Annabel Langbein (Annabel Langbein Media, $65) is a beautiful compendium of Annabel's best-ever savoury recipes and cooking tips and it's on sale now at Paper Plus, Whitcoulls, The Warehouse and all good bookstores. Find out more at annabel-langbein.com.