Clever ideas make gourmet eating possible on a budget.
In my late teens I acquired an unsuitable boyfriend and, with him, an assortment of his motley friends. A couple of them would disappear into the bush, possum trapping for months at a time, leaving their tribe of Dickensian children with an old alcoholic called Sparky. Before each trip, they would head down to the local Wattie's factory and fill their truck with cases of damaged, unlabelled cans, which the factory sold for next-to-nothing.

One year the entire hoard, all 40 cases that had been purchased, was canned beetroot, not one case or can of anything else. Sparky and the kids spent the first week opening can after can in the hope there might actually be something else to eat like baked beans, spaghetti, or corn. I have no idea what happened after that, but miraculously everyone lived to tell the tale.
It took a while for the unsuitability of my paramour to sink in, but when I found myself collecting empty bottles for the refund to get enough money together to make his four small children lunch, I knew that this was not going to be my own life's journey. However, I learned some really useful skills about being resourceful.
To this day I hate waste. If there are bread crusts left over after dinner, I throw them into the oven to dry out, and the next morning I crumb them up finely and store them in an airtight container. They keep fresh for months and are great - not just as a coating or topping but also as a crunchy sprinkle over a hot pasta dish just before serving. If it's an artisan loaf with a coarser crumb, I like to tear it into smallish pieces and then toss these in some garlicky oil, a sprinkle of salt and sometimes a little dried oregano or rosemary. Baked until crispy (160C for 20-30 minutes), they make fabulous chunky croutons for soups and salads and also keep well in an airtight container.
If we've had a roast, I'll boil up the leftover bones or carcass to make stock or use as the starting point for a soup. I like to add the tough green tops of leeks, tying them into a loose knot before adding them to the pot, so they can easily be taken out (leek tops may be tough but they have loads of flavour). Herb stalks and the peelings of carrots and other vegetables are also great for stock, provided they are not mouldy or rotten. If you don't make stock very often, collect them in a plastic bag in the freezer until needed.
I like the way using leftovers turns you into an inventive cook, rummaging through the fridge to see what you can put together. Some leftover white sauce can be mixed into cooked mushrooms and piled on to thick slices of bread with a grating of cheese on top, then baked until bubbling and golden for a simple weekend lunch.
The art of turning sows' ears into silk purses is the backbone of most ethnic cuisines around the world. And at the heart of this cooking, the powerhouse of protein and goodness are pulses - lentils and beans, peas and other legumes. Lentils are also one of the cheapest of high-nutrient foods. Rich or poor, I'd hate to cook without them.
Fragrant Lentils
Ready in 30 mins
Serves 6
1½ cups Le Puy lentils
2 cloves garlic, crushed
1 stalk celery, finely chopped
1 onion, finely chopped
Finely grated zest of 1 lemon
2 Tbsp olive oil
4 cups water
3 Tbsp chopped parsley leaves
2 tsp sherry or wine vinegar
Place lentils in a pot with garlic, celery, onion, zest, olive oil and water and bring to a boil. Reduce heat and simmer uncovered until lentils are tender and liquid has all but evaporated (15-20 minutes). Remove from heat, season and stir in parsley and vinegar.
Annabel says: There are many kinds of lentils and they all differ slightly in flavour as well as the time they take to cook. I like to use French le Puy lentils or beluga lentils for this simple preparation, as they don't tend to go mushy easily. Be sure not to overcook. Like pasta, they are nicer a little al dente. These fragrant lentils are delicious served with crispy-skin salmon, roast chicken, or sausages. Sprinkle leftovers over a salad to add protein - try with roasted carrots and beets, rocket and feta, dressed with olive oil and a splash of white wine or sherry vinegar.
Creamy Mixed Pulse Dhal
Ready in 1 hour
Serves 6-8 as a side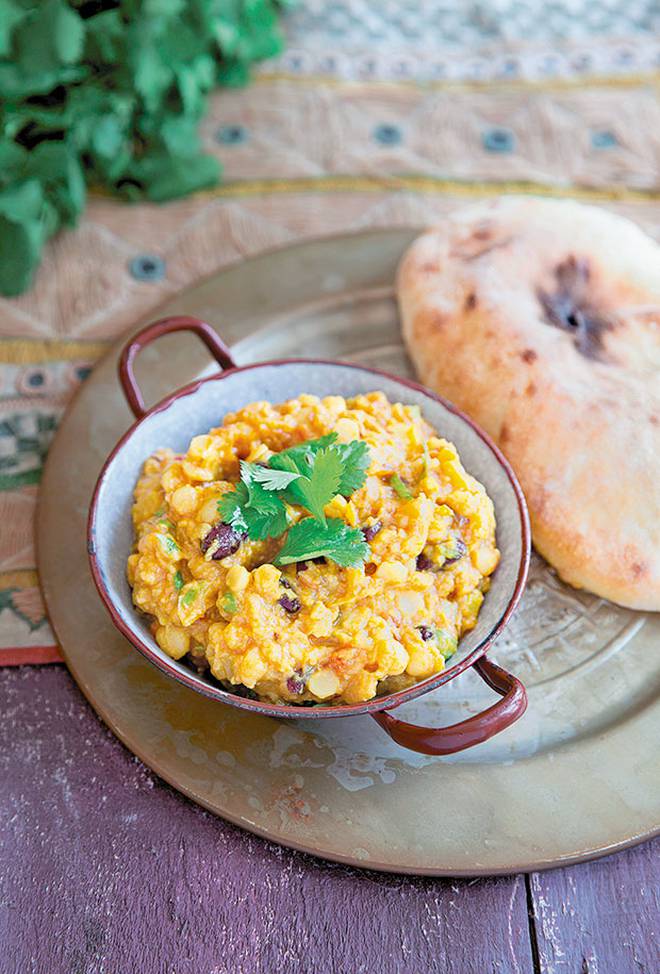 ¾ cup each split red lentils and split yellow peas
400g can red kidney beans, rinsed and drained, or 1½ cups cooked beans
3 Tbsp neutral oil
1 tsp cumin seeds
1 onion, finely diced
2 cloves garlic, crushed
1 tsp each ground coriander and turmeric
½ tsp cayenne pepper
400g can chopped tomatoes
1 tsp salt
¼ tsp fine white pepper
¼ cup chopped coriander leaves, to serve
Combine lentils and split peas in a medium-large pot and cover with 4cm of water. Add the kidney beans. Bring to a boil and simmer over low heat, stirring occasionally, until the lentils and split peas are tender and the water has absorbed (about 30 minutes). While pulses are cooking, heat the oil over medium heat in a large frying pan. When shimmering add cumin seeds and cook just until they darken (30-60 seconds). Add the onion and garlic and cook, stirring frequently, until golden brown (15 minutes). Add the ground coriander, turmeric and cayenne and cook, stirring a few times, until fragrant (2 minutes). Add the tomatoes and simmer for 5 minutes. Add to the cooked pulses, stir to combine and simmer over low heat for another 5 minutes. Stir in salt and pepper. (The dhal can be made ahead and chilled for up to five days. Reheat gently, adding water as necessary if it is too thick.) Just before serving, stir in the coriander leaves.
Annabel says: You can use any combination of lentils or beans in this dish, as long as the cooking time is the same. It's useful to know, especially if you are vegetarian or vegan, that if you combine a grain and a pulse, you create a complete protein. A peanut butter sandwich will do the trick, or this creamy dhal served with rice or naan.
Moroccan Lentil Soup
Ready in 1¼ hours
Serves 6-8
Tbsp olive oil
1 large onion, diced
2-3 cloves garlic, chopped
1 Tbsp finely grated fresh ginger
2 Tbsp tomato paste
1 Tbsp ground cumin
2 tsp ground coriander
½ tsp each ground cinnamon, smoked paprika and turmeric
1 tsp chilli flakes
A pinch of saffron (optional)
2 carrots, peeled and grated
2 stalks celery, finely diced
250g pumpkin, grated
400g can tomatoes in juice
2 cups Le Puy lentils, washed
9-10 cups water
1 tsp salt
Ground black pepper, to taste
½ cup chopped fresh coriander or parsley leaves
Heat oil in a medium-large pot and gently fry onion, garlic, ginger, tomato paste and spices until they are aromatic and the onion has softened without browning (about 8 minutes). Add vegetables, lentils and water and simmer on lowest heat for 1 hour. Season to taste, mix in coriander or parsley and serve hot. It's delicious served with crusty bread topped with hummus and reheats well (add the coriander or parsley before serving).
Annabel says: I have enjoyed several trips to Amsterdam to launch the Dutch editions of my cookbooks. In a little cafe just around the corner from my hotel this heartwarming soup is my first point of call whenever I hit town. It's one of those recipes that feeds the soul on a sixpence.