Richlisters take note: one of Auckland's picture-postcard boat sheds lining the water's edge in Orakei has come up for sale.
No.16 shed is one of seventeen heritage-protected boat sheds on Ngapipi Rd that come with price tags similar to that of a typical New Zealand home.
While Barfoot and Thompson agent Kelly Midwood wouldn't reveal an asking price for No.16 shed, she said she understood a separate Ngapipi Rd shed had sold for about $550,000 last year. Another shed was also earlier put up for sale for $700,000 in 2017.
By contrast, the median value for all houses in New Zealand rose 5 per cent to $577,000, according to the latest OneRoof figures.
With a jetty jutting into Hobson Bay and an outdoor lounge overlooking the water, Midwood said the shed could be used as a place to tinker with your boat or as a picturesque hangout.
"This is the ideal haven for relaxing afternoons soaking up the sun, listening to the water lapping onto the foreshore and enjoying sunsets that form a spectacular backdrop to the harbour and city skyline," she said.
The family that owned No.16 boatshed had used it as a place they could visit on day trips instead of a bach.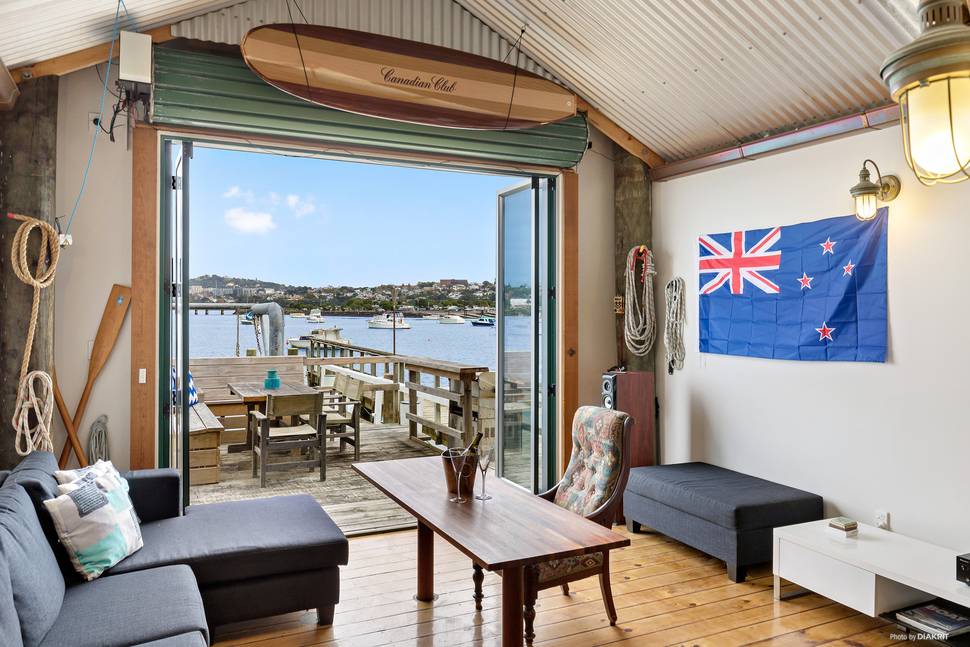 "They have a lounge in the shed and there have been nights where they've gone down and watched the rugby ... while on other occasions they've had Christmas dinners and birthday parties there," Midwood said.
They would also launch their inflatable boat for family picnics and fishing trips to Motouihe Island.
However, the family didn't sleep in the shed and anyone hoping to turn it into a nice living space will be disappointed.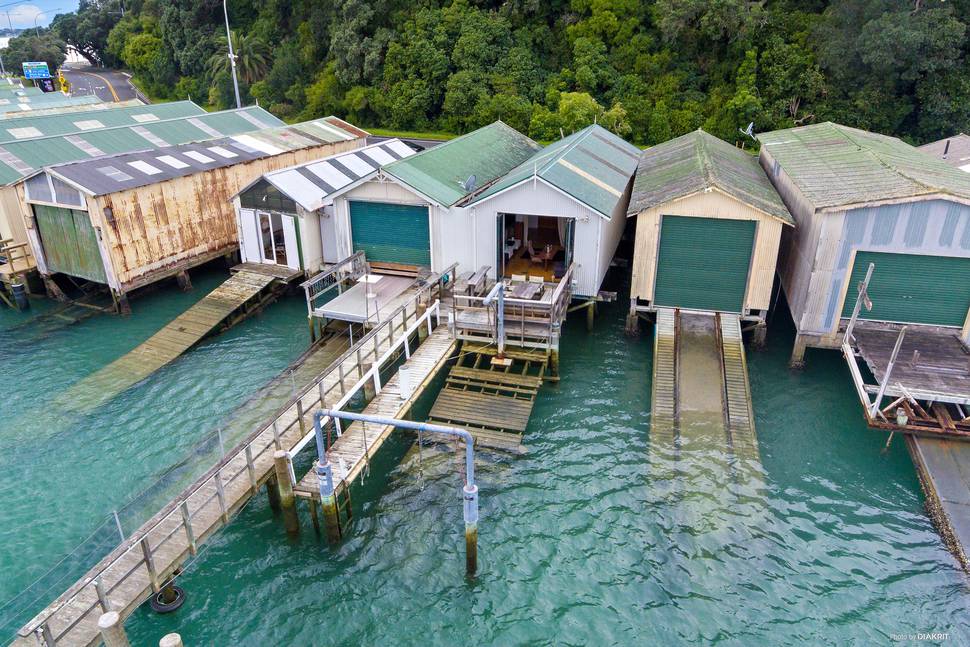 Heritage rules from Auckland Council restrict the use of the boat sheds to boat storage and maintenance of vessels.
It meant owners cannot live in the sheds or use them for commercial purposes, in part because they do not have toilets linked to the public sewage network.
Lost & Found presenter David Lomas has regularly filmed parts of his popular television programme on location at the picturesque sheds and called them a wonderful and special spot.
"They are very expensive ... but the great thing about people buying them is that they are being maintained and kept as a great part of Auckland," he said.
And it's not just boaties but history buffs who are fascinated by them.
According to Auckland Council documents the sheds were first built by settlers in the bay in the early 1920s and 1930s.
"From the middle of the 1920s the Auckland Harbour Board started receiving applications for boatsheds on the seaward side of the sewer.
"However, the first of these sheds was not built until 1930, following the development of rail and road connections linking the eastern bays with the city."
Council documents said the cream and green colours of the picturesque sheds became the enforced standard design to help achieve a uniform look for the row of sheds.
These became a cultural heritage site, granting them protection, in 2008 and are seen as an example of a common building type from the 1930s.
Tender offers to buy No.16 shed close on June 19, unless it is sold earlier.
You can see its OneRoof listing here.