A Ponsonby heritage building with two retail street level spaces occupied by one shop, and four spacious apartments built over three levels will go under the hammer at Barfoot & Thompson's auction room at 34 Shortland St early next month.
Located on the East side of Ponsonby Rd, midway between Franklin Rd and Williamson Ave, the property at 129-131 Ponsonby Rd is being marketed by Murray Tomlinson and Sachin Mistry, for sale by auction at 10am on Wednesday April 10, unless sold earlier.
"It faces almost due west with Anglesea St to the north of the block and Picton St to the south," says Tomlinson. "The rear of the property has views to the East and Northeast across Freemans Bay to the Auckland CBD.
"In terms of desirability and concentration of retail and hospitality businesses – along with high volumes of customer foot-traffic - this property is arguably in the best part of Ponsonby Rd."
"It really does epitomise the real estate maxim of 'location, location, location'".
Tomlinson says the property is held in two freehold land titles of 483sq m with the tenant's shop occupying two retail areas; and has a total building area of about 787sq m. This encompasses a street front retail shop area of 187sq m, and residential accommodation comprising a 106sq m two-bedroom apartment; two three-bedroom apartments of 165sq m and 170sq m respectively; and a five bedroom apartment of 159sq m. All the apartments are rented except the five-bedroom residence.
There are six on-site car parks, including four secure basement car parks, with the parking included in the apartment rents.
"The property had a rateable value of $5,775,000 in 2017 and has the potential, with all the apartments rented, to earn gross annual income of $259,220 or around $227,000 net, " Tomlinson says.
The retail tenancy to Bhana Brothers generates net income of $78,000 per annum plus GST; while rent from all the residences would bring around $181,000 gross annually. Property management for the residential units, if retained by an owner, would be an additional cost.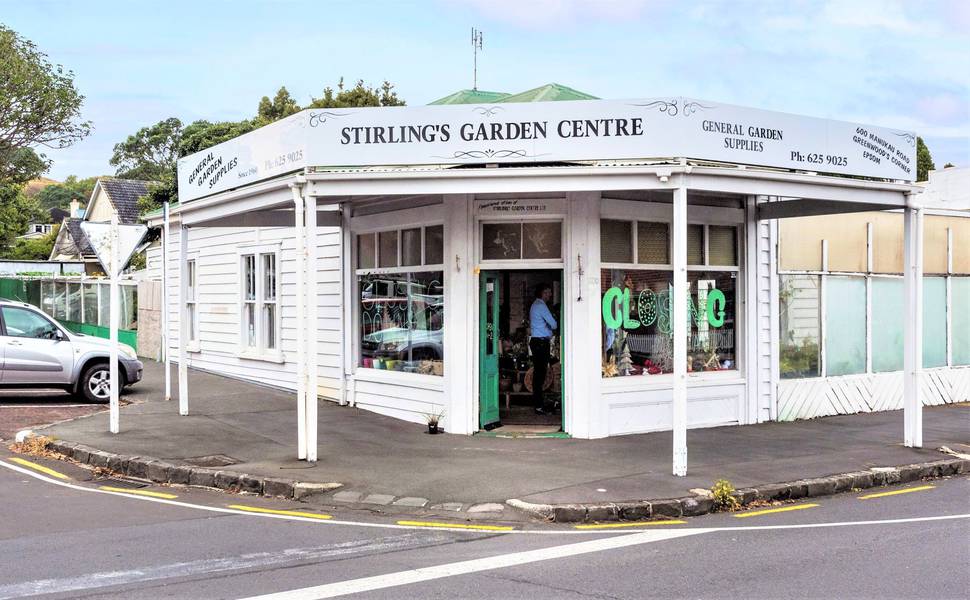 Tomlinson says the property comprises two distinct building structures. "The road frontage shop area and apartment above dates back to about 1922 and is held in two legal titles; while the apartment building at the rear, which includes a basement carpark securely housing four vehicles, was completed in 1998.
"The upper floor residential area, above the merged street-level shop space, has been combined into one residential apartment and a five-bedroom unit.
"In the 1998 structure, the first floor apartment has two bedrooms and is split level. The second floor houses two three-bedroom apartments over two levels, with the living areas downstairs and the bedrooms upstairs. Each has a guest toilet on the living area floors while the upper floor areas contain the main bathrooms and ensuite.
"The three apartments provide a very comfortable living environment, all with decks and all with particularly good views across Freemans Bay to the City," says Tomlinson.
Mistry says the property is surrounded by definitive Ponsonby retail culture typifying the last three decades. "It's an intrinsic part of what Ponsonby Rd is all about. The retail space leased to Bhana Bros fruit and vegetable shop has a trading history spanning about 70 years in the same location. Directly across the road is the popular SPQR restaurant and three doors along from that is the hugely successful Ponsonby Central with its numerous restaurants, cafes and food stalls."
The property is zoned Business - Town Centre which provides for a wide range of activities including commercial, leisure, residential, tourist, cultural, community and civic services.
"It allows for a range of possible building heights depending on the context," Mistry says. "Provisions typically enable buildings of between four and eight storeys, although there may be special circumstances where other building heights are appropriate."
The second offering being marketed by Tomlinson and Bruce Manning is a prime corner freehold 604sq m property in Epsom South which is for sale by tenders closing 4pm on Wednesday April 17.
"An executor has wrapped up most aspects of a deceased estate and one of the final requirements is to sell the property at 600 Manukau Rd," Tomlinson says.
"The old house on site, has been home to Stirlings Garden Centre for many years, and will be available with vacant possession," he says. "The house dates back to the 1920s or 30s and its condition may suit some buyers looking to renovate and make improvements – including making full use of a wonderful back yard. However, we believe many other interested buyers will be focusing on the future development potential of this strategic corner site. It has a predominantly Northern and Western aspect and we believe it will be targeted by developers."
Tomlinson says the executor is committed to the sales process and, since the vendor is not GST registered, the property will be offered as 'inclusive of GST if any'.
The long, rectangular-shaped, corner site, is flat and has two street frontages. The frontage to Manukau Rd is about 12m while the Ngaroma Rd frontage, facing due North, is around 50m.
Manning says the house looks to be villa-styled "possibly in the early transitional phase to bungalow, although could be older.
"While the overall impression is that it's in a poor state of repair, it does have some aspects which indicate it may have renovation possibilities - such as a fairly straight roofline. The front shop portion does not have a floor in part. Behind the house is a skyline garage dating from 1979 and at the rear of the section is a shade house in disrepair."
Manning says the July 2017 rating value of the property is $2.3m made up of a land value of $2,075,000 and 'improvements' value of $225,000.
"The property is actually in the Auckland neighbourhood known as Greenwoods Corner," he says. "While it is located somewhere on the border of Epsom and Royal Oak, its actual suburban address is in Epsom."
Manning says the property has a Business – Local Centre zoning which is applied to a large number of small centres throughout Auckland that are generally located in areas of good public transport.
"The zone primarily provides for the local convenience needs of surrounding residential areas, including local retail, commercial services, offices, food and beverage, and appropriately scaled supermarkets."