Barbara Atkin sees only one drawback in the Devonport neighbourhood she and husband Richard have called home since 2013. "You can't take a five-minute trip to the shops or library — by the time you've bumped into neighbours and had a chat to everyone, it's more like half an hour," she says.
"It's such a nice mix of old and new here, we love meeting people, and that's why we're staying in the suburb."
But, like many couples whose kids have left home, they've decided they no longer need 380sq m of living space and are downsizing.
It's not the first time — when they moved to Devonport to be close to grandchildren they left behind a house on 1.2ha of land in Red Beach.
The English couple were drawn to the style of the Devonport house. They discovered it had been the schoolhouse at the Huntly mine site, before being transported to Auckland in the late 1980s.
Previous owners had renovated the pitch-roofed building, retaining the double front door, floor-to-ceiling sash windows and wide-plank matai floors.
They even re-sited one wall of windows to fit the diagonal shape of the back section, creating a charming corner in the living room.
Barbara and Richard have added their own touches, remodelling the backyard to create an English-style garden and adding a paved terrace and covered pergola.
The previous owners had inserted a second floor into the double-height space, sourcing demolition kauri planks for the floors and retaining the original beams and bead board in the ceilings.
They also turned part of the building into a double garage and sky-lit work room, now fitted out for Richard to tinker on the couple's Mini Cooper.

The downstairs laundry still has its original school "resource room" label, with plenty of room for a spare fridge and storage.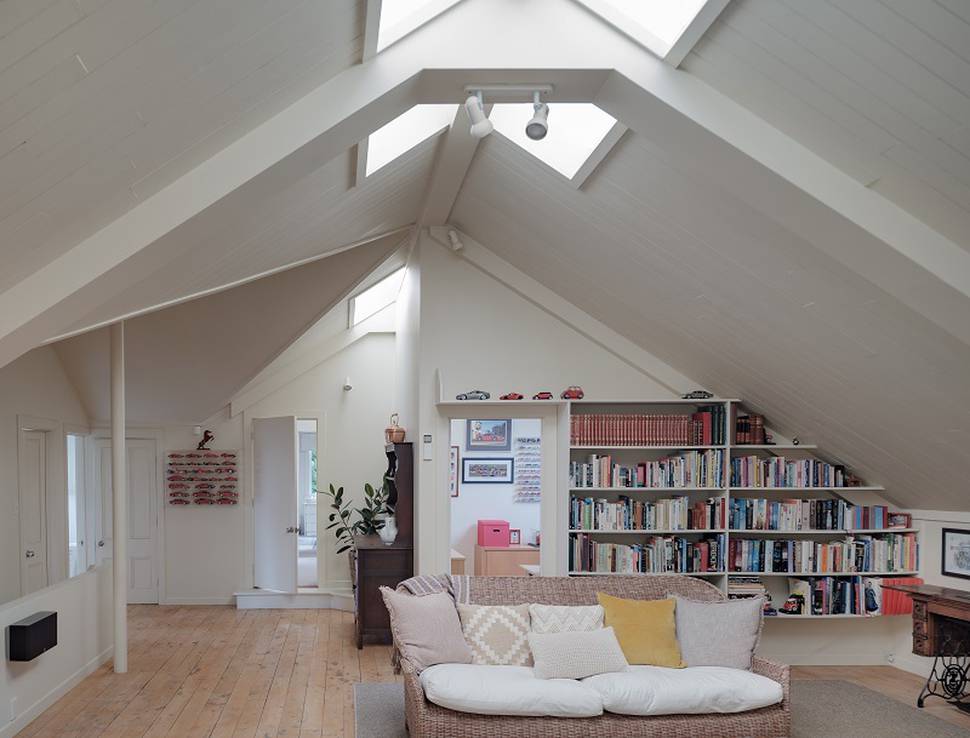 The couple updated the downstairs bathroom, reusing the original tongue-and-groove ceiling and wall boards.
Their master bedroom is next door, with views of the rose arbour through the tall sash windows.

The Atkins rebuilt the kitchen. Barbara, a cordon bleu cook, specified top end Fisher and Paykel ovens, an extra-wide integrated dishdrawer and plenty of bench space. A walk-in pantry holds appliances and food.
Richard has his own "kitchen" — a bar with a built-in drawer fridge, coffee machine and cupboards for glassware.
A second ground-floor bedroom was converted to a formal dining room, opening to the airy living room through glass doors.
Upstairs has made good use of the pitch of the school house ceiling. Two front bedrooms open to tiny balconies and glimpses of the sea, and the family bathroom is lit with skylights.
The couple use the upstairs sitting room for media sessions. Richard, who works from home, has his study up here, which could be an extra bedroom.
There's another clever bit: earlier owners created an upstairs/downstairs bed and breakfast with private entrance and parking for two cars.
Upstairs is bedroom, bathroom and sitting room; downstairs is kitchenette, dining area, and laundry.
Barbara and Richard love the way the old and new parts of the house are integrated with a mix of weatherboard and corrugated iron, a nod to its country origins.
They've delighted in their five years here but look forward to another family learning to love it.
15B KING EDWARD PARADE, DEVONPORT
• 5 bedrooms, 3 bathroom, 2* parking spaces.
• House 380sq m, Land 655sq m.
• Tender: Feb 27.
• Inspect: Sat/Sun, 1-1.45pm.
• Schools: Devonport primary school, Belmont Intermediate, Takapuna Grammar.
• Contact: Linda Simmons, Bayleys, 027 459 0957.
*Plus OSP