Megan Sargent and her husband Wil have been able to give their son Riki the kind of childhood you'd associate with living in a rural area, yet their home is in an Auckland suburb just 10 minutes from major shopping centres and motorway on-ramps.
"We've been so lucky to live here," says Megan, surveying her Pt England home. "Who says you need to live in the country to enjoy country living?"
Their large section has afforded plenty of space for Riki (11) to play and ride his bike. The family grow fruit and veges, have kept chickens and have a beehive.
FOR MORE PROPERTY NEWS AND LISTINGS GO TO ONEROOF.CO.NZ
But it's the property's location across the road from the Tamaki River that makes it truly special. Along with water views, there's easy access to the boat ramp over the street, and they've spent many happy hours on the water in their kayaks.
Megan and Wil discovered Riverside Avenue by accident 10 years ago.
They were driving along it one Saturday when they spotted the open home sign outside No. 189. "We walked in and it just felt right," recalls Megan. "We bought it at auction on the Wednesday."
They are only the second people to own the property. It was built in the 1950s and extended and redecorated in the 1970s. It was still an ode to that decade when Megan and Wil bought it.
In recent years they have tastefully renovated every room as well as insulating it to a high level and putting in commercial-grade aluminium joinery, top-quality LED light fittings and USB charger sockets.
The kitchen is now both stylish and practical, with custom-designed cabinetry, stone benchtops and parquet flooring.
A window in the dining room was replaced with French doors that lead to a deck covered by a shade sail. "The deck gets used a lot — in summer we eat out here all the time."
The lounge is particularly spacious and has several sets of French doors out to the front porch that looks out across the road to the water. A wood-burning fire makes this room cosy in winter.
The pink and black bathroom was ripped out and contemporary new fixtures and fittings installed.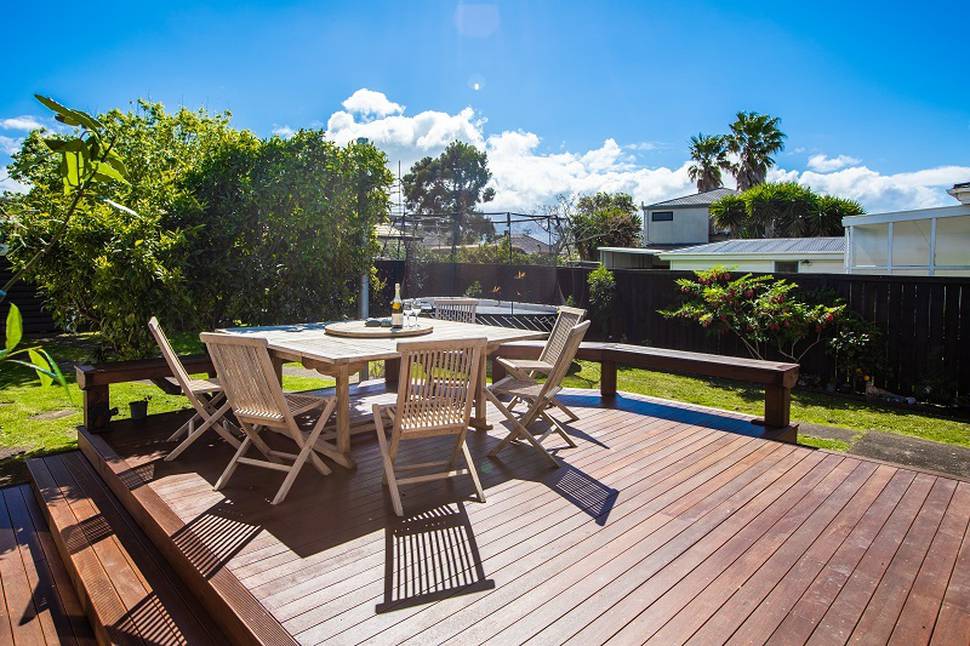 A room at the back that opens out to the deck serves as a third bedroom, Megan's office and a playroom. Next to it, an enclosed porch is a great place for Riki to play on wet days and there's room to store bikes, paddleboards and other "toys". There's more storage in
the shed adjoining the garage.
Megan's favourite place is a hammock chair in an old maple tree in the back garden. "It's a lovely place to read a book on a sunny afternoon, and so peaceful," she says.
She and Wil had planned to stay in the house long-term but with Wil's beekeeping hobby becoming a business, they are dividing their time between Miranda, where they've bought 13 hectares of manuka bush, and a smaller, lock-up-and-leave home nearby.
"We've just got everything exactly how we want it and now we're leaving," says Megan. "We'll miss it but it's now time for our next chapter."
189 RIVERSIDE AVE, PT ENGLAND
• 3 bedrooms, 1 bathroom, 1* parking spaces.
• Land, 751sq m, House 133sq m.
• Inspect: Sat/Sun 11am-11.45am.
• Auction: Sun Nov 4, on-site, 4pm.
• Schools: Pt England School, Tamaki College.
• Contact: Ken Choong 021 780 524 and Peter Burgham, 021 288 899, Ray White, rwmissionbay.co.nz/properties/residential-for-sale/auckland-city/point-england-1072/house/1976891
*Plus 1 carport