Having lived at the beach in Point Wells for 18 years, moving to Warkworth was a big step for Fiona and Michael Baker and their two boys.
"It was something we had to get our heads around. But when the agent dragged us here in 2015, we sat on the fence between the property and the covenanted bush and took in the lovely north-facing views over the Dome Valley and farmland. My husband, who is a builder, said, 'I know exactly what to build and I want this site'."
The family felt it would be a nice change and fun to live by the bush.
FOR MORE PROPERTY NEWS AND LISTINGS GO TO ONEROOF.CO.NZ
"After all, it wasn't far from all the beaches they loved and the location is so convenient.
"We still had one son at school and he could walk to Mahurangi College within 15 minutes. Everything was in walking distance. On a summer's day, we've walked to town for a few drinks and walked home when we finished. It's great not having to get into the car."
In 2016, after their plans were completed, the Bakers started building. Because it was a steep site, it was a testing family affair, especially laying the foundations together. They moved into their new home in 2017 and Michael, ever the perfectionist, finished it off himself over the next seven months.
The house was gorgeous to live in, says Fiona.
"You open the windows and hear the birds in the tropical garden at the back. It's totally private. And you get beautiful sunsets over the Dome Valley. It was built with eco-ply wrap which makes it so warm you can wear just a T-shirt inside all winter. That also gives a wind-bracing element so the house never moves or creaks."
Fiona got her dream kitchen with a butler's pantry, pyrolytic oven and a lovely big stone island bench. She loved the way the open plan kitchen, living and dining area reaches through glass sliders to the north-facing rear deck.
"A lot of thought went into it. We put a handy chute from upstairs to the large laundry.
The storage is huge. There's even a covered line for drying wetsuits and wet weather gear."
Adding a four-person lift makes moving groceries between the two floors, from the huge garage and workshop below to the living area above so easy, even for someone in a wheelchair, she says.
The master suite is separate from the other three bedrooms in another wing, which made it easy when the boys had their friends to stay.
"Michael has exacting standards. It took a long time to finish. He's not happy just to cut a board and whack it in."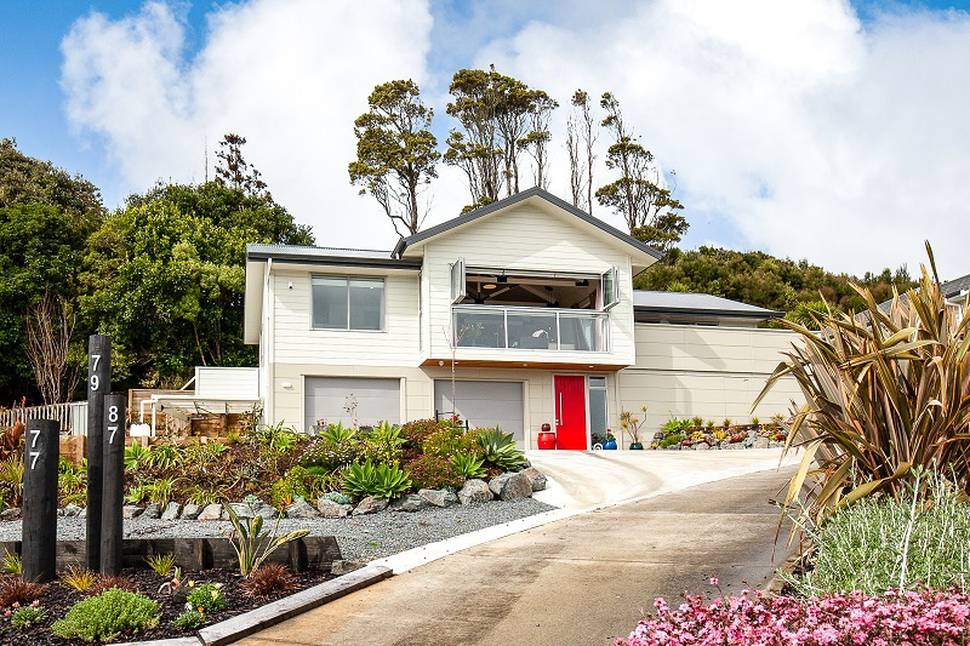 When they had to move out while the oak flooring was being done, they shifted back temporarily to a renter in Point Wells because most of their work was in that area. Michael is building a large home is Point Wells and Fiona owns a home and property maintenance business, looking after properties in Point Wells and Omaha. So, it saved them a commute each day.
"By then, we'd given it enough time to decide whether we wanted to stay. We had the beautiful views, the sunsets, lovely neighbours. It was so quiet. But without the ocean, we just couldn't do it. My son used to disappear with his surfboard all day. Every day he told us how much he missed the beach."
Fiona says if they could pick up the house, the section and the neighbours and go to Point Wells, they would.
"It's been a wonderful place to live. Of any place in Warkworth, it's the best."
79 FALLS RD, WARKWORTH
• 4 bedrooms, 2 bathroom, 2* parking spaces.
• Land 1450sq m, house 231sq m.
• Price: Upwards of CV $1 million.
• Auction: Sep 26, 2pm Bayleys House, 30 Gaunt Street, Auckland (unless sold prior).
• Inspect: Sat/Sun 12-12.30pm.
• Schools: Warkworth Primary, Mahurangi College.
• Contact: Joneen Smith 021 464 557 Anthony Shaw 021 234 9797, OneRoof.co.nz/1187258
*Plus OSP and space for a campervan or a boat